Article Last Updated: December 2021
Understanding hot tub filters is important. This is because when it comes to hot tubs, filters are one of the most important parts of the entire system.
This article will help you choose the right type of tub for the type of spa you have based on size, frequency of use and more.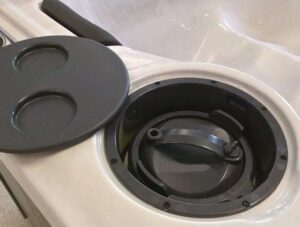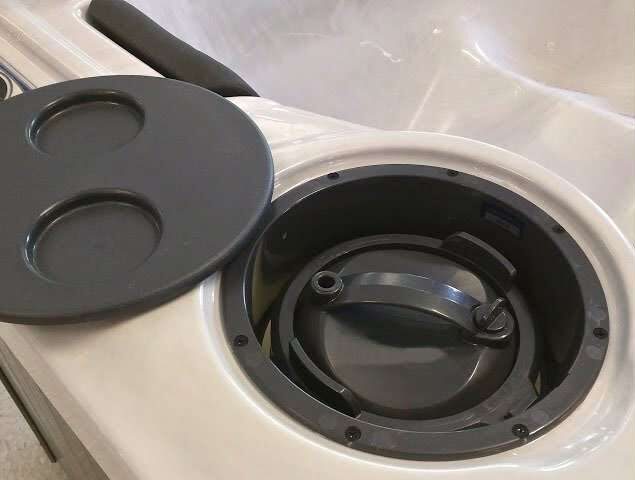 Remember that it is always a good idea to go and first measure your existing filter before you go shopping.
This allows you to easily compare the dimensions of each filter associated with those in your tub to make sure whatever you buy is the right fit.
Of course, if you have a hot tub that does not have a filter installed, you can get this information from the manual.
This article will review the best hot tub filters available on the market today. Each item review will come with a list of pros and cons so that you can make an informed choice.
Reviews of The Best Hot Tub Filters:
Pack 6 Pleatco PWW10-M Microban Whirlpool / Spa Skim Filter
One of the best things about this is that it can fit lots of different brands of hot tubs. In fact, you can use this filter with a variety of different hot tubs but it's specifically designed for use with special pop up tubs. It offers a cost-effective alternative to many other micro filters on the market.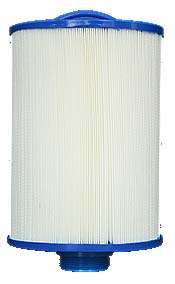 The Bad
Smaller filters like this can be difficult or impossible to clean and therefore require frequent replacements.
Some hot tubs are not designed to be used with micro-filters so may not be compatible with this type of filter cartridge.
These filters are smaller so have a lower capacity than the larger filters. This means that although they are cheaper upfront, they can end up being an expensive addition to your tub in the long run.
The Good
Designed for use with other traditional filters as well as certain types of hot tubs.
Very affordable.
Is compatible with lots of different brands.
It has a large surface area that allows water to pass quickly and easily for the best possible filtration.
The reinforced and permanent threading of the media and the plastic housing prevents this filter from being easily damaged even with frequent use.


Frog In-Filter Spa
The Frog Spa-In filter is designed for use in addition to a traditional filter.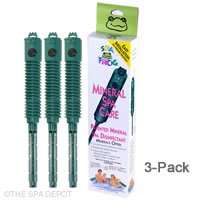 It's a separate product. It can also help you get your water to the right pH.
You will have much cleaner water for a much longer time if you add this filter to your hot tub (in addition to your regular filter cartridges).
Best of all, it's easy to install and even easier to use and replace when that time comes.
The Bad
It may not fit all types of hot tubs, especially older models.
Plastic accessories can be a bit thin and could break after repeated use and exposure to chemicals.
Not intended for use with inflatable spas.
It doesn't replace your need for a water filter – it's just an extra accessory.
The Good

Helps to radically improve your water quality.
Gently sanitises your spa without hard chemicals.
It is a EPA registered disinfectant.
Lasts for 4 months.
Destroys bacteria.
Keeps the pH of your pool within the proper range.
Compatible with bromine or chlorine.
Use a coin to set the reminder dial to remember which month to replace it.
Reduces the work load for your tub filter meaning that your filter will work better and last longer.
Extremely easy to use and doesn't require on-going maintenance.
This product can save you money in the long run because it will reduce the number of filter replacements you need to make.


6473-165 Spa Filter / Jacuzzi
The 6473-165 Spa / Jacuzzi Filter is a good option for anyone who wants to replace their pool or Jacuzzi hot tub filter. This is a larger filter designed specifically for larger hot tubs.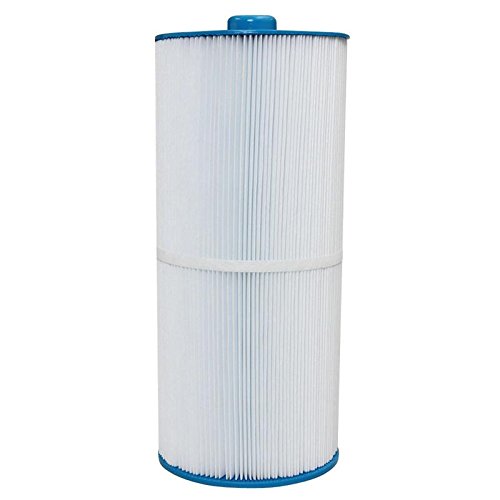 It can work in modern spas from brands like Sundance, Optima, Capri, Majesta, and many more. This filter was made by Pleatco, which is a leading low-cost replacement filter brand.
The Bad
It does not have an integrated handle, making it harder to install and replace.
More expensive than some other filters with the same quality.
The Good
It works well with many modern hot tubs from well known brands which makes it a good "universal" filter option.
Has a sturdy plastic housing made from durable materials thereby reducing the potential for damage.
Equipped with a hollow centre that allows a lot of water to pass easily.


Replacement Filter Cartridge Unicel C-8465-2
This large and durable filter can be used with Jacuzzi's that are compatible with Unicel. It is a very efficient filter. One that has shown time and again how even the most difficult substances can be removed from water.
The Bad
More expensive than other comparable filters on the market today.
Often sold as a set of two, which further increases the price.
The Good
Made by a trusted brand known for providing high quality filters.
Designed for extended use. You can use it for up to one year before you need to replace it. However, this is so long as you use it with proper maintenance like cleaning the filter at regular intervals.
Can withstand a lot. Even things like when you clean it by soaking it in a strong chemical cleaning solution.


Replacement Filter Cartridge Unicel 4CH-940-2
The Unicel 4CH-940-2 replacement filter cartridge is good if you want to buy a branded product that is compatible with other brands.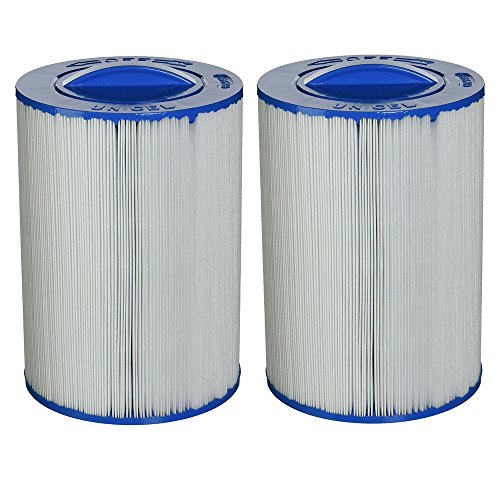 This filter is available as a single replacement, as a two-pack, as a four-pack or as a very affordable six-pack. Any of these options can save you a lot of money.
It has many wrinkles to make it easier than ever to catch dirt and bacteria before it reaches the water in your spa.
The Bad
Unicel filters are more expensive than other replacement filters on the market.
May not work well with very hard water.
Can show signs of age spots if your hot tub is very dirty.
The Good
High quality product from a well-known brand.
The higher kink count in the filter means that it will be better at keeping your water filter.
The durable plastic and polyester construction withstands a lot.
There are lots of opportunities to save money when you buy a multi-pack. But buying a single filter by itself is also possible.


PSD125U C-8325 FC-2790 Sundance Pool and Spa Filters Comparable
Select the Sundance Pool and Spa Filter PSD125U C-8325 FC-2790 to replace filters in older spa models.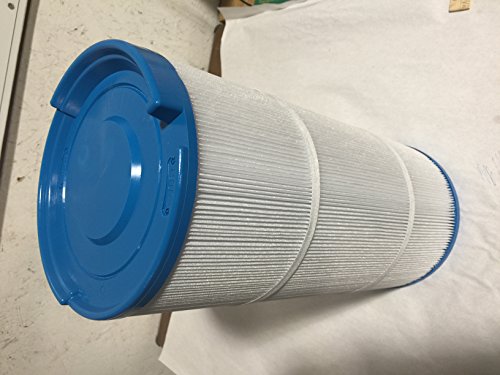 Although this filter works with Sundance Spas, you can also use it in Montego, Capri, Altamar and other older spa brands that were sold in the late 1990s. If you have an old fashioned hot tub, this is a model that is worth looking into.
The Bad
Much more expensive than many other filters on the market today, including some that fit even older models.
The filter cartridge may loosen from the plastic shell over time when you expose it to harsh chemicals present in the pool.
Due to the fine wrinkles, stains and problem areas can be concealed at the time of cleaning if you don't thoroughly examine it.
The Good
Great option if you have an old hot tub and it's difficult to find replacement filters.
Easy to install.
Very effective filter.


Tri-X HotSpring Filter
If you prefer to use a ceramic filter for your spa without using a five-pack filter, you can instead buy this HotSpring Tri-X single filter.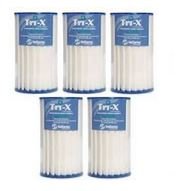 This is a ceramic filter. Although slightly different than conventional cartridge filters, it works more or less the same and is interchangeable with many conventional filter products.
It is also a high-quality filter that is easy to wash, clean and maintain.
The Bad
Being ceramic, the filters can easily crack if not well packaged for delivery.
It may be necessary to rinse it more often than a conventional pleated filter.
Can be too expensive for some. Especially for spas that require the use of two filters simultaneously to function properly.
The Good
Very easy to clean by rinsing with a garden hose or in the dishwasher with a little detergent.
Made to last a few years longer than traditional polyester and paper filters.
The plastic housing is constructed so that it can be used a lot and does not peel off or splinter.


Best Hot Tub Filters?
You will need to use hot tub filters no matter what type of hot tub brand, make or model that you have.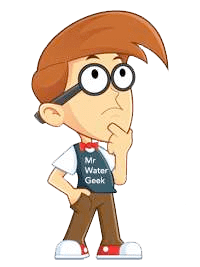 Unfortunately, different hot tub brands provide lots of different types of filters.
So it may be beneficial for you to know all of what your requirements are before you start selecting your filter replacements.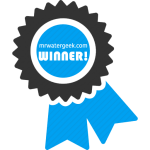 Once you know what you are looking for then you can make your way to any online retailer to make your selection.
Of course, you're free to return to the list presented in this article to get an idea of which way you might want to go. This is because Amazon is full of products and it's sometimes overwhelming to select the right one.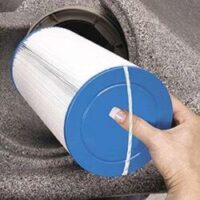 Do not hesitate to try something from a lesser known brand if the reviews look good. The fact that you have never heard of it does not necessarily mean that there is any reason to avoid it.
However, products with lots of happy verified customer reviews are usually the way to go if you are unsure.
Remember that a big filter can cost you more than you want to pay, but in the long run, it's probably worth it.
My favorite hot tub filters are the "Pleatco Filter Cartridge". They are affordable and a good quality product.
Keep in mind that you can save on shipping if you spend over a certain amount.
Happy shopping!