Article Last Updated: September 2022
There are so many Jacuzzi filter cleaners available today. This makes it sometimes difficult to find the best one for your needs.
Want it to be easier to compare and contrast some of the best products on the market in terms of how well they clean your Jacuzzi filter?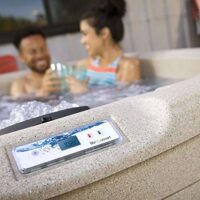 I will help you choose the perfect filter cleaner by listing all the positive and negative aspects of each one.
No matter what type of Jacuzzi you have. The contents of this post will give you all the information you need to know about the top Jacuzzi filter cleaners on the market so you can find one that will help keep your tub filter working perfectly.
However, I wont just list the best Jacuzzi filter cleaners, I'll also provide some general information about how to maintain your Jacuzzi filter. This will help improve the overall effectiveness and efficiency of the device. For instance, how often do you need to clean your filter? What is the best way to do it?
By the end of this post you will know everything you need to know in order to clean your filters in the right way and at the right time.
WHEN to Clean Your Jacuzzi Filter?
You may think it is okay to clean your filter as often as you clean the rest of the Jacuzzi.
But this is not always the case.


Learn when to clean your filter at the right time to avoid possible problems. This is because over cleaning or under cleaning your filter both come with problems as outlined below.
Every two weeks. Take a look at the filter and see if it has picked up dirt, sand, hair, debris etc. If so, remove it by hand and it will be fine until you have your monthly cleaning. However, if at this moment you notice that the filter looks particularly dirty, you should do a deep cleaning instead.
Monthly. Every month remove the filter cartridge from the filter housing and rinse it well with a garden hose. This should be enough to remove all dirt and debris from the cartridge.
But if not, it's time for a deeper clean. You can also spray it (or soak it for a few hours) in a filter cleaning solution before rinsing it at this stage.
How To Clean A Standard Hot Tub Filter Cartridge in Under 20 Seconds
Every three months. You should regularly perform a deep clean every 3 months. Remove the filter cartridge at least four times a year and place it in a large bucket or container. Fill it up with enough filter cleaning solution to completely cover the cartridge. Leave if for a few hours until the filter looks clean Then thoroughly rinse, let it dry and then put back into your Jacuzzi appliance.
Annually. Most filter cartridges must be replaced every year. Although there are some that can last up to two or even three years. This depends on the type of filter and the frequency of use of your spa. Check the manufacturer's instructions to get the correct replacement period.
HOW to Clean Your Jacuzzi Filter
It is very easy to clean your Jacuzzi filter if you follow the steps below.
Remember that this process does not necessarily have to be done every time you clean your Jacuzzi i.e. after each use.
But at least every three months.
And sometimes every month, depending on how often you use your bath tub.
Turn off the Jacuzzi tub. Make sure the bath tub is turned off at source so that the pump does not run while you're cleaning the filter.
Remove the filter cartridge from the filter housing unit and put it aside.
Rinse it well with a jet of water from the water hose. Do not use soap or other cleaning agents on the filter at this point.
Allow the filter cartridge to dry before continuing.
Place the filter cartridge in a large plastic bucket and fill it with a cleaning solution until it is completely covered.
Soak the cartridge for at least an hour (depending on how dirty the filter is).
Remove it from the solution and rinse again with the water hose. Be sure to remove any traces of the solution before leaving it to dry.
Allow the filter to dry completely before reinstalling it. If possible, switch between two filters so you do not have any downtime. This means you can put one in while waiting for the other filter to dry.
Once the filter is completely dry, it can be reinstalled.
Turn back on your Jacuzzi tub.
Fill the Jacuzzi with water. Now you can use it again with a clean filter.
How To Clean A Standard Hot Tub Filter Cartridge in Under 20 Seconds

Why Are Filter Cleaners Important?
A Jacuzzi filter cleaner is an important part of your hot tub because filters can be tricky things to clean with regular sponge and soap.
Using the right filter cleaning equipment can help you get a deeper and more effective clean.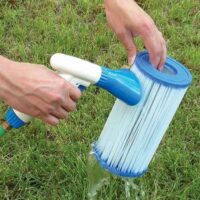 If you always clean your Jacuzzi hot tub filter with water instead of immersing it in a cleaning solution then you will not be able to remove the encrusted particles and certain types of sediment and minerals that may accumulate in the filter over time. Nor can it eliminate problem bacteria that will simply multiply if left alone.
It is also a good idea to use a Jacuzzi filter cleaning detergent since regular household cleaning solutions like bleach can damage the filter.
Also note that regularly using certain types of soap or detergents on your filter cartridge will make it more likely to disintegrate and decompose faster.
Using a regular sponge may lead to clogged jets and maybe even leave you with a broken pump.
The best option is to always use Jacuzzi filter cleaning detergent that are specifically designed for filters. This will reduce the risk of the filter getting damaged while you clean.
The Best Jacuzzi Filter Cleaner Reviews
Whirlout WO06N Jet Bath Cleaner
This solution is designed to clean all the different parts of your tub not just the filter.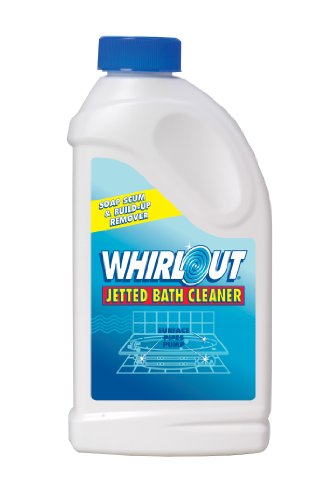 This means you can use it to clean both your filter cartridge and other parts of your hot tub system. Use it to clean surfaces, interiors and any where else that may become dirty. It is even safe to use with the jets.
The Bad
This product has a chemical base. So it may be too strong for people with skin allergies or those with other reasons to avoid harsh chemicals.
May not be strong enough to cope with hard water i.e may not solve limescale issues so you might need to use a descaler too.
It is not designed to remove most bacteria from the Jacuzzi tub filter, although it cleans dirt and debris well.
May require a second cleaning to really remove hard dirt.
The Good
This is a strong product that works very well to eliminate dirt and residues in your filter.
It cleans well without leaving dirty oil rings when used on the surface of the tub.
Designed to easily and quickly clean filter cartridges.
All in one treatment pack meaning that it doesn't just clean your filter but you can also use it for your entire tub.
The fact that it's an "all-in-one" treatment systems makes it quite cost effective.
Nature2 Spa Stick Mineral Sanitizer
The Nature2 Spa Stick Mineral Sanitizer works differently than other types of sanitizers and cleaning solutions.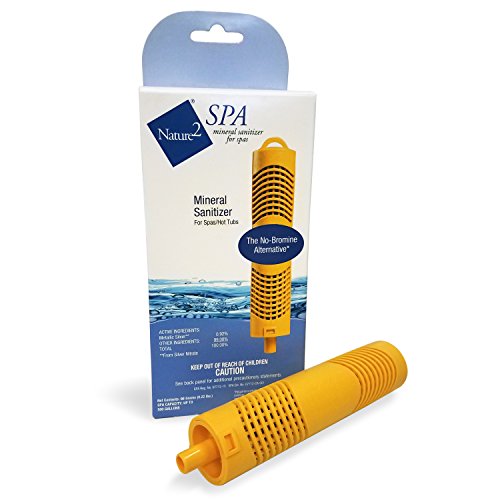 This is because it works without bromine or chlorine to keep your filter clean. Therefore it is a great choice for people that don't want harsh chemicals in their cleaning products.
Best of all, since this is a mineral cartridge, it is designed to more or less clean itself while it works.
You will not have to worry about harsh cleaning solutions when you replace your filter regularly with this sanitizer stick.

The Bad
The part that holds the cartridge in place can sometimes snap or break so handle carefully.
Does not eliminate the need for chlorine.

The Good
Easy to use.
Set it and forget it while it quietly works in the background.
Adds healthy minerals in to your water.
Operates without the use of harsh chemicals, which can be great for anyone with sensitive skin.
Designed for use with many of the most popular brands and styles of hot tubs on the market today.


Watkins Freshwater Spa Nursing Kit – Spa Nursing Kit for Hot Springs Spa
The Watkins Freshwater Spa Care Kit is a large-scale cleaning system for Jacuzzi bath tubs. It is designed as a complete package.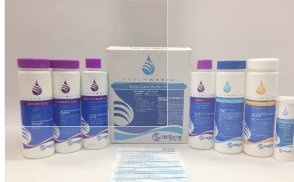 It comes complete with everything you need to clean your filter and the rest of your tub as it's an all in one set. This is a great solution for those who use the spa frequently and need more frequent deep cleaning. Especially as you can save a lot of money in the long term by not buying all of these things separately.

The Bad
It might not be cost effective if you don't use your tub frequently.
Similarly, the cost can be too high if you do not perform a deep cleaning as often as other spa owners.
If you already own all these products and only need, say, cleaning tablets, you can not buy them separately from this brand.

The Good
The tablets are extremely easy to use as you simply need to soak it for deep cleaning.
With everything in a convenient package, you do not have to worry about forgetting important parts of your set of cleaning solutions.
This system can be used with almost any type of Jacuzzi bath tub, regardless of the brand.


Jacuzzi T627000 System Clean
The Jacuzzi T627000 System Clean is an easy-to-use cleaning kit designed for use with all hot tubs. It is made to remove dirt, debris and other minerals and sediments from your spa filter cartridge and from the surface of your spa.

Good for you if you have a problem with hard water and frequent limescale deposits/stains on your spa. This product is an excellent way to keep your tub surfaces free of a nasty hard water film.

The Bad
May take more than one cycle to completely clean the extremely dirty surfaces of your spa and filter.


The Good
It works well with Jacuzzi jets.
Easy to use.
Affordable compared to other similar products in the market.
Better for a deep clean instead of lots of frequent use.
This system can be used with almost any type of Jacuzzi bath tub, regardless of the brand.
Cleans all parts of the tub, not just the filters.
AquaFinesse Filter Cleaner
This is an excellent way to clean your filter without needing to buy a cleaning package that is suitable for the entire spa.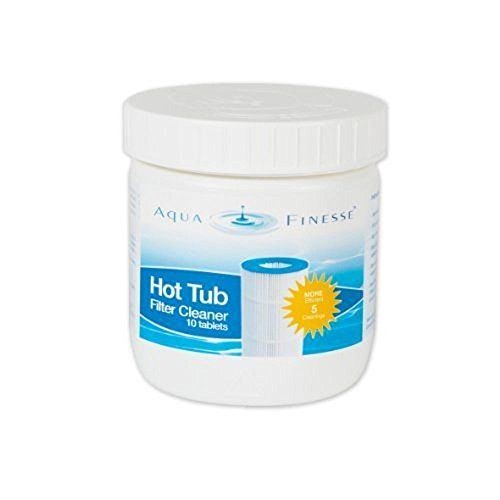 This filter cleaner comes in a convenient tablet form that you can use to soak your filter cartridge. Place a tablet in a bucket of water and immerse the cartridge for one to three hours to remove dirt. It removes any dirt and bacteria that are generated during normal use of your spa.
Take out your cleaner once it looks clean and then rinse it thoroughly. Let the filter dry before replacing it back into your tub.

The Bad
All but the smallest Jacuzzi's require at least two tablets per use. Which means you must double the amount each time you clean.
Tablets can sometimes cause a strange aroma in your spa during use immediately after cleaning. However, this quickly goes away.
This will only deal with your filters meaning that you will need to buy one of the other cleaning options on this list to deal with your entire spa.

The Good
This product does not contain aggressive chemicals. So it is safe for people who are sensitive to most chemical ingredients.
Each tablet is individually packed. This means you don't have to worry about storing it in a place where it will not spill. Or worry about skin contact when you use it.
This product can be used with any type of spa and filter, regardless of its brand, size or type.

Leisure Time O Filter Clean Cartridge Cleaner
The Clean Cartridge Cleaner is designed for deep cleaning. This product has been around for a long time and continues to provide great value to hot tub owners.
Particularly those who want to keep their Jacuzzi's as clean as possible. It can be used with Jacuzzi bath tubs with cartridge filters and other types of swimming pool filters.

The Bad
Very dirty filters may need more than one cleaning cycle.
This may be too expensive for some Jacuzzi bath tub owners on a limited budget.

The Good
Designed for soaking and rinsing.
Removes all bacteria and debris.
This is a great complete package to clean your Jacuzzi tub filter.
Works with any type of disinfectant that you may already have installed.
You can use it as an "overnight soaker" for really dirty filters.

The Best Jacuzzi Filter Cleaners?
This article has listed some of the best Jacuzzi filter cleaners for you to choose from. Each brings it's own strengths and weaknesses and I've presented them all.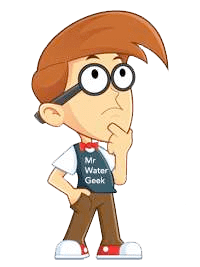 You may want to choose a specific type of cleaner that best suits the needs of your tub.
Or you may want to mix and match from the list so that you have all your basis covered.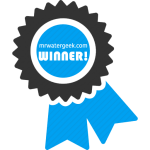 No matter what filter cleaner you choose, be sure to follow the manufacturer's instructions on the item to clean the filter properly every time.

Also, pay close attention to how often you clean the filter. And do not forget to change it every one-two years.
You will have a clean and shiny Jacuzzi with clean and safe water following these simple tips and choosing one of the great Jacuzzi filter cleaners listed in this article.