Last Updated: September 7, 2020
Fluoride free water has become a popular topic in recent years. This is because people are becoming aware of the government's participation in our public water supply, many want to know more about its impact on our health.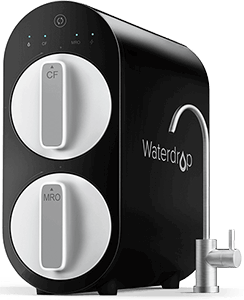 Some people praise fluoride for its ability to protect our teeth from decay.
However, others point out that too much could damage our teeth and adversely affect our nervous system.
Regardless of your opinion about fluoride, sometimes it seems almost impossible to do something as simple as drink a sip of water without also consuming it.
So this article will show you a list of all brands of mineral water that do not contain trace amounts of fluoride.
However, I will start by offering you a list of some health risks associated with fluoride exposure. I will also show you water filters that remove fluoride.
Fluoride Dangers
One of the most common (and somewhat ironic) side effects of fluoride exposure is fluorosis, which is the permanent deformation of the teeth. This is why it usually occurs in children during the first eight years of their life when their permanent teeth begin to form.
For physical deformities caused by fluorosis, include discoloration, ranging from yellow to dark brown, irregularities on the surface of the teeth, and large gaping holes can form holes in the teeth.
Another side effect of fluoride exposure is the negative impact on cognitive development in children. A study conducted in China, shows that children raised in areas with high concentrations of fluoride in drinking water, typically have an average in IQ. Especially when compared to children from areas with lower fluoride content.
According to the study leader, Philippe Grandjean, this is due to the toxic effect that fluoride has on the developing brain. Some say the amount of fluoride that is necessary to cause extreme signs of fluoride toxicity is about 2 grams in adults but only 16 milligrams in children.
"Fluoride seems to work with lead, mercury and other toxins that cause a chemical brain drain," says Grandjean. "The effect of any toxin may seem small, but the combined damage at the population level can be serious, especially because the next generation of brain power is critical for all of us."
Fluoride Free Water – Complete List
Here are some bottled water brands that contain little-to-no fluoride.
A Better Water
Agromas Natural Mineral Water
Albertsons
Alpina
American Fare
American Star
Appco
Aqua Fresca
AquaPanna
AquaPure
Aquarius Natural Mineral Water
Arbor Springs
Arlington Springs
Aquafina Water
Aqua Systems
Aqua Von
Artesian Wells
Augusta Medical – Daniels
Badger Water
Besco Pure Premium Drinking Water
BIOTA Colorado Pure Spring Water
Bio-2
Black Berry Farms
Blue Ice Natural Mineral Water
Boney's
BORNEO
Bountyland
Buches
Calistoga
Callaway Blue
CAPA
Cascade
Century Springs
Chemung
Chippewa Spring Water
Citi Stop
Classic Selection
Clearly Arctic
Clear Mountain Spring
Clover Company Limited
Coach
Cold Country
Cohutta Mountain Spring Water
Cowboy Squeeze
Crowne Plaza Drinking Water
Crowne Plaza Natural Mineral Water
Cruel Jacks Spring Water
Crystal Mountain Spring Water
Crystal Point
CrystalRidge
Crystal Spring Natural Spring Water
Culligan Water
Dakota Splash
Dannon
Deep Rock
DeepRock Crystal Drop
Deep Rock Fontenelle
Deja Blue
Desert Quench
East Phils
Eco Quest
Elite
Equatorial Natural Mineral Water
Essentia Water
Eureka
Evian
E Water
Family Pantry
Famous Ramona Water
Flowing Springs
Food Club
Founders Square Bank
Fresh Brands Artesian
Fresh Market
Get-N-Go
Glacier Bay
Glen Summit Springs Water
Glen Summit Distilled Water
Glenwood Inglewood
Gordon Food Service
Great Bear
Great Value
Harvey's
H2O4U
Henry's
Hidden Valley Natural Mineral Water
Hillcrest Distilled Water
Hilton PJ Natural Mineral Water
Hinckley Springs
HINT
Hi-Sprint Drinking Water
Hi-Sprint Natural Mineral Water
Hog Wash
Hon Less Natural Mineral Water
Ice Jam
Inland
Istana Natural Mineral Water
Joe Muggs
Joe Ragan's Pure Water
Junior Johnson
Just Squeezed
KLGCC Natural Mineral Water
Kroger Bottled Water (Reverse Osmosis)
Krystal J Artesian Water
Leroy Jenkins Ministries
Logansport Savings Bank
Lowe's
Remove Fluoride From Water

Remember that in many locally supplied water, fluoride is added to your water, which means that the chemical is present in the water when it reaches the tap. However, it is possible to drink water without fluoride!
Your options include: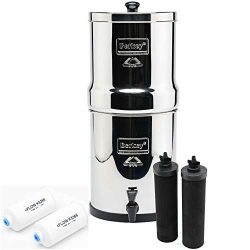 Water filters are available in all shapes and sizes! You can find jugs that filter water, machines that are installed under your sink or even small tablets that clean drinking water. All these filters are designed to remove contaminants, but NOT all are effective in removing fluoride.
There are a few types of filters that can remove fluoride from your drinking water:
Reverse Osmosis Filtration System
Reverse osmosis filtration system can remove up to 95% of the fluoride in your drinking water.

RO (Reverse osmosis) systems push water through semi-permeable membranes in a filter and effectively remove impurities.
However, these systems are usually very expensive (up to $2,000 for a one-touch system).
Between 2 and 4 gallons of normal water is needed to produce 1 gallon of filtered water.
The more impurities and fluoride the water contains, the less water is produced.
Another advantage is that reverse osmosis adds healthy minerals back to your water. Thereby increasing the health benefits of the drinking water.
Activated Alumina
The activated alumina method is highly effective in eliminating not only fluoride, but also heavy metals and toxins.
This type of filtration system is commonly used for highly fluorinated water supplies.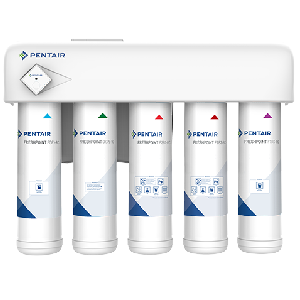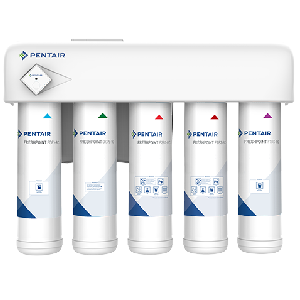 Filtering out fluoride with activated alumina is easy to obtain, another method of water purification that removes fluoride.
With activated alumina, the water passes through a bed of aluminum granules. The granules absorb impurities and leave the water clean.
On the other hand, your water must have a very specific pH (less than 8.5) for the activated alumina systems to work.
The flow of water is also very slow, which means that it takes longer to filter 1 gallon of clean water than other systems.
Filtration cartridges should be replaced regularly to keep systems running.
Deionization
Deionization is a process similar to distillation. Essentially, all the ionic particles are removed in the water.
This removes many contaminants and toxins, including fluoride.
Deionization treats ionic particles in water but the added benefit is that it also helps to balance the pH level of your water.
Most tap water is acidic in nature but a good deionizer water machine will produce water that is alkaline.

Water Filters That Remove Fluoride
If you want to remove all the fluoride from your drinking water, here are some of the best water filtration systems you should consider for your home:
Reverse Osmosis Water Filter.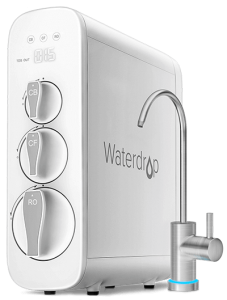 This reverse osmosis filtration system is designed for use in all homes. It produces several gallons per day, which is enough for the average household. It will also produce enough drinking water for you and for your family.
In terms of fluoride free water, this machine eliminates up to 99% of fluoride, as well as impurities, heavy metals, pesticides and toxins.
The product is manufactured in the USA and it only uses FDA approved food grade materials. It is easy to install under the sink, and is a great option for those who just want clean water.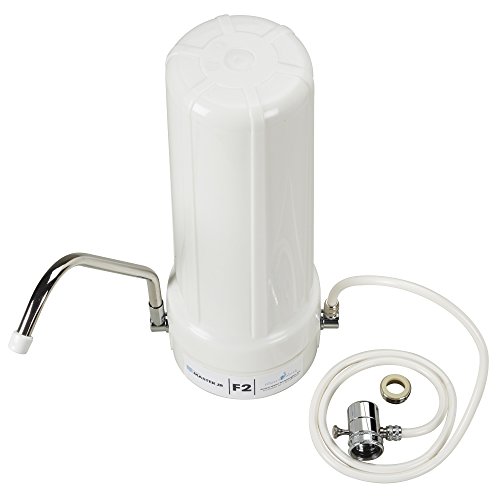 A compact and efficient water filtration system designed to fit in your sink / countertop and filter the water when necessary.
According to the specifications of the product, it is able to eliminate up to 93% of fluoride and other impurities.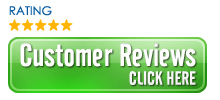 It is a very easy-to-use device that you can install and set up in minutes. The best part is that it is easy to transport. You can move to the sink without calling a plumber.
It is also the cheapest water filtration system on this list.
Big Berkey (That Come With Fluoride Filters)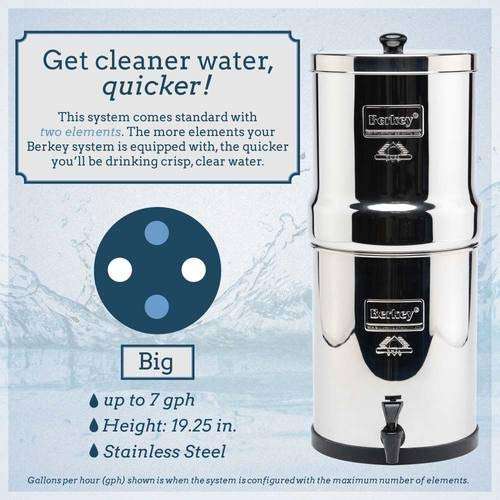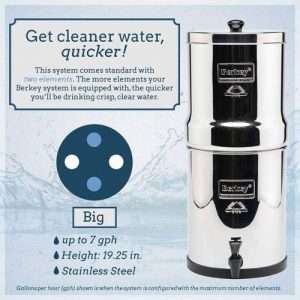 This is a dripping water filter, which means that much more time is needed to purify small amounts of water.
It can contain up to 2¼ gallons of water at a time but it filters up to 3.5 gallons per hour.

It is a good solution for those who want to remove most of the particles, impurities and fluoride from their drinking water.
However, if you have a large family, you may not be able to produce enough drinking water
Another dripping water filter capable of holding a little more water at a time – 2 ¾ gallons.
It is suitable for a 2-4 person home and is full of solid stainless steel.
With the new ProOne G 2.0.7″ filters you can remove more fluoride and impurities than ever before.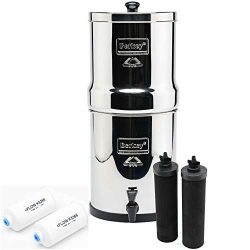 The best filters last longer and you only need to change them once every 12 months.
Scientific References
Allukian M Jr, Wong C. Fluoridation update 2014. J Mass Dent Soc. 2014;63:24-30.
Broadbent JM, Thomson WM, Ramrakha S, et al. Community water fluoridation and intelligence: pro- spective study in New Zealand. Am J Public Health.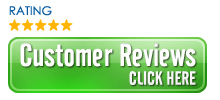 Grandjean P. Only One Chance. How Environmental Pollution Impairs Brain Development—and How to Protect the Brains of the Next Generation. New York, NY: Oxford University Press; 2013.
Choi AL, Zhang Y, Sun G et al. Association of lifetime exposure to fluoride and cognitive functions in Chinese children: a pilot study. Neurotoxicol Teratol. 2015;47C:96–101.
Broadbent JM, Thomson WM, Ramrakha S et al. Community water fluoridation and intelligence: prospective study in New Zealand. Am J Public Health. 2015;105(1):72–76
Choi AL, Sun G, Zhang Y, Grandjean P. Develop- mental fluoride neurotoxicity: a systematic review and meta-analysis. Environ Health Perspect. 2012;120:1362- 1368.