Article Last Updated: March 2021
Getting a lead water filter whole house is important.
Unfortunately, especially if you live in an older house, or if you live in a town or village older than 20 or 30 years. You may have very dangerous substances in your drinking water.
Lead can have many negative effects on the human body. It can affect your cardiovascular system, destroy the operations of your kidneys and, worst of all, can affect your reproductive system.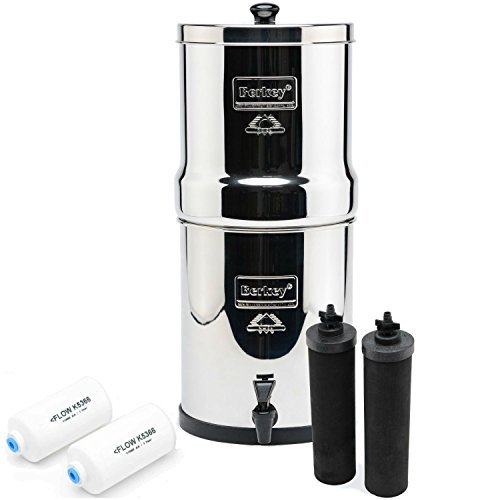 Another difficult problem is that removing lead pipes in your home is a very expensive and time-consuming process.
Some plumbers refuse to do this type of work and those who do, normally charge thousands of dollars.
Even if you replace all the pipes and fittings in your house, you may still need to filter lead from your water. This is because many city and county plants still have issues with lead.
This is why many people opt to get a water filter that can filter lead instead of wasting time and money trying to replace all the pipes in their homes.
This works well because bathing or showering in lead-contaminated water is not as dangerous as drinking it.
Especially if you have small children (who are much more affected by lead poisoning than adults), you should consider installing a lead water filter whole house.
Why Get a Lead Water Filter?
Lead is a chemical element that is particularly toxic to us.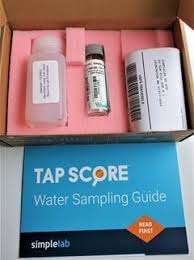 Throughout history, it has been considered very useful in many different ways but lately it has been highlighted as very dangerous.
It is actually a neurotoxin that is particularly harmful to children and pregnant women.
Studies show that lead can lead to learning difficulties due to brain disorders.
Lead was used as a building material for a long time and this causes problems when it leaks into our water supply. For instance, it's been making headlines worldwide due to the water crisis in Michigan, USA.


OptimH2O Whole House Filter + Salt-Free Water Softener
Aquasana EQ-1000 (aka 1 Million Gallon Rhino)
Does NOT require electricity.
Does NOT require electricity.
Treats hard water UP TO 25 ppm (low to medium low hard water).
Treats hard water UP TO 25 ppm (low to medium low hard water).
- Whole house filter + salt free softener.

Filters:
- Lead
- Chlorine
- Cysts
- Chloramines
- Pfos (Perfluorooctane sulfonate) and more.

UV upgrade removes 99% bacteria, e.coli, giardia and cryptosporidium.
- Whole house filter + salt free softener.

Filters:
- Lead
- Cysts
- PFOA/PFOS
- Chlorine
- Chloramines and more.

UV upgrade removes 99% bacteria, e.coli, giardia and cryptosporidium.

Price: $$$$
Ships to US and CA.
Price: $$$
Ships to US and CA.
Sale prices automatically applied by clicking this link.
Sale prices automatically applied by clicking this link.
If there is *no* sale try coupon code:
AQGEEK50
If there is *no* sale try coupon code:
AQGEEK50
Lead In Water Test
It is important to remember that lead is odorless and colorless and traces are unlikely to be visible to the naked eye.
This makes identifying it a problem. However, there are 3 ways to find out if you have lead in your water supply.
1. Local water systems are required by law to publish an annu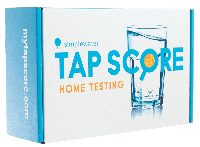 al report on water quality. These reports are called "Consumer Confidence Reports" and published before July 1 of each year.
Here you will find your local report. Those of you who have water from a private source must contact your local health department OR do a lead water test by yourself.
2. Have your water analyzed by a certified laboratory. This is the best option as it will look at the actual water in your home. Water is tested at the point of use, so the results are more meaningful. However, tests can cost between $25 and $100.


Lead In Water Treatment Solutions
1. Use a water filter. Look for filters certified by NSF and WQA to reduce lead. Most reverse osmosis systems can reduce lead contamination. You should look for the NSF / ANSI standard 53 if you are buying a pitcher, faucet, countertop, refrigerator or inline filters.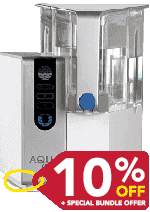 For reverse osmosis systems you should look for the NSF / ANSI 58 standard as these deal with lead decay.
2. Use only cold water for cooking or drinking. Hot water transfers higher levels of lead than cold water.
You should note that simply boiling water does not have any impact on lead.
However, it is reasonably safe to bathe in lead-contaminated water, as lead is not absorbed by the skin.
If you have further questions about lead contamination, the EPA (Environmental Protection Agency) and CDC (Centers for Disease Control and Prevention) websites have excellent resources and contact information.
Lead Water Filter Whole House
Aquasana Reverse Osmosis System
Under Sink System
(Removes over 96% of lead – but NOT for the whole house, under kitchen sink only)
Reverse osmosis (RO) is the most effective form of removing lead from water.
The Center for Disease Control and Prevention recommend RO as one of the best water filters for lead dissipation.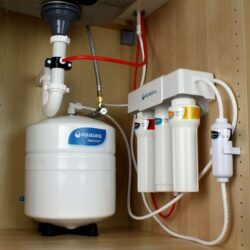 It is of great value and also comes with the highest rated customer reviews on places like Amazon.
This is one of the biggest awards for water filters, which proves their effectiveness under independent tests.
It is certified to eliminate over 96% lead, which is among the highest available rates. It also removes virtually all other contaminants from your water.
The manufacturer also has one of the best customer service in the industry.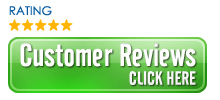 This system offers a long warranty and is certified to NSF/ANSI standards. NSF/ANSI Standards 42, 53, 58, 401 + P473. There is also a generous money-back guarantee.
OptimH2O Whole House Filter Review
(Removes 99.62% of lead in the whole house – HIGHEST on the market)
(UV filter removes 99.99% of bacteria)
The OptimH2O filter is certified to reduce lead and cysts by more than 99%.
It can also remove chlorine, chloramine, perfluorooctane sulfonate (PFOS, perfluorooctanoic acid (PFOA) and many more. There are NSF / ANSI certifications that proves this to be the case. And this is why it comes with NSF / ANSI Standard 53 and NSF / ANSI Standard P473. The unit has been independently tested and certified by IAPMO.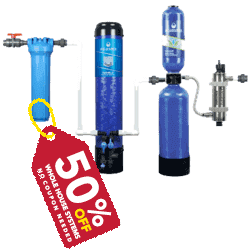 Independently tested and certified to filter out harmful substances including:
Lead by 99.62%
Cysts by 99.95%
PFOA/PFOS by 98%
Chlorine and chloramines by 90%.
Upgrade to add on the UV filter option. This kills 99.99% of viruses such as coli, bacteria and chlorine-resistant cysts (giardia and cryptosporidium).
The result is great tasting and odorless water for drinking and cooking. It also reduces stress on your body with chlorine, chloramines and synthetic chemicals that can cause dryness to your skin and hair.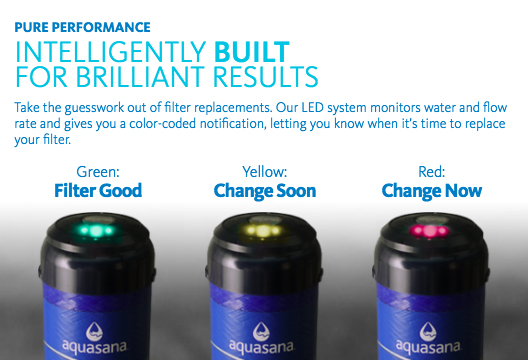 Main advantages and properties:
LED flow meter means you know exactly when to change your filter cartridge. Also, you do not need a plumber to help change filters. They come with light timers to let you know when to replace.
It has a filter flow rate of around 8 gallons per minute, which is ideal for busy family.
A filtration of up to 0.5 microns reduces lead, cysts, PFOA / PFOS, chlorine, chloramines and much more.
The huge, extremely dense block of carbon offers superior filtration compared to granular media. Catalytic coal and activated carbon undergo ion exchange and micron filtration to achieve the first efficiency of this type.
The LED system monitors the flow and the water and gives you a color-coded notification informing you when to replace the filter.
It has a salt-free softening technology so you get effective "soft" water without using salt or aggressive chemicals.
SPECIAL OFFER: Up to 50% discount and FREE shipping on select items using the Aquasana coupon code: AQGEEK50.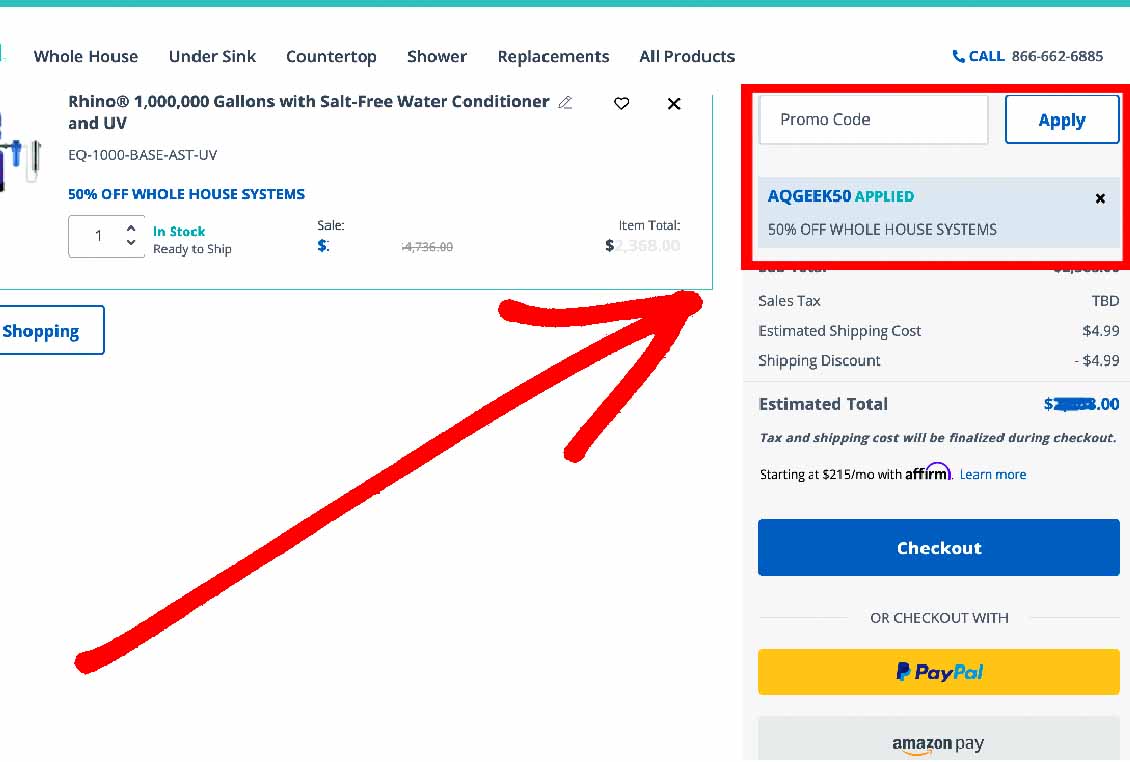 What's The Best Lead Water Filter Whole House?
The best water filters that remove lead include dispensers or water filters like the Berkey countertop dispenser. It allows water to flow through adsorption media that absorb impurities such as lead.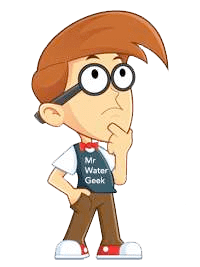 Impurities, such as lead, remain trapped in the filter and remain in the filter. This means it doesn't show up in your drinking water or significantly reduced at the very least.
The filters should be replaced according to the filter capacity recommended by the manufacturer so that they can continue to reduce lead and other contaminants for which they are certified.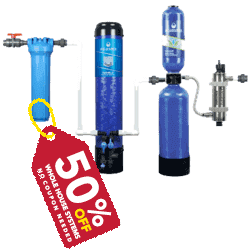 NSF-certified filters reduce the impurities specified in the packaging or in the product manual.Many filters have gauges that indicate when the filter needs to be replaced.
In my opinion, the OptimH2O is by far one of the best water filters that remove lead.


The OptimH2O is certified to remove 99.62% of lead, which is the highest rate going.
Get Up to 50% OFF listed prices with promo code: AQGEEK50.
OptimH2O Whole House Filter + Salt-Free Water Softener
Aquasana EQ-1000 (aka 1 Million Gallon Rhino)
Does NOT require electricity.
Does NOT require electricity.
Treats hard water UP TO 25 ppm (low to medium low hard water).
Treats hard water UP TO 25 ppm (low to medium low hard water).
- Whole house filter + salt free softener.

Filters:
- Lead
- Chlorine
- Cysts
- Chloramines
- Pfos (Perfluorooctane sulfonate) and more.

UV upgrade removes 99% bacteria, e.coli, giardia and cryptosporidium.
- Whole house filter + salt free softener.

Filters:
- Lead
- Cysts
- PFOA/PFOS
- Chlorine
- Chloramines and more.

UV upgrade removes 99% bacteria, e.coli, giardia and cryptosporidium.

Price: $$$$
Ships to US and CA.
Price: $$$
Ships to US and CA.
Sale prices automatically applied by clicking this link.
Sale prices automatically applied by clicking this link.
If there is *no* sale try coupon code:
AQGEEK50
If there is *no* sale try coupon code:
AQGEEK50