Article Last Updated: August 2023


A water dispenser stand is essential for you to properly use a water dispenser. This is because it is almost impossible to use a water dispenser without it being elevated in some way.
The water dispenser remains one of the most enduring office icons. However, it is also fast becoming a must-have appliance for the home.
This is due in great part to its convenience factor and the fact that a water cooler encourages everyone to drink more water.
The water cooler can not be beaten for the ease at which it provides you with cool, safe, refreshing water on demand.
This article will include buying tips for either a water cooler, dispenser and everything you need to know about getting a water dispenser stand!
Water Cooler vs Water Dispenser
People often fail to understand the difference between a water cooler and water dispenser. So let's quickly clear up the differences before we go on to talk about a water dispenser stand.
In simple terms, the key difference is that while both types are a water dispenser of some kind, a water dispenser does not cool your water.
| | |
| --- | --- |
| Water Cooler | Water Dispenser |
| | |
| This is an electric water cooler that both cools and dispenses your water. | This is a dispenser that does not cool your water (usually non-electric). |
Either type of dispenser will usually be able to accommodate standard water bottle sizes (two, four or five-gallons).
You can also opt to order specific types of water like distilled, spring or mineral water. Once received it is easy to refill your water dispenser.
Benefits of getting a Water Dispenser / Water Cooler

Quick and easy access to good quality, fresh drinking water.

Seeing a water dispenser will naturally induce you to drink more water.

You don't have to worry about buying and replacing water filters as you will be buying already pre-filtered water.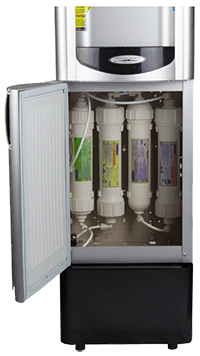 It is good for offices and public buildings because you can pay an external company a small fee to monitor and maintain it for you.

Even a water dispenser (that doesn't cool the water) can still provide you with water that is cool at room-temperature, which is great in hot climates.
Best Water Cooler Features

A dispenser or cooler will always have at least one faucet. However, it is now common to get two faucets and the other one is for warm/hot water. Although, it might not be hot enough to make coffee, drinking warm water has some unexpected benefits.

Getting a water dispenser can help to reduce 'plastic' waste associated with buying lots of bottled water.

Countertop vs Freestanding Water Dispenser
Getting a water dispenser can come in the form of a countertop cooler or it can be freestanding.
Countertop Water Dispenser
Freestanding Water Dispenser

A countertop dispenser is one that you place on top of a table or counter. Usually nothing higher than that otherwise it becomes difficult to dispense.
Countertop water dispensers are usually cheaper especially if they are non-electric.
Should be placed on a solid platform that can comfortably carry its weight.

This unit is long enough to be placed on the floor and the traditional dispenser that is the most popular. This is the typical water cooler that you can expect to find in an office.
The freestanding water dispenser is usually more expensive. Especially if they are the electronic kind that also cools the water too.
If your freestanding does cool water, it will need an electrical outlet.
Water Dispenser Stand
Getting a countertop water dispenser means you may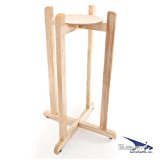 have to buy a water dispenser stand.
Luckily there are so many types and varieties available to suit every taste and budget.
The most popular being a wooden water dispenser stand, which is often paired with a porcelain water dispenser stand.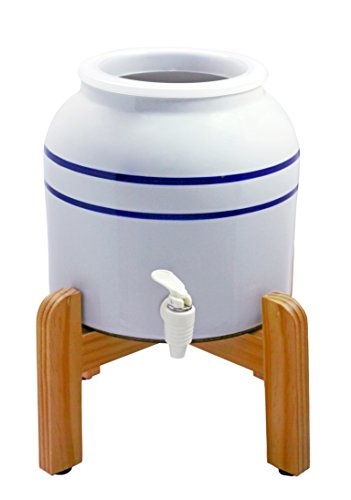 Water Dispenser Stand: WORST-Kept Secrets (!)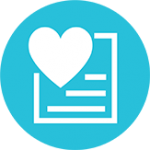 Some of them come in a flat pack. This means you may have to set it up yourself. If you don't like this make sure you get one that is already fully assembled.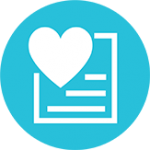 Many water dispenser stands are made from wood. However, wood that is constantly exposed to water splashes from the water dispenser can become mouldy and smelly.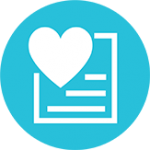 Wood dispenser stands often don't come with wheels so can be hard to move around once set up.

Pros and Cons of a Porcelain Water Dispenser
There are only a few porcelain water dispenser models available but they are very popular with people that like their classic vintage look.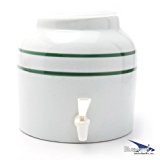 However, before you buy one review the list below to understand the pros and cons.
CONS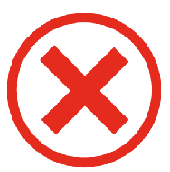 It is ceramic porcelain, which means it is breakable if you drop it.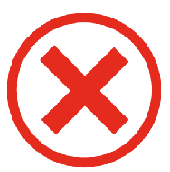 A porcelain dispenser will NOT filter water.
PROS

Very durable and can last a lifetime since they are made from 100% porcelain ceramic.

Also, they last longer as they are non-electric and don't have any components that need to be maintained / likely to break.

Not being electric means there is no on-going operating cost.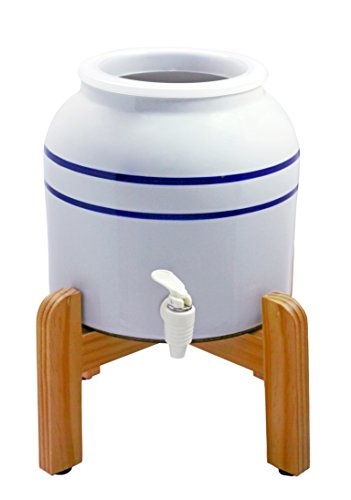 Water being stored in cool porcelain crock will result in water that is dispensed at room-temperature water.

A porcelain dispenser can accommodate a standard two, four, or five-gallon water bottle.

Very aesthetically pleasing and ideal for customers who love the nostalgic vintage look and feel.

You can also get an equally great water dispenser stand to compliment and complete the look.


The Best Water Dispensers (With Filtration)
Do you want to get a water dispenser but save money on the weekly maintenance?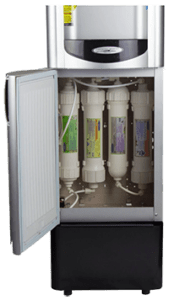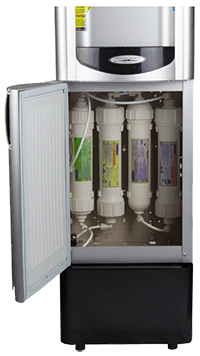 Do you prefer something that has a much cheaper maintenance cost yet still provides you with clean drinking filtered water?
If yes, consider a water dispenser with filtration.
Getting a dispenser with its own filter means you can simply pour tap water into it and it will turn it into fresh clean drinking water.
There are many different types of water dispensers with filtration systems available. My top pick is the Bottleless Water Dispenser and I'll explain why in the next section.
Bottle-less
 Water Dispenser Hot & Cold in Black with Reverse Osmosis

The brio bottle-less water dispenser hot & cold is one of the most powerful dispensers and comes with a multi-stage reverse osmosis filtration system.


Here are some more specific benefits and specifications that come with the bottle-less water dispenser hot & cold in black with reverse osmosis:
Easy to set up out of the box.
Built-in filtration system with reverse osmosis.
Compact size that can fit in the corner of any room with dimensions: (D) 13" x (W) 13" x (H) 37"
Product weight: 20 kgs / 45 lbs.
Automatic cold and hot water temperature control.
Features 304 stainless steel interior, including a stainless steel interior shelf, bottom, reservoir and hot tank. This not only preserves the water it also increases the longevity of the product.
The machine is easy to maintain and keep clean with a removable dishwasher safe drip-tray.
The hot faucet is child safe with On/Off switches for hot and cold features. This means you can put it off when it's not in use and therefore save yourself more money.
This water dispenser has quick pour faucets.
The unit package comes with a standard universal installation kit. This not only saves you more money it makes it easy to install, you literally plug in and play.
Heating power: 500W 6.2 Amps.
It Converts Coke and CocaCola Into Fresh Drinking Water
Water Dispenser Stand: Capacity Notes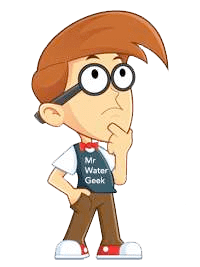 The vast majority of water dispensers have a capacity that can contain standard-size dispenser bottles.
This typically comes in 2, 4 and 5-gallon standard sizes.
But you should always double check that any water dispenser stand you buy can accommodate and withstand the full water capacity.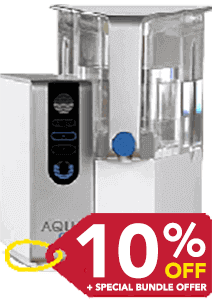 You can usually refill the large standard plastic cooler bottles with water.
But remember to always disinfect the bottle with a good cleaning solution and rinse very well before re-use.
AquaTru Water Filter

Berkey Water Filter

- Arsenic: Approx 90% (unspecified).
- Fluoride by 91.8% (WITHOUT extra filters).
- Lead 97.5%
- Benzene 99.9%
- Chlorine 96.6%
- Cysts 99.99%
- Arsenic by 99.9% (special filters required).
- Fluoride by 99.9% (special filters required).
- Lead 97.5%
- Benzene 99.8%
Available in 1-size only.
Available in various sizes.
Plastic materials.
Metal & plastic materials.
Number of filters: 3
Number of filters: 2 - 4
Filter methods: Mechanical, Reverse Osmosis & Activated Carbon filters.
Filter methods: Black microporous-filters & white fluoride Filters
4-stage filter process.
2-stage filter process.
Holds a maximum water capacity of 3-quarts.
2.25 Gallons
45.7 x 45.7 x 38.1 cm
19" High x 8.5" Diameter
System: 1 year limited warranty.
Filters: 2 years; System: 1 year.
Full Performance Data Sheet (AquaTru).
Berkey Contaminants List
NSF/ANSI test results
SPECIAL OFFER?
Yes, use code MRWATERGEEK

SPECIAL OFFER?
Yes, Big Berkey bundle sale