Article Last Updated: May 2022
The best reverse osmosis unit is able to remove harmful compounds contained in your water and make it drinkable. This technology uses pressure and a semi-permeable membrane to purify water and remove contaminants and foreign matter.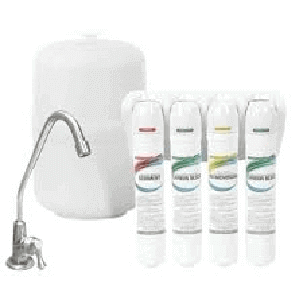 Reverse osmosis water has been very popular since its introduction. This is mainly due to the fact that more and more people recognize its benefits.
For example, a better taste, the water is totally purified and remineralized which means that healthy minerals are added back into your water.
It's not just good for drinking. Using a reverse osmosis shower filter represents a big step towards achieving better skin and hair health for most.
The real question is "where and how do I get RO water?"
Well, you can buy RO water commercially by purchasing RO bottled water. However, if you want to consume it regularly, purchasing reverse osmosis bottled water can be extremely expensive.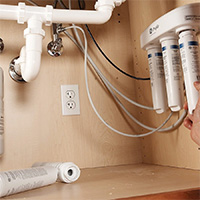 This is why it's much more cost effective to buy a reverse osmosis unit that filters your water 24-7.
In this post I will lay out and review the best reverse osmosis units available on the market today.
By the end of these reviews you will know which one is right for you.
Pelican FreshPoint RO 5-Stage Under-Sink Filter

Aquasana Undersink Reverse Osmosis System

Removes Arsenic by 88%
Removes Arsenic by 97%
Removes Fluoride by 93.6%
Removes Fluoride by 95%
- Reduces 80%+ of over 70 contaminants (reduces Chlorine by 99.5%, Arsenic 88%, Cysts by 99.99%, Fluoride 93.6%, Lead by 98.6%, Chromium by 96.4%)
- 6 to 12 month life per cartridge.
- 3.2 gallon tank capacity.
- TDS monitor.
- Leak protection seal.
- Pentair Warranty.
- Effectively remove fluoride plus 87 additional contaminants.
- Multi-stage filter INCLUDES ReverseOsmosis + ActivatedCarbon + CatalyticCarbon + IonExchange + Remineralization.
- Filters 5x more contaminants than other RO systems.
- Removes 97% of chlorine and arsenic.
- 99% of lead and asbestos.
- 2 year warranty and 90 day guarantee.
$$
$
The Best Reverse Osmosis Water Filters
There are 3 top reverse osmosis filters that you should know about. These are also the reverse osmosis units that I will review for the remainder of this article:
iSpring Commercial Reverse Osmosis Water Filter.
Home Master HydroPerfection Undersink RO System.
1. OptimH2O Reverse Osmosis + Aquasana Claryum Filter
The Aquasana OptimH2O reverse osmosis filter is one of the few filters that safely removes fluoride as well as over 85 extra impurities.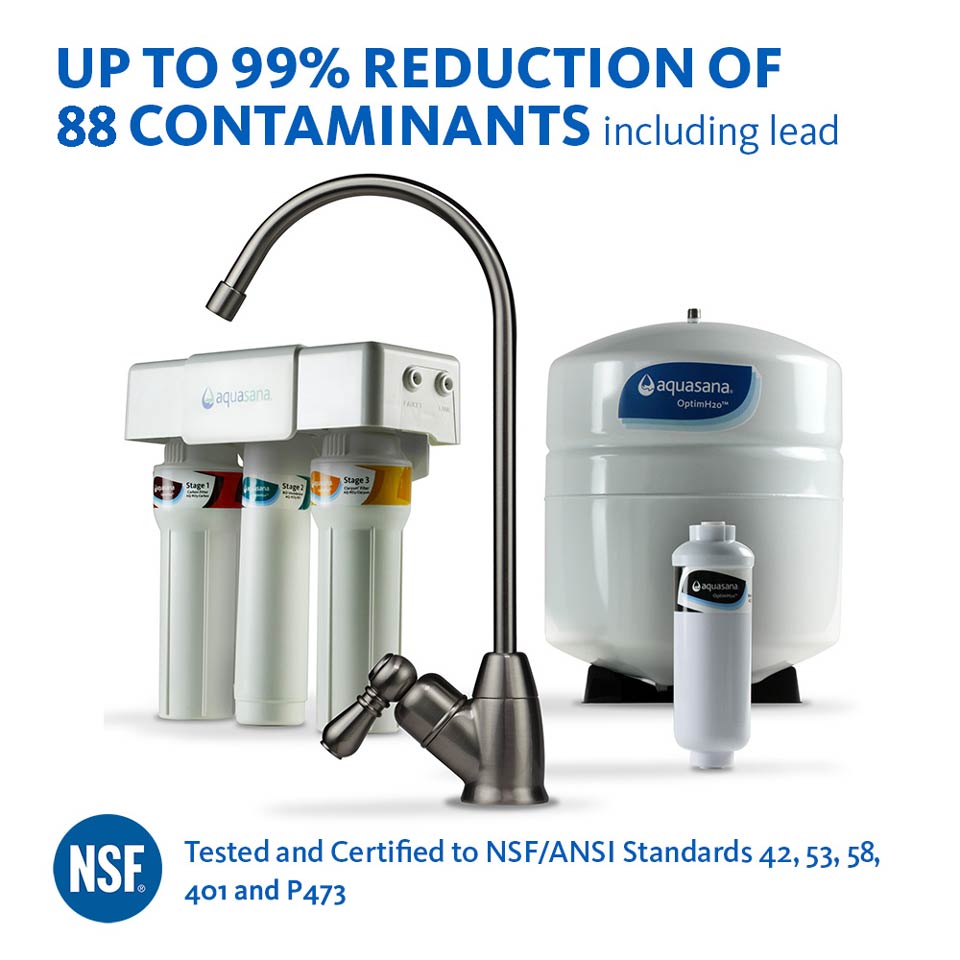 The promise is that it can remove fluoride and five times more impurities than any other RO system available on the market today.
Also, this is the first reverse osmosis system of its kind that combines powerful reverse osmosis filtration with the possibility of remineralization.
This is through selective filtration with a technology called "Claryum". Remineralization basically means healthy minerals and nutrients are added back to the water since the RO process itself filters everything (good and bad) out from the water.
All this means that it removes most of the impurities from your water while maintaining the benefits of healthy minerals that are normally removed with other reverse osmosis systems.
The reverse osmosis OptimH2O + Claryum can eliminate the following:
Optimh2o Reverse Osmosis + Aquasana Claryum Filter: Best Features
One of the first and best features of the OptimH2O is that it improves the pH of your water. It can help your water become alkaline water for optimal use. The result is a water device that not only has a reliable water flow but also delivers delicious, crispy and healthy water.
Here are some of the main Optimh2o Reverse Osmosis + Aquasana Claryum Filter features that you should know about:
It filters fluoride.
Comes with ion exchange that can filter heavy metals like mercury and lead.
The RO filters out most dissolved solids, such as arsenic that are smaller than 1 micron.
The presence of activated carbon will help to reduce organic chemicals such as VOC (Volatile Organic Compounds), pesticides, MTBE (methyl tertiary-butyl ether) and herbicides.
Remineralization means that this filter also returns healthy minerals into your water. As a result, it improves the alkalinity of the water.
Replacement filter cartridges are easier to replace with the latest model.
The submicron filter removes and filters asbestos and chlorine resistant cysts such as cryptosporidium and Giardia.
The water pressure is a standard 0.5 GPM.
Finally, when it comes to timescales, the carbon / claryum filter can last for 6 months – depending on your use.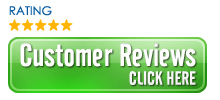 90 days warranty.
2 years guarantee.
Tested and certified to ANSI / NSF standards.

2. iSpring Commercial Reverse Osmosis Water Filter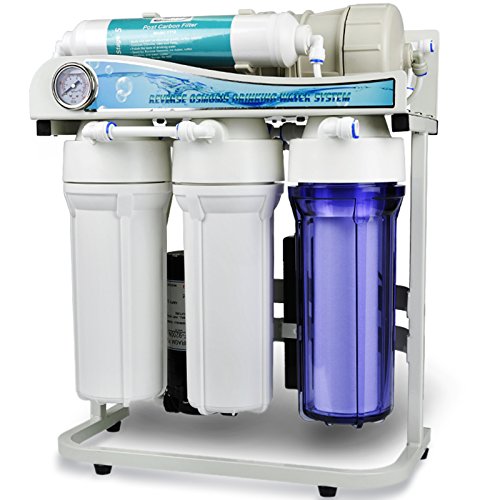 This can be more expensive than the standard RO system that you find on places like Amazon.
However, all the positive customer reviews suggest that the iSpring RCB3P-NT is worth it.
This RO system has an independent frame and built-in pressure gauge with 20-inch pre-filter and 3,100 GPD diaphragms. This means that it produces a maximum of 300 gallons per day.
What is ideal if you use it for commercial purposes, have a large house or a large need for water.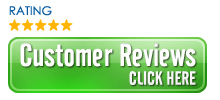 Just connect it to a tank (sold separately) and enjoy clean, pure water.

3. Pelican 5 Stage RO Water Filtration System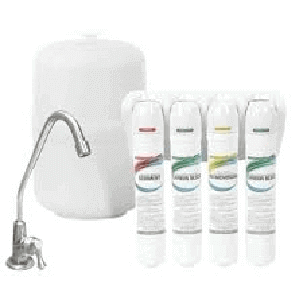 If you need heavy duty undersink filter, this is for you.
It is capable of filtering well water and regular water that comes from public water companies.
The claim is that its advanced filtration and purification filters remove up to 99% of the chemicals and impurities in water.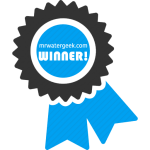 Like the other products I have reviewed in this article, this machine also has durable and easy-to-change filters that are easy to maintain and replace.
Best Features
The innovative design solves the common problems of traditional RO systems and uses multiple stages of filtration to make sure the water is pure.
Durable and easy to change filters.
It has a multi stage water filtration system that removes up to

99.9% of 70+ contaminants.

Chlorine by 99.5%,
Arsenic 88%, Cysts by 99.99%,
Fluoride 93.6%,
Lead by 98.6%,
Chromium by 96.4% etc

Capable of treating fluoride by up to 93.6%.
The whole device is something that you can install *without* needing a plumber.
Each filter cartridge lasts for between 6 to 12 month
3.2 gallon tank capacity.
Comes with a TDS monitor.
Has a leak protection seal.
Comes with the Pelican warranty.

The Best Reverse Osmosis Unit?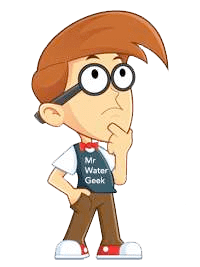 The decision to get one of the best reverse osmosis water filters does not have to be a difficult one.
The quality of the production and the general market competence guarantee means you are likely to get a high quality machine regardless of what type of brand or model you choose.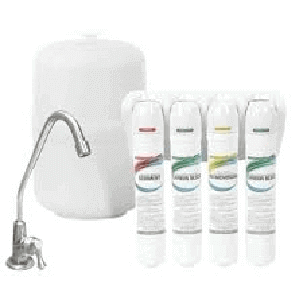 However, after reviewing all the available options I consider the FreshPoint RO 5-Stage filter to be the best filter.
It is the only RO unit on this lead that is powerful enough to deal with lead, arsenic, chlorine and fluoride.
Pelican FreshPoint RO 5-Stage Under-Sink Filter

Aquasana Undersink Reverse Osmosis System

Removes Arsenic by 88%
Removes Arsenic by 97%
Removes Fluoride by 93.6%
Removes Fluoride by 95%
- Reduces 80%+ of over 70 contaminants (reduces Chlorine by 99.5%, Arsenic 88%, Cysts by 99.99%, Fluoride 93.6%, Lead by 98.6%, Chromium by 96.4%)
- 6 to 12 month life per cartridge.
- 3.2 gallon tank capacity.
- TDS monitor.
- Leak protection seal.
- Pentair Warranty.
- Effectively remove fluoride plus 87 additional contaminants.
- Multi-stage filter INCLUDES ReverseOsmosis + ActivatedCarbon + CatalyticCarbon + IonExchange + Remineralization.
- Filters 5x more contaminants than other RO systems.
- Removes 97% of chlorine and arsenic.
- 99% of lead and asbestos.
- 2 year warranty and 90 day guarantee.
$$
$