Article Last Updated: November 2023
 Klean Kanteen vs Hydro Flask Quick Compare (Table)
Hydro Flask
Klean Kanteen
Material :
Stainless Steel
Material :
Stainless Steel
Durability Level:
Very Durable

Durability Level:
Yes, (cap can warp)

Number of Accessories:
Lots of Accessories
Number of Accessories:
Some Accessories
Easy to Clean?:
Yes
Easy to Clean?:
Yes
Leak Proof:
Yes
Leak Proof:
Yes
Insulation:
Yes
Insulation:
Yes, double-wall vacuum insulation
Sizing:
Different Sizes Available
Sizing:
Different Sizes Available
Double-Wall Vacuum :
Yes
Double-Wall Vacuum :
Yes
Klean Kanteen vs Hydro Flask?
The truth is that Hydro Flask and Klean Kanteen are virtually identical in many ways.
Both are made of food grade 18/8 stainless steel. Both use double wall vacuum insulation and are available in a variety of sizes and colors.
But I want to resolve the debate of "klean kanteen vs hydro flask " once and for all and declare a winner. That means it's time to go deeper.
In this marathon review, I will evaluate the merits of Klean Kanteen vs Hydro Flask. And base this comparison on many factors.
Factors that include things like ease of use, rigidity, shape, durability, accessories, price and insulation.
Read all the way down to the end to see the winner!
Which Is More Durable?
Winner: Hydro Flask
Why? Because Hydro Flask comes with a 64 ounce insulted stainless steel growler water bottle. This 64 ounce hydro flask growler is a tank when compared to bottles from other brands.
Because both bottles are made of the same materials, their durability is more or less the same. However, in my experience with Klean Kanteens, I have found their caps sometimes have problems forming a leak-proof seal after prolonged use. Usually, the plastic inside the lid deforms a bit and the result is a bottle that does not seal as well as it once did.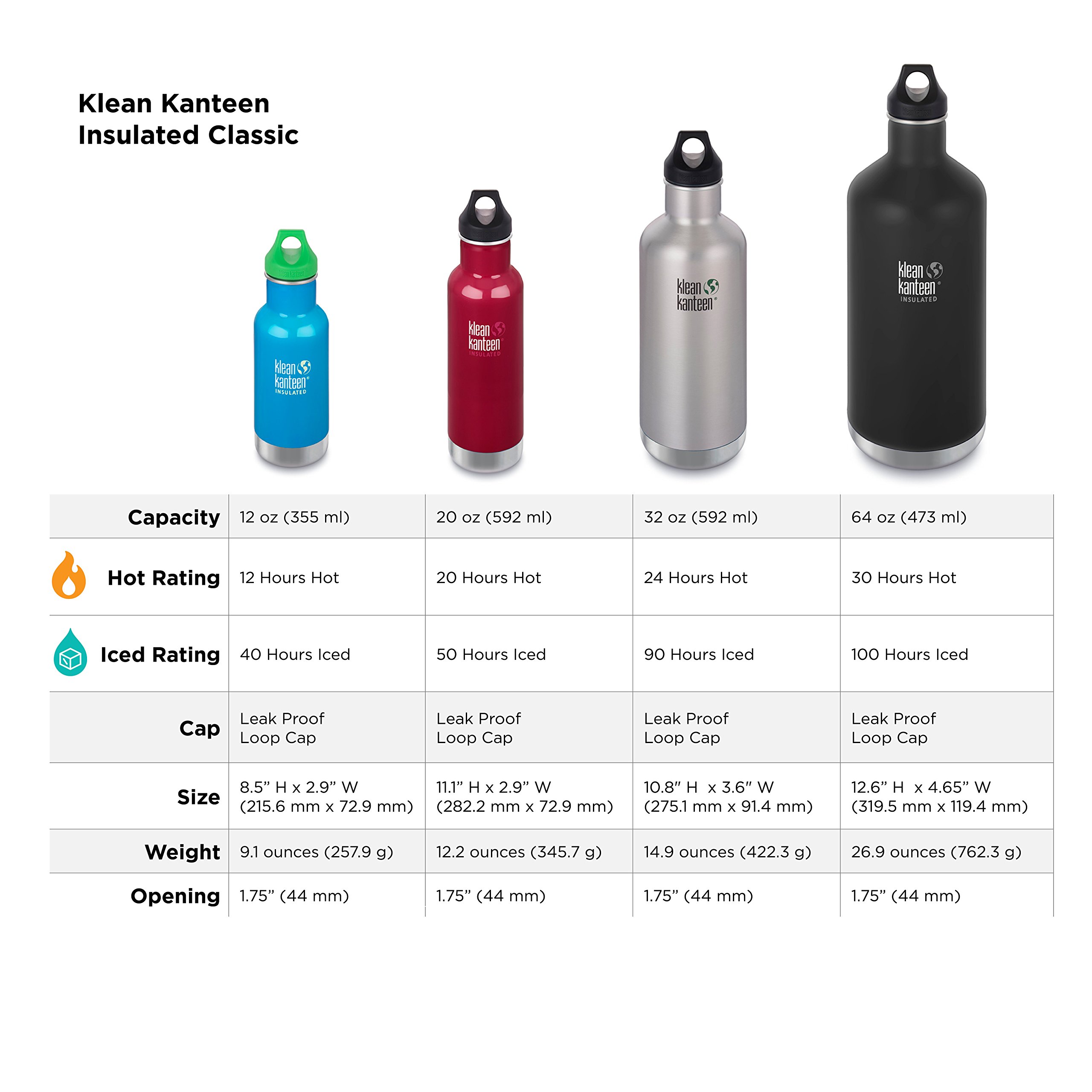 This has never been the case with Hydro Flasks, which in my opinion has a better design for the cap and the screw mechanism. Which does not mean that the Hydro Flask lid can not be deformed or worn out, but I am yet to experience this.
Apart from the lid, the bottles themselves are incredibly hard and although I have managed to damage them a bit. I have never broken one or put it out of action.
Which Has The Best Insulation?
Winner? Draw
I'm lucky enough to own both the Hydro Flask and Klean Kanteen. And I honestly can not say much about the difference between their insulation factor.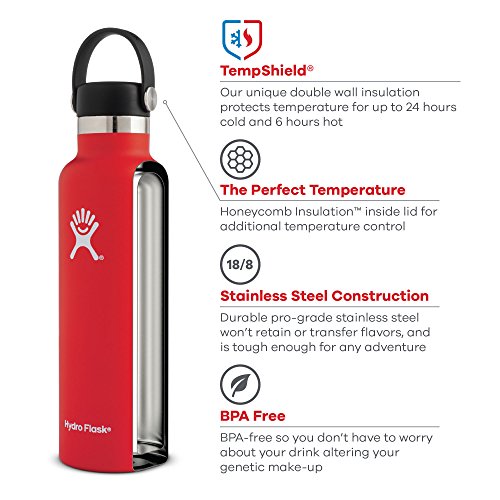 Both work remarkably well in isolation at both ends of the temperature spectrum. This is more or less what one expects since the Hydro Flask and the Klean Kanteen use the same type of double wall insulation and both are made of stainless steel.
The insulation offered by both Klean Kanteen and Hydro Flask is excellent.
The double-walled vacuum construction made of stainless steel guarantees virtually no heat transfer from the contents of the bottle to the outside. This means that everything you put in remains at the same temperature. But it also means the surface of the bottle never gets too hot or cold. Even if your vacuum flask is full of boiling hot water, the outside remains cold.
If all you are looking for is insulation, either flask will do the job. Fortunately, no matter which option you choose, the results are pretty much the best you'll get in the market.
The only way Hydro Flask slightly eclipses Klean Kanteen is with its new Cap Flex offering. This introduces a technology called "Honey Comb" insulation to catch air and reduce heat transfer. However, this is only for newer models and doesn't come with the older classic models. So if insulation is your biggest priority then try the Flex Cap Hydro Flask. Also check out its Amazon page to read more about how this works and customer reviews.
Which Is The Easiest To Use?
Winner: Draw
Both Klean Kanteen and Hydro Flask are available in several varieties to better suit your daily needs. And each variety offers great ease of use. I tend to prefer wide mouth water bottles to make it easier to put ice cubes or even fruits. Fortunately both Klean Kanteen and Hydro Flask are available in wide mouth varieties.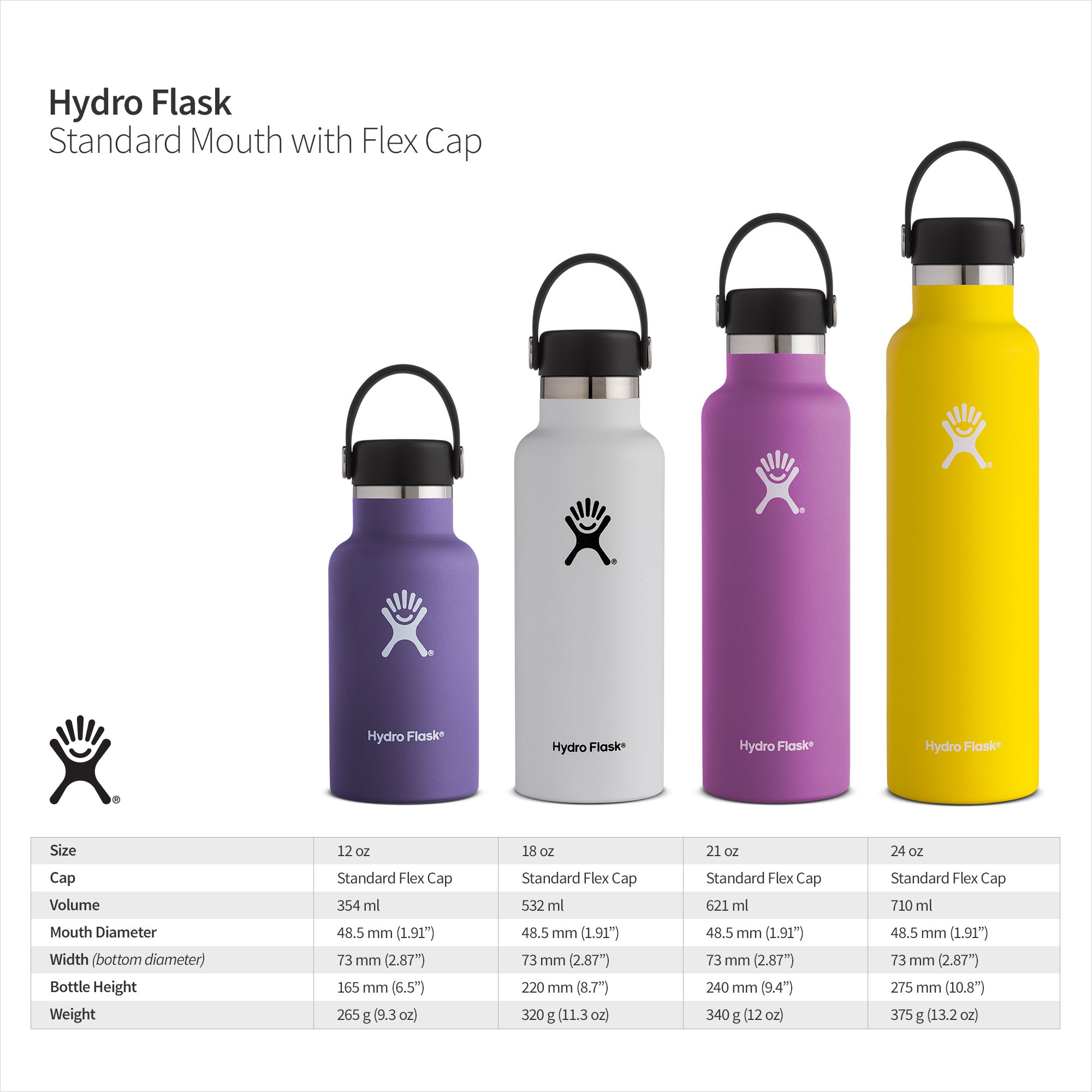 Personally, I feel that a bottle of water isolated from a narrow mouth is a missed opportunity. But if for some reason that's what you're looking for, check out the narrow mouth of Klean Kanteen or Narrow Mouth Hydro Flask. These narrow-mouth options feature a slimmer profile, which is ideal if you're looking for something that suits a cup holder or to minimize the footprint in a backpack.
All varieties of Hydro Flask and Klean Kanteen are quite comparable. They have very similar shapes, size options and are equally easy to clean and fill (read my water bottle cleaning guide if you need help in the cleaning department). Therefore I make this a draw.
Which Has The Best Form?
Winner: Klean Kanteen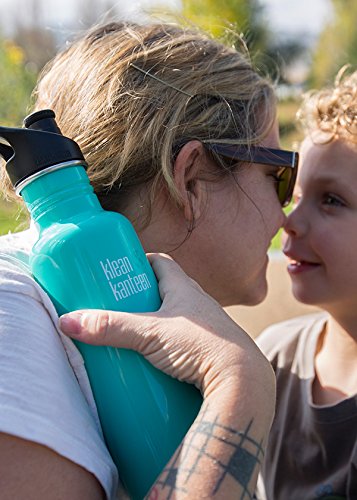 Both Hydro Flask and Klean Kanteen have some smart and visually appealing designs. In terms of visual diversity, Klean Kanteen offers a wider choice and often makes water bottles of limited shared brands. For instance, the limited edition Jack Johnson Klean Kanteen.
Perhaps some of the Klean Kanteen basics are not as attractive as the basic and colorful design of the Hydro Flask, but the aesthetic diversity in the form of a joint brand and different designs is much broader in the Klean Kanteen catalog.
Given that Klean Kanteen offers a bit more options when it comes to choosing the look of the bottle, I make them the winner for this category.
Which Has The Best Accessories?
Winner: Hydro Flask
Why? Because the Hydro Flask has lots of accessories including straw lids for wide mouth insulated stainless steel bottles.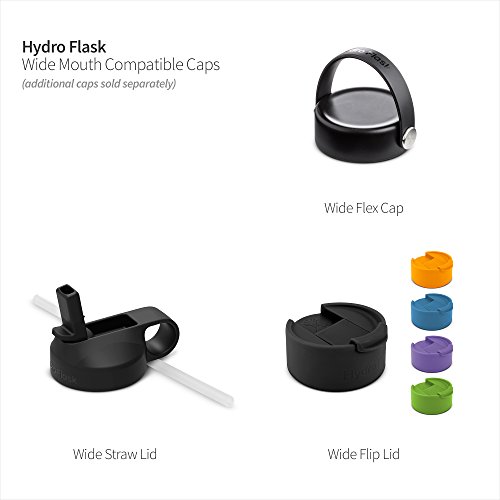 When it comes to accessories, we finally have a pretty clear winner. Where the Hydro Flask has spawned a healthy accessory catalogue, the Klean Kanteen is relatively sterile for accessory options. Do not get me wrong, there are some nice items for Klean Kanteen but there's not much on offer.
On the contrary, it seems that the manufacturers have thought of almost all options for Hydro-Flask accessories. Whether it's something as simple as a straw top or one of the many bottle holders designed for Hydro Flask, there's a wide variety and there always seems to be something new.
If you want to customize your Hydro Flask by giving it a personal touch or looking for some other features, then take a look at the wide selection of Hydro Flask accessories.
 Which Is The Most Leakproof?
Winner: Hydro Flask
I would never consider Klean Kanteen or Hydro Flask as "leaking water bottles". But when it comes to rigidity, I've never found anything that works as well as the Hydro Flask. Yes, the Klean Kanteens are leak-proof. They have a good seal and come with a proper grip that works very well. But as I mentioned in the section that talks about durability, the plastic caps used in Klean Kanteens can sometimes deform after a prolonged use and the quality of the seal decreases.
In general, I have direct experience that the lid of the Hydro Flask is easier to screw. I never had a problem with the spills while using the Hydro Flask, no matter how carelessly I screwed on the lid.
Which Is Has The Better Price?
Winner: Klean Kanteen
Many people could see this debate and think, "Well if they're both alike then I'll just by the cheapest one!" If you're thinking this way then the Klean Kanteen is the winner. But remeber that for many models, the price is quite competitive. Take, for example, the 20-ounce wide mouth of Klean Kanteen, which is approximately $21. Hydro Flask does not offer a 20-ounce wide mouth, but the 18-ounce wide-mouth Hydro Flask also costs around $21.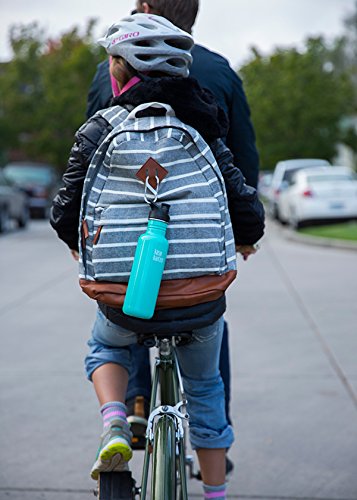 Klean Kanteen also offers a more savings across its entire range when compared to Hydro Flask. So, if your goal is to save money then go down the Klean Kanteen route.
Klean Kanteen vs Hydro Flask: Alternatives?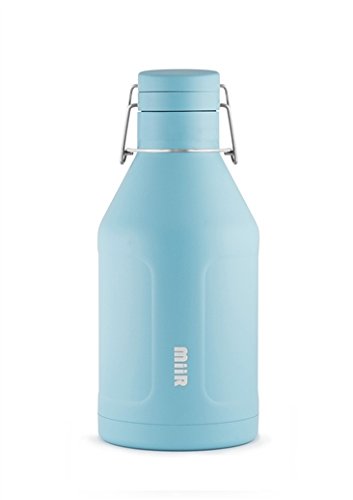 All this talk about Klean Kanteen vs Hydro Flask can make a person wonder if they are the only players in the stainless steel water bottle scene. While they are the most popular, there are many other options to choose from.
MiiR Insulated Growler
The MiiR Insulated 64 Ounce Growler
An interesting and relatively little known option is MiiR: It is quite similar to Hydro Flasks in terms of form, design, function and has a similar price range. They offer slim 24-ounce narrow-mouth bottles as well as large, elegant 64-ounce ones.
Another interesting option is Quench 32oz: An excellent and highly functional double-walled stainless steel bottle with vacuum insulation. It's also a little cheaper than a Hydro Flask, but at the price of a Klean Kanteen.
Hydro Flask
Klean Kanteen
Material :
Stainless Steel
Material :
Stainless Steel
Durability Level:
Very Durable

Durability Level:
Yes, (cap can warp)

Number of Accessories:
Lots of Accessories
Number of Accessories:
Some Accessories
Easy to Clean?:
Yes
Easy to Clean?:
Yes
Leak Proof:
Yes
Leak Proof:
Yes
Insulation:
Yes
Insulation:
Yes, double-wall vacuum insulation
Sizing:
Different Sizes Available
Sizing:
Different Sizes Available
Double-Wall Vacuum :
Yes
Double-Wall Vacuum :
Yes
My Overall Winner? Hydro Flask.
Based on all the factors I have evaluated, the results are 2 draws, 2 wins for Klean Kanteen and 3 wins for Hydro Flask. When it comes to form and price, Klean Kanteen is the winner. But in general, the Hydro Flask gets a 3 win victory with durability, accessories and air tightness.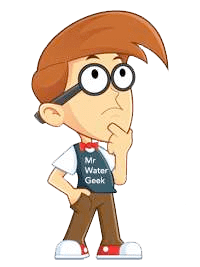 As you can see in the numbers, this is a very close one.
Assessing Klean Kanteen vs Hydro Flask is very difficult because the reality is that they are very, very similar products.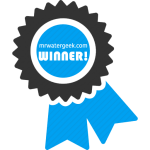 They are also both reputable, high quality manufacturers and are very popular.
I have talked about both brands in other articles like my lengthy review of the Best Water Bottles. And I firmly believe that both brands will carry on being some of the best options in the market.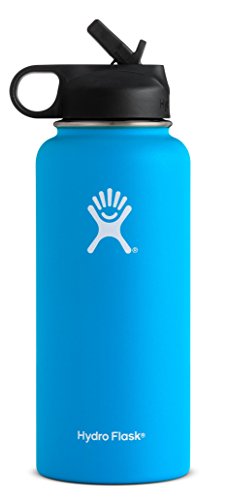 I hope this guide has given you enough information to choose between Hydro Flask and Klean Kanteen.
I think that no matter which one you choose, you will not be disappointed with the decision.
However, if you're still unsure, take a look at some of the articles in my other reviews to get more ideas.