Article Last Updated: March 2020
How To Clean Water Bottles.
This article will tell you everything you need to know about how to clean water bottles. Once cleaned properly your bottle will be long-lasting, and most importantly mould-free!
Water bottles are a fabulous idea. Buying a very nice bottle that you like looking at and like even more to drink from is a great way to keep yourself hydrated. Especially when you're out and about and perhaps don't trust the local water supplies. Or worse, don't have access to water at all. Although there are inherent problems with water bottles especially plastic ones, it is still better to have it than not.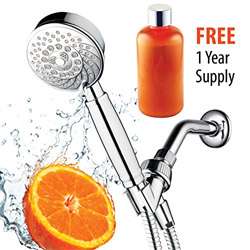 We all like to put funky things in our bottles from time to time to make the water more interesting. For instance, sticky sweet sports drinks, slices of fruit, purification tablets and plain old water itself.
However all of these things can turn your water bottle into a potential breeding ground for mould and bacteria.
If this is something that worries you (and let's face it is otherwise you wouldn't be reading this). Check below for fail proof tips to keep your water bottle clean, long-lasting, mould free for many years to come.
Read: Avoid Plastic Poisoning: Check Bottled Water For BPA



How To Clean Plastic Water Bottles
1. Wash By Hand
In most cases, a good and thorough rinse by hand with soap and warm water is a good way to clean most bottles. If you have time, leave the warm water and soap solution in the water for a few minutes before rinsing it out. This means that a) the soap keeps on doing its job long after your tired and b) it will get rid of any weird smells in the bottle. Just make sure you rinse it out thoroughly so as to be sure that you don't also end up drinking some of the soap in your water. Any general, all-purpose liquid washing up soap will do the job.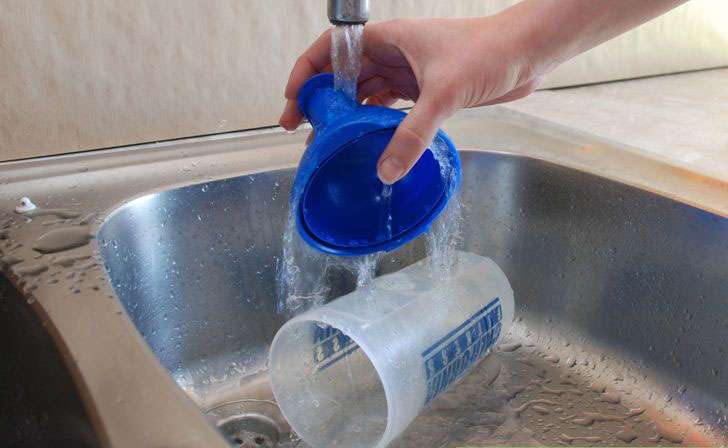 2. Clean The Water Bottle Cap

This is an easy thing to do as we are most likely to be focused on cleaning the bottle and may just give the cap a cautionary rinse. But remember that if the cap is not properly cleaned then it will only contaminate the rest of the bottle anyway. Also, caps that are taken off will usually be placed somewhere like on top of a table where it might pick up germs and bacteria. So be sure to give the cap as much attention (if not more) when washing the bottle. Squeeze soap and water through the nozzle if your hand or brush can not easily get to it.
3. Use a Brush To Clean Water Bottles



 Periodically, it is a good idea to wash the bottle with a brush because your hand can only do so much. You don't need anything fancy a simple brush that has a long handle is sufficient. You can get these at almost any department store or even a larger supermarket. When using this make sure to scrub harder if the bottle contains some sticky residue or mild stains.
4. Don't Put Your Water Bottle in The Dishwasher
Yes, it is tempting to just throw your bottle into the dishwasher and let it do all the work for you. But did you know that the temperatures in most dishwashers are close to boiling? If your water bottle is plastic then this might deform it and also degrade your bottle over time. Also, the dishwasher will not be able to clean it internally like you would with a brush or even your hands.

5. Clean After Every Use
You would always wash a cup after each use right? Think of the water bottle in the same light. Once you have finished with its contents, don't just refill but wash the bottle every time. Just as you would for a drinking glass, wash your bottle every time. This applies even if you have only used it to drink water or at the very least, rinse out the used bottle.
6. Do Not Use Harsh Cleaners
It's not a good sign if you feel that you have no option but to use something as strong as bleach or another type of harsh cleaner.  If you need something like this to properly clean your bottle then it's probably time to throw the bottle away and buy a new one. You should avoid putting something like bleach into your bottle. This is because unless you rinse it out enough then it could end up contaminating your bottle. The last thing you ever want to drink is bleach.
7. Know When to Throw The Water Bottle Away
Finally, when it comes to "How To Clean Water Bottles" this might be the most important point of them all. No matter how well you maintain your bottle there comes a time when all bottles should be recycled and go on to a better place. It is almost impossible to keep it bacteria and mould free forever and plastics usually degrade over time. Always inspect your bottle for scratches, mould, where the plastic has become soft. Some times there is a smell that just won't go away. This is no matter how much you wash the bottle. If this is true for you, then it's time for a new bottle.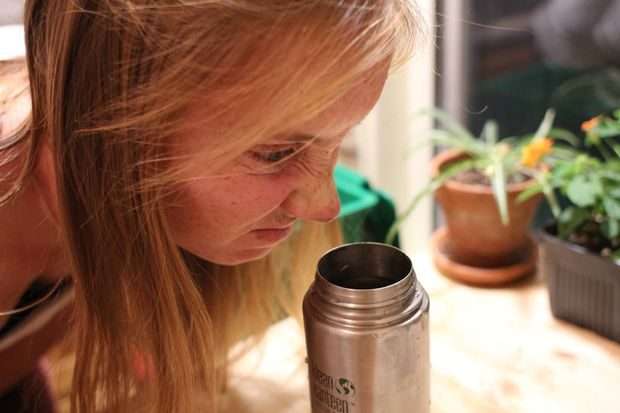 Some things you might need…
Product
Best Features
Price Range
Dr Browns Bottle and Teat Brush

- The pack includes straw brush, long bottle brush, and smaller cleaner.
- Soft side bristles clean bottle walls without scratching.
$
OXO Good Grips Water Bottle Cleaning Set

- The pack includes straw brush, long bottle brush, and smaller cleaner.
- Soft side bristles clean bottle walls without scratching.
$
Mrs. Meyer's Clean Day Dish Soap

- 97% Natural ingredients.
- Removes grease, stains, and residue.
$