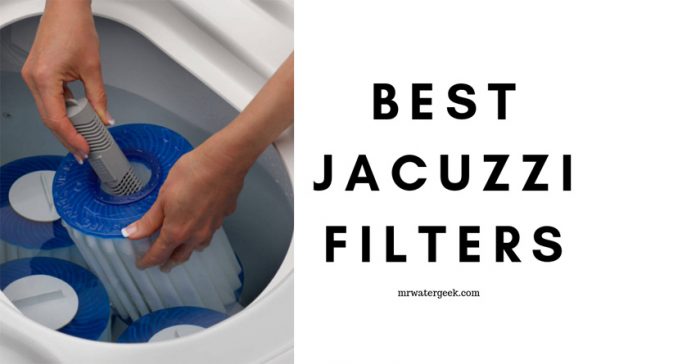 So you're in need of Jacuzzi filter cartridges. Have you just bought a used Jacuzzi and are not sure how to use a new filter?
Are you looking for a way to improve the water quality in your existing bath tub?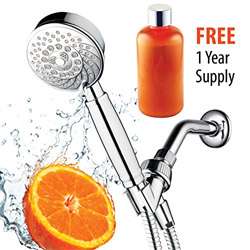 If any of these apply to you, it may be time to replace your Jacuzzi filter cartridges.
The Jacuzzi filter cartridges are an important part of the bath tub. They do a great deal to improve the overall quality of your water and they can also make your Jacuzzi last longer.
It can be very confusing and difficult for you to determine what type of replacement cartridge you want to buy. You may even be unsure how to install your new filter cartridge.
But do not worry! That's why this article is here.
You will learn more about installing your Jacuzzi pool filter cartridge and why it's important to keep up with this important step in maintaining your bath tub. I will also review the best Jacuzzi filter cartridges to make your purchase much easier.
So, it's time to learn about Jacuzzi filters and find the one that best suits your needs.
What is a Jacuzzi Filter Cartridge?
If you are new to a hot tub or have not really checked your bath tub, then you may not be sure what Jacuzzi filter cartridges really are. In your bath tub (or nearby, outside, depending on your model) you should be able to find your filter. This is the part of your bath tub where you fill the bath tub and the water flows through the filter. It is how it removes bacteria, sediment and dirt before it reaches your body.
In the filter housing unit you can see the filter cartridge. Many filter cartridges have handles. But even if they are not there, it should be a large cylinder that is easy to recognize. This is the part of your filter that the water passes through. And it is this cartridge that captures all the unwanted materials in your water before it reaches you.
It is very important to keep the filter cartridge clean and replace it as often as necessary to keep your water clean and safe.

Why Replace My Jacuzzi Filter Cartridge?
Now that you know how to identify your filter cartridge, you might wonder why you need to replace it.
Shouldn't it be okay to leave it alone and maybe brush it from time to time?
Now, this could apply to the life of some filter cartridges. But in general it is very important to keep up with a regular replacement schedule.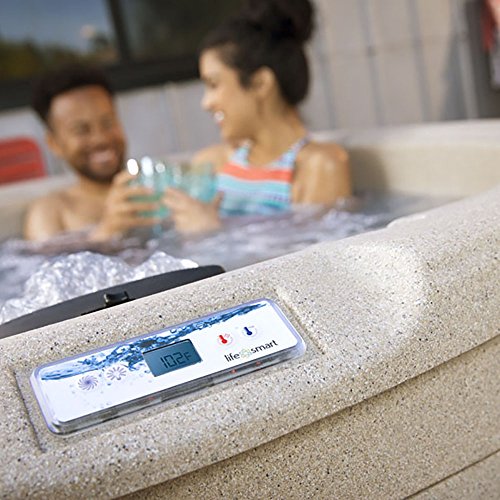 Review this list to understand why it is important to replace your Jacuzzi filter cartridges:
Over time, your Jacuzzi filter cartridges may become too dirty or accumulate with dirt. Even if you clean them frequently over time. It is very difficult to remove all media buildup from your filter cartridge. When that happens, your cartridge can not be cleaned anymore and it is time to replace it with a new one.
A blockage in your water pump is enough to completely destroy the bath tub system and it needs to be repaired before you can continue to use it.
Too much dirt in your filter cartridge can damage your bath tub. If the dirt in your filter accumulates too much, it can dissolve and float in your pipes. From there, it can enter your nozzles or even your pump. In this case, the repair bill could be significant.
Not replacing your Jacuzzi filter cartridges can lead to damage. The more you remove, soak, rinse and replace your filter cartridge, the more likely it is to damage, break, or weaken. If that happens, your filter cartridge will be less effective and you will see that the entire filter will not work so well.
After some time of not replacing your filter, you will start to see dirt in the Jacuzzi bathtub water. Even if your Jacuzzi tub is not damaged, the dirt and grime that builds up in your filter cartridge can float in ​​your hot tub.
You will notice that there are more sensations of viscosity in the water, and you may even see particles of dirt and other objects floating in your bath tub. This definitely means that it is time to replace your filter.
How Often Should I Replace My Filter Cartridge?
Depending on the type of bath tub you have, you may need to replace your filter cartridge more or less frequently than other types. Regular cleaning and replacement of your filter is an important part of having a hot tub.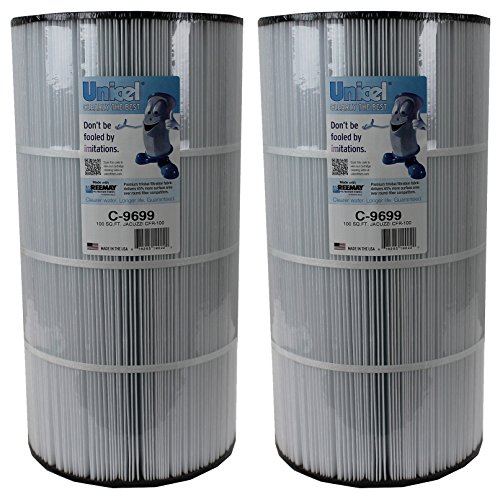 Follow these instructions to make sure you replace your filter cartridge whenever it is time:
Got very hard or alkaline water? Then you should replace your filter cartridge every six months.
Most filters require you to replace the cartridge every year. This is a good rule of thumb.
Have a microfilter or secondary filter? Then you should replace it more often than the normal filter.
If you do not use your Jacuzzi bath tub all year round or if you do not soak it frequently, you may be able to replace the filter cartridge every 18 months to 2 years. However, you should still remove it and clean it with the usual frequency. Note that doing this can weaken it even without regular use.
How To Install A Filter Cartridge
It is very easy to remove your existing filter cartridge and replace it with a new one. Although each filter cartridge comes with installation instructions and each Jacuzzi tub should also include this information in the user guide.
However, you can keep these tips in mind when you need a little more information to get you started: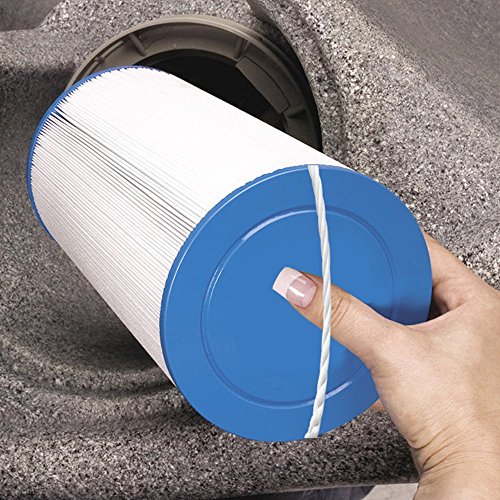 Unplug your Jacuzzi bath tub and drain all water. You can leave the water in the foot bath if you wish.
Locate the filter housing unit in your tub.
Open the filter housing unit and look for its filter cartridge.
Most hot tub filter cartridges have a handle. If you have a handle, take it and turn it to the left to remove the filter cartridge.
If yours does not have a handle, you can remove it directly.
Otherwise, you may need to remove a pair of screws before you can access the cartridge.
You can remove them by hand with just a Phillips or flat-head screwdriver.
If you remove the old cartridge, simply insert the new cartridge to complete the process.
Put it back in its place and turn it to the right to install.
If you need to remove the screws, replace them by hand with a screwdriver.
Fill your spa through the filter and let it run for at least one cycle before using.

Jacuzzi Filter Cartridges
Jacuzzi 2540-383 Filter Cartridge for J-400 Series
If you are looking for one of the best filter options for the Jacuzzi J 480 currently available in the market, choose the J-400 Series Jacuzzi 2540-383 Filter Cartridge.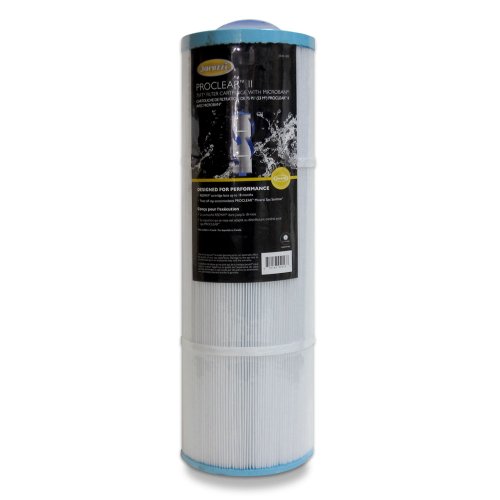 This filter cartridge is designed to run smoothly in place of the existing Jacuzzi cartridge with the same model number.
As manufactured by the whirlpool company, you can be sure that you will get a quality product replacement filter every time you buy. This filter is only available separately and can not be bought wholesale to save money.
The Bad
Very expensive filter cartridge replacement that may be too expensive for some budgets.
This filter set can not be used for products other than the Jacuzzi brand. 
It is intended for use with a specific series of spa baths only and is not otherwise interchangeable.
The Good
This is a durable filter that fits branded Jacuzzi hot tubs.
The sturdy plastic housing that surrounds this filter will not bend or break even during prolonged use.
The filter cartridge itself is attached to the case to prevent it from breaking.

Replacement filter for Jacuzzi J-480, J-470 and J-465
If you are looking for a replaceable J 470 filter that can be used with the J-480 and J-465 options, this replacement filter cartridge is perfect for you.

This is a durable product that can be used with a variety of Jacuzzi's. It can also be used with other products, making it generally more useful. This also makes it a bit cheaper than some of the other products listed here.
The Bad
Although this filter is a bit more affordable than Jacuzzi products, it is still more expensive than other unbranded products.
This filter is not available in bulk and can only be purchased separately.
The filter media is not threaded into the body of this cartridge.
The Good
This filter is strong enough to withstand many cleanings and frequent applications. 
It is a powerful filter with fine wrinkles to facilitate the collection of dirt and grime.
The filter is equipped with a handle to facilitate installation and replacement.

Unicel 120 Square Foot Jacuzzi Filter Cartridge
This is a set of two 120-square-foot Unicel Jacuzzi filter cartridges. It provides you with just the right amount of filtration for twice as much time at a fraction of the cost of some of the other products on this list.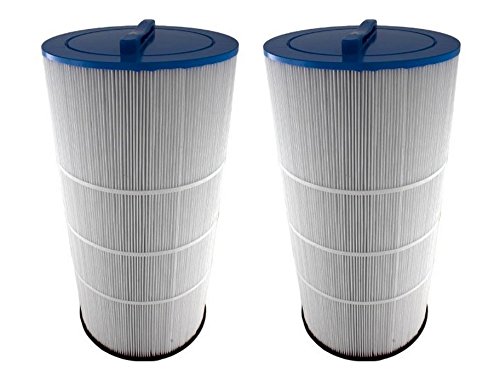 These filters are from Unicel. Unicel is a brand specializing in universal filters that work with almost every tub on the market. These filters are a great solution for Jacuzzis like the Jacuzzi 400 series. But they can also be used with a variety of others, as well as in some pools.
Best of all, this product is available on Amazon. This means you can enjoy shipping for free on next day deliveries.
The Bad
These filters may not withstand very harsh treatments and chemical cleaners.
The Good
This filter has many wrinkles, which can better trap dirt and debris.
Provides you with the most powerful water filtration, even more than branded products like Jacuzzi. 
These filters are easy to clean by separating the wrinkles by hand and rinsing them with a garden hose.
Since this filter is available on Amazon, you can get free delivery and bundle other products when buying.

Pleatco PJ100-4 Replacement Cartridge for Jacuzzi
Are you looking for an affordable replacement filter for your spa that will not break the bank? Do you prefer to buy non-branded products to save money?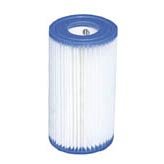 If so, choose this Pleatco PJ100-4 replacement spa cartridge. This is an excellent option if you are looking for a durable filter and are not too worried about brands.
The Bad
It is known that the housing of the plastic cartridge of this filter breaks and peels off in the water. 
As this is not a Jacuzzi product, it may not fit perfectly in your Jacuzzi hot tub.
This filter does not have as many folds and wrinkles as some of the other products listed here.
The Good
This is a very affordable filter cartridge replacement that is well below budget for many spa owners.
It is very easy to rinse this filter by simply opening the wrinkles by hand and using the hose from your garden.

Pleatco PJ120-4 Replacement Cartridge
Pick up this Pleatco PJ120-4 replacement cartridge and get ready to enjoy fresh and surprisingly clean water without spending the same amount of money as a branded Whirlpool product. 
This durable filter is large enough to allow filtration in larger hot tubs, but small enough and light enough to get started when it's time to clean and replace it.
The Bad
Since this filter is not reinforced, the fold can be released very easily after a few uses.
The plastic housing around this filter can form holes and breaks off after a while.
For some customers, these filters may be too expensive for a branded product that is not Jacuzzi.
The Good 
This filter is easy to install and replace with a handy integrated handle.
Works well alone or with a secondary filter or microfilter, depending on the type of spa you have.
Which Is The Best Out Of All Jacuzzi Filter Cartridges?
There are so many different Jacuzzi filter cartridges available. You can easily find what you need to get the best results. Maybe you are looking for something made by the Jacuzzi brand to keep your hot tub running?
Or perhaps you want to find something under the budget. One that will make it easier and more affordable to keep your water clean longer? There is the perfect one waiting for you to discover among the ones listed in this article.
Remember that replacing the cartridge in your bath tub filter is not a difficult process. Once you've selected the right one, all you have to do is remove the previous one in a few simple steps and replace it with the new one. This is all you need to do to clean or rinse your filter.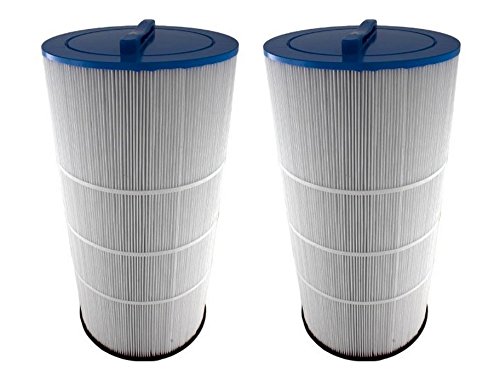 No matter which filter you choose, you will surely enjoy months or even years of quality water. I hope you find your favorite one today. That way you will discover how useful it is to install the right filter in your Jacuzzi.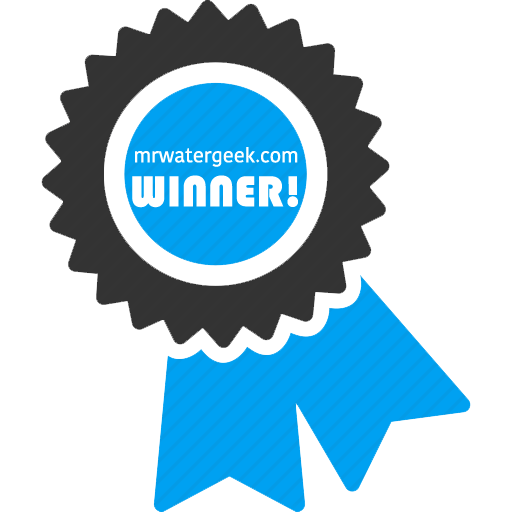 My favorite is the Unicel 120, it has almost no negatives. It is super powerful, effective and lasts very long.