Article Last Updated: November 2023
Avoid These DUMB Fruit Infuser Water Bottle Recipe Mistakes…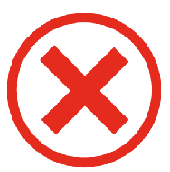 Always thinly slice hard fruits like apples because they take longer to release flavors.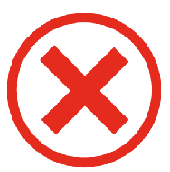 If you have a softer fruit, especially citrus fruits like an orange, it should either be sliced thin, halved or quartered.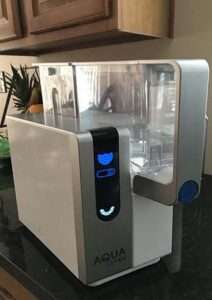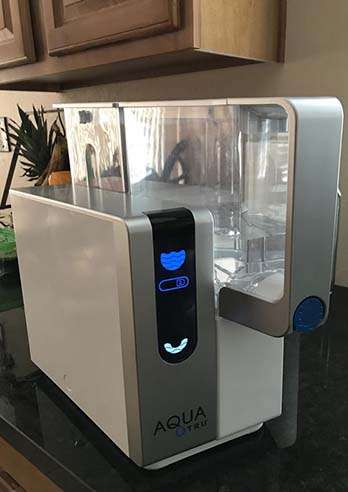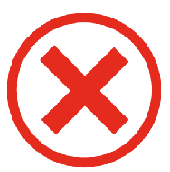 Don't forget to add loose herbs and flowers to spice things up. Mint, lavender, rose petals, dried hibiscus, basil can be added by using a cheesecloth or tea infuser.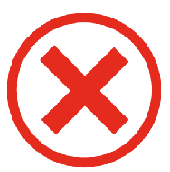 Don't get too basic with your inventions, adding a few extra ingredients can maximise your health benefits and weight loss results. For instance, get really creative by crushing and adding different herbs and spices. Think about things like lemongrass, fibrous ginger root, mint, anise seed, cacao, or rosemary.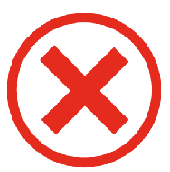 Do *NOT* pre blend or blitz your ingredients! This will leave you with a watery smoothie-like mess. Instead, use a wooden spoon to crush harder produce. If it is leaf based then simply tear them. For instance, hand tear herbs like basil, cilantro, mint and basil to release their juices.
Temperature and Soak Time (

How Long To Infuse Water?)

When using things like melon and strawberries remember they start looking a little bad after a few hours. Citrus and whole berries can look good after a hours in the fridge but not so much in water.

Infuse filtered water at room temperature and try to keep out of the fridge for no more than 2 hours. After that, however, you should put it in the fridge to stop it from growing bacteria.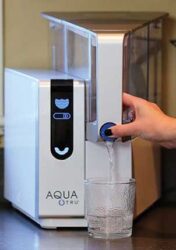 If on the other hand you want to keep sipping your infused water all day long then refill the container when it's half full. This will make it taste weaker at first, but it will stop bacteria from forming in the bottle.

You should use melons, cucumbers and other citrus fruits almost immediately as they will quickly seep into the water. However, some fruits need to be soaked in the water overnight to get their juices to seep into the water. Examples of these types of fruit are fresh ginger root, apples, rosemary and cinnamon.

If for some reason you can't drink the water within 1 day then strain out the fruits and keep in the fridge for up to 3 days.

Unpeeled citrus can sometimes make water taste better. This means that you can infuse water by simply using the peel of citrus fruits. To get better results you can soak fruit peels for at least 4 hours. Once the water is infused you can remove the peels and add other types of fruits, vegetables and herbs.
4 Of The Best Fruit Infuser Water Bottle Recipes
Infusing water with fruits, herbs, and vegetables is one of the best ways to drink plenty of liquids. Especially for those of you who think water is boring.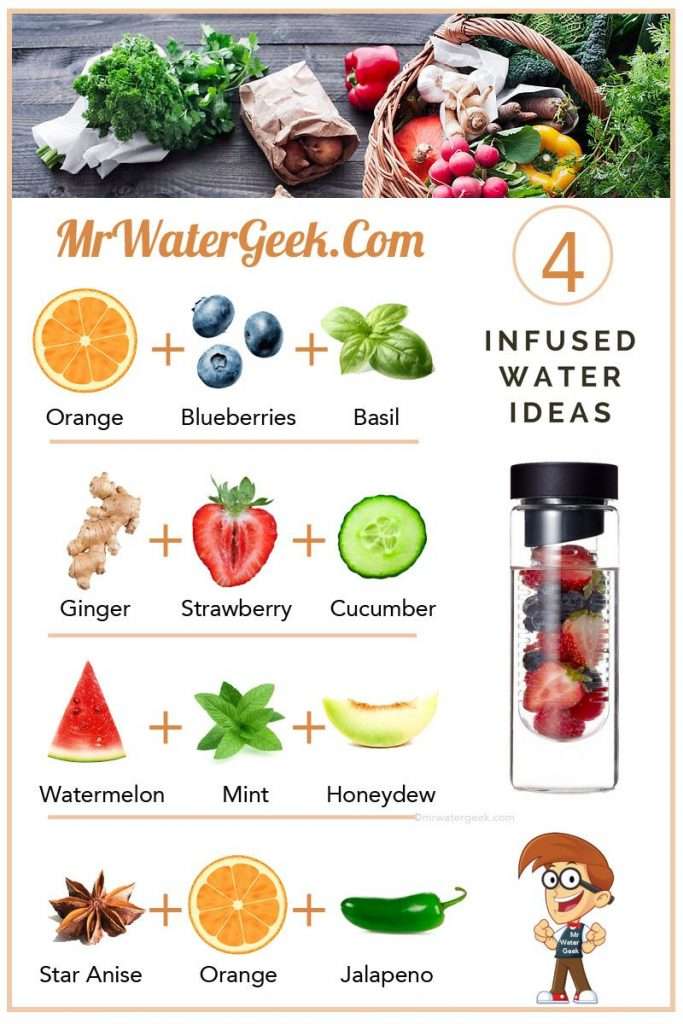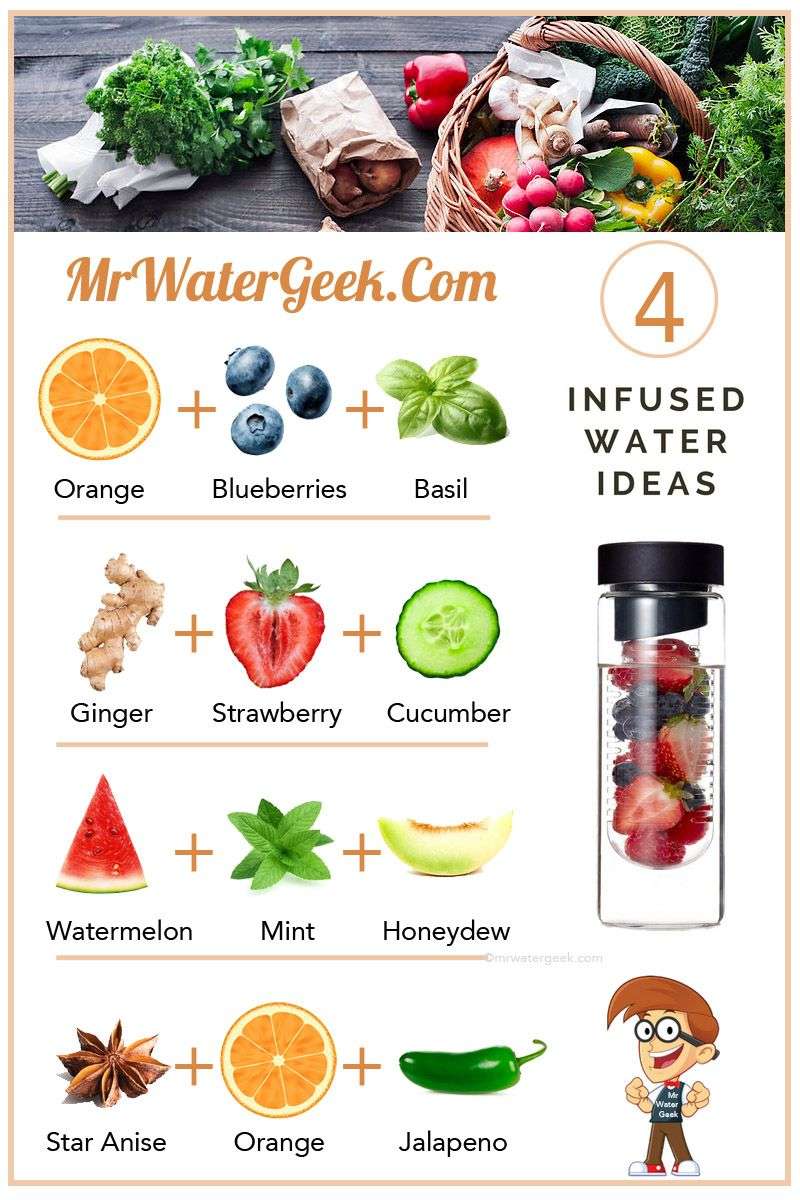 Fruit Infuser Water Bottle Recipes
1. Mint Strawberry Infused Water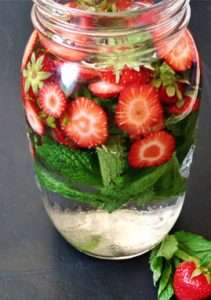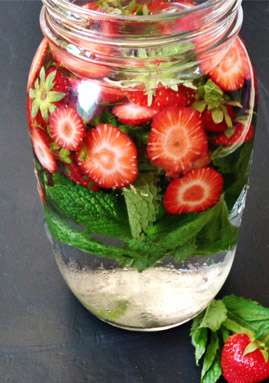 This works very well for a party or something to put into your gym / office bottle. Simply add a few mint leaves to some pre-filtered water and then slice a few berries. Leave to infuse for a couple of minutes and then enjoy.
Pro tip: Tear up the mint leaves before adding them to the pre-filtered water.
This will help them release even more juices and add to the flavor.
2. Apple Cinnamon Infused Water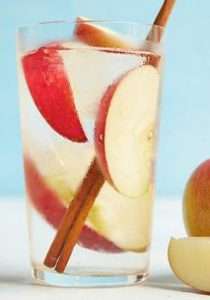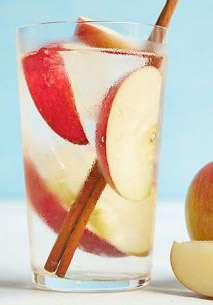 As the name suggests, slice some apples into your infuser bottle and add some cinnamon.
Leave to infuse.
You can make this even more interesting by adding pears or plums to the mix.
Did you know that cinnamon helps with digestion? This makes it an excellent hydration option after meals.
3. Blackberry Mint / Lemon Infused Water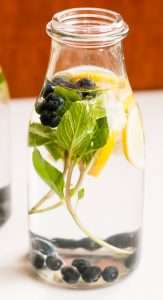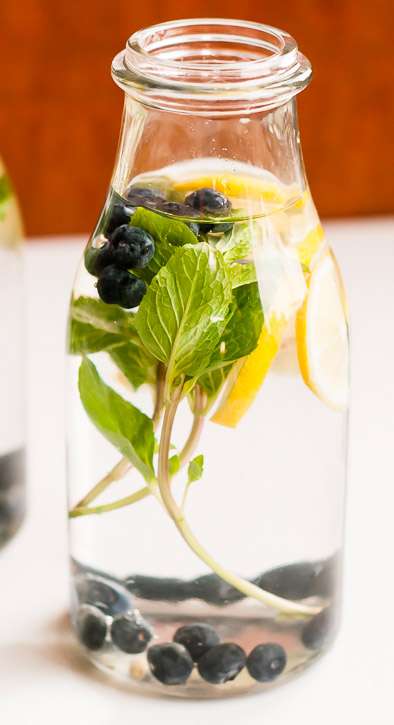 Do this one if you're able to let your fruit infuser bottle sit for at least 2 hours or overnight if you're not in a hurry. Add the mint by tearing them up so that you can infuse more of its juices. If you don't have any mints then you can slice in a lemon.
You can crush the blackberry if you have an infuser bottle that doesn't let fruit particles get into the water so you don't get bits in it.
This gives you a drink that is full of antioxidants thanks to flavonoids, which are the things that give blackberries their color. Drinking this on a regular basis is an excellent way to support your immune system.
4. Orange Citrus Blueberry Infused Water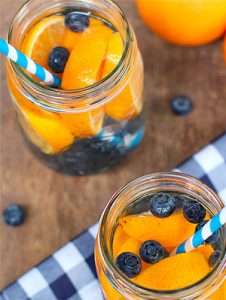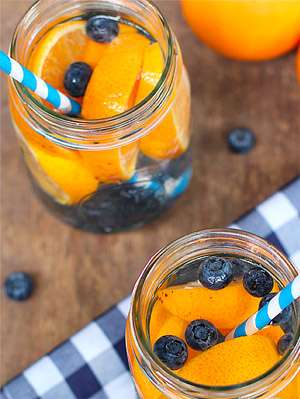 This might seem like an odd combination but together they make a phenomenal flavor pairing.
This infusion is full of antioxidants and vitamin C.
As always crush the blueberries and slice the oranges into small pieces so that they can infuse and you get the maximum flavor possible.


Infused Water Recipes For Weight Loss
Simply drinking more water is already a great way to achieve weight loss. So if drinking infused water makes you drink more water then it can only be a good thing.
OK I want to drink more water and do that with infusion, what recipes are good for weight loss?
The truth is that there are so many different variations and you are only limited by your imagination. The best fruit infuser water bottle recipes usually happen by pure accident.
Best Fruit Infuser Recipe Ideas
If you just want some ideas to get your creative juices flowing, here are some combinations to get you started:
Fennel + pear
Rosemary + lemon + raspberry
Orange + blueberry + basil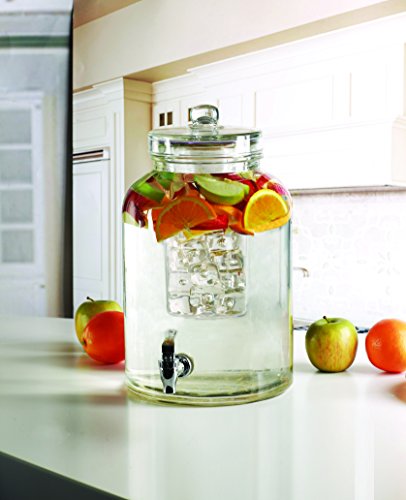 Ginger root + lime + + basil
Watermelon + honeydew + mint
Cucumber + mint + jalapeno
Thyme + Lemon + melon
Hibiscus + orange + star anise
Cardamom + orange + cinnamon + cloves
Lime + mint + strawberry + cucumber
Fruit Infuser Best Practices
Before talking about fruit infuser water bottle recipes, let's get some of the basics out of the way.
Fruit Infuser Water Ingredients
If you can afford it, choose organic products to use for your fruit infuser water bottle recipe.
Whether you get organic or not make sure you always wash your produce thoroughly.
Make sure you rinse well to remove any pesticides, chemicals and other potentially harmful residues.
Which Water Is Best For Fruit Infusers?
It is always best to use cold or room temperature water with your infused fruit water.
Ideally, this water should be pre-filtered so that it taste nice and enhances the flavor of your fruits. You can use a water filter jug or water filter bottle.
Read: Best Filter Jugs and Problems You Must Know
Do *NOT* use hot water under any circumstances.
Why? because hot water makes the produce fall apart faster.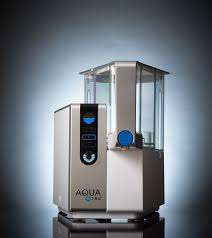 It can also compromise the taste and nutrients of some of the ingredients you use.
If the water is boiling hot it might "cook" your fruits, herbs and vegetables.
Fruit Infuser Water Pitcher

In the perfect world you would use a glass bottle – plain and simple. Using glass means that you don't have to worry about BPA leaching from plastics. Of course it might be more convenient to have a purpose-built infuser pitcher or bottle.
Some of them come with built in juices and others come with infusion chambers that makes infusion as easy as a, b, c.
Read: The Best Fruit Infuser Water Bottle Has One BIG Problem
Looking For A Water Infuser Bottle that Does NOT Get Bits In?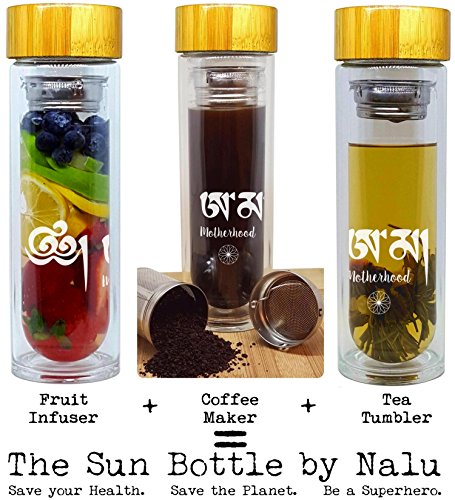 One of the most annoying things about infuser water bottles is that they let little bits of fruit into your water. If you want one that does not let bits into InfuseFruit's fruit infuser water bottle. To my knowledge this is the only infuser bottle on the market that actually does this.
How Long Does Fruit Infused Water Last?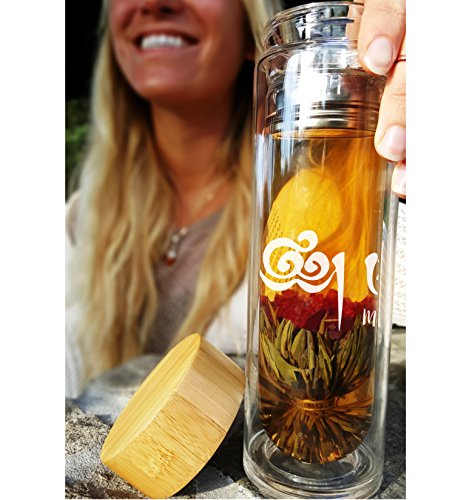 The best time to enjoy fruit-infused water is within 2 – 4 hours OR you can also leave it to infuse overnight.
Note that the length of time infused water lasts will depend on which type of herbs and fruit you use.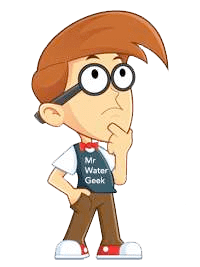 As an example, herbs like basil only last for 3 days while thyme or rosemary can last up to 7 days.
When you're not drinking the infused water try to keep it in the refrigerator to slow down bacteria formation.
To my knowledge, the image above is the only water infuser bottle that doesn't let fruit bits get into your water.
AquaTru Water Filter

Berkey Water Filter

- Arsenic: Approx 90% (unspecified).
- Fluoride by 91.8% (WITHOUT extra filters).
- Lead 97.5%
- Benzene 99.9%
- Chlorine 96.6%
- Cysts 99.99%
- Arsenic by 99.9% (special filters required).
- Fluoride by 99.9% (special filters required).
- Lead 97.5%
- Benzene 99.8%
Available in 1-size only.
Available in various sizes.
Plastic materials.
Metal & plastic materials.
Number of filters: 3
Number of filters: 2 - 4
Filter methods: Mechanical, Reverse Osmosis & Activated Carbon filters.
Filter methods: Black microporous-filters & white fluoride Filters
4-stage filter process.
2-stage filter process.
Holds a maximum water capacity of 3-quarts.
2.25 Gallons
45.7 x 45.7 x 38.1 cm
19" High x 8.5" Diameter
System: 1 year limited warranty.
Filters: 2 years; System: 1 year.
Full Performance Data Sheet (AquaTru).
Berkey Contaminants List
NSF/ANSI test results
SPECIAL OFFER?
Yes, use code MRWATERGEEK

SPECIAL OFFER?
Yes, Big Berkey bundle sale