Article Last Updated: December 2020
The best fruit infuser water bottle is by far one of the hottest trends for health and fitness enthusiasts. We all know we should drink more water but it is so boring. We try to cheat with things like "Vitamin Water" or flavored water but don't get caught out.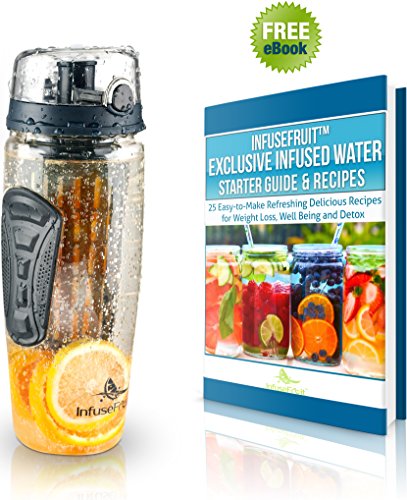 Flavored water is full of sugar!
So what to do? Flavour your water yourself with healthy fresh fruit. This way you get nice tasting water AND get healthy nutrients from fruits and vegetables at the same time.
How do infused bottles work?
These bottles essentially let you infuse fruits either by having a wide mouth to fit larger fruits or a juicer so you can infuse directly.
It used to be the case that these bottles were only spotted at the gym.
However, you can spot fruit infuser water bottles at schools, office, and even public transport. With a growing health-conscious population, fruit infuser water bottles are only going to become more and more popular.

Infused Water Detox
Here is a simple infused water detox recipe from "Cheap Clean Eat Kitchen" with Cassey Ho. It includes oranges, cucumber, lemon and mint.
A fruit water detox like this is supposed to be both slimming, refreshing as well as hydrating.
The Best Fruit Infuser Water Bottle – Detailed Reviews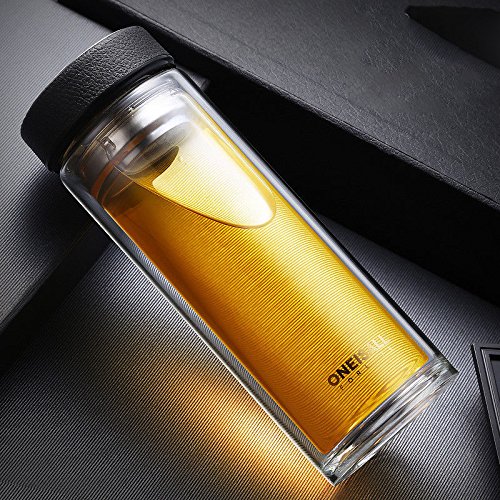 This is a contender for the title of "best fruit infuser water bottle" because it is very practical and sturdy.
This bottle is perfect if you are going on a hiking trip but works just as well if you're taking it to the gym or office.
Its stainless steel shell makes it look like a high-end premium product despite its affordable cost.
Positives

This bottle is 100% BPA free. This means you don't have to worry about dangerous chemicals from leaching into your infused water.

It is food grade PP+304 as it is stainless steel.

The "Double Wall Glass Water bottle" also comes with a silicone gel, leather, as well as a thickened bottom and rim.

This fruit infuser bottle has a removable handle which allows you to easily carry it around.
You'll also be happy to know that it has the ability to fit in most car cup holders.
The bottle has a locking mechanism.
The design is so striking that you might get lots of people running up to you asking you where you got your bottle from! Seriously. It looks so upscale and unique that it's bound to get attention.
It is also dishwasher safe. But as always, I think it's better to hand-wash bottles. Especially because you add fruit and vegetables, which can make the bottle smell if not washed properly.
Unlike cheaper water fruit infuser water bottles, this one can handle hot water so expect to be able to infuse things like tea.
Negatives
The bottle doesn't have much space for larger big sized fruits in the bottle. There is probably only enough space for half a lemon so you might want to only use smaller fruits. Or perhaps try using a combination of smaller fruits like blue berries, strawberries and other sliced fruit.
Despite this "drawback" (which I had to force myself to create), this is a great contender for best fruit infuser water bottle. Primarily because it is very practical, affordable yet has a great premium design.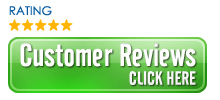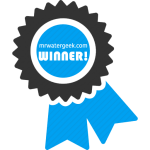 Positives
This bottle is dishwasher safe. This means that you can simply put it in a dishwasher rack and you're good to go. However, I always recommend hand cleaning water bottles. Especially since fruit and vegetables can make your bottle smell if not thoroughly washed.
VitaJuwel ViA Water Bottle With Gempod-Infuser is stunning and looks like a premium product.

Provides you with your pure and fresh gemstone water.

Expertly designed by VitaJuwel who are glass artists based in the German Alps.

Made with lead-free bohemian glass.

Set includes one bottle with attached gempod.

This fruit infuser water bottle is one of the few that can handle hot water so you can infuse things like tea.
Negatives
I'm going to start of by saying that there are not many flaws with this product. I've had to dig deep for this but here goes.
The bottle only comes in 1 color which is not as many as the other bottles offer.
The fact that I've had to mention limited number of available colours as a negative just goes to show how good this product is.


First of all, this fruit infuser sport water bottle comes at a good price. If you are looking for a good quality infuser bottle that is a little bit more affordable (when compared to the others on this list) then this is a good choice.
There are lots of other good things about this infuser bottle. However, one of the best is its size. This bottle is available up to a 50oz water capacity. This is great because one of the biggest complaints regarding these types of bottles is how small they are.
Which is less than ideal when the whole objective is to put large pieces of fruit into them. Also, if the water bottle is too small, it forces you to have to refill frequently. With a big bottle, however, you won't have this problem.
Positives
This bottle comes from high quality food grade BPA free stainless steel material.
It comes with a flip-top lid. The result of this is that you don't have to worry about your drink spilling out. The other side of this is that you also don't have to worry about dirt getting in.
It is classed as dishwasher safe. However, hand-washing is always advisable.
You can put it in the freezer without any problems! This is perfect in the summer time when you want ice cold infused water. Or even be super creative and make your infused water into a slushy or iced lolly.
As the name suggests, it is double wall vacuum stainless steel that is insulated meaning that it will keep your hot water hot and cold water cold.
Keeps hot water for up to 15 hours and 20 hours and for cold water.
It has a "sweat-proof design". Or in other words, you won't have "condensation" on your bottle when you put icy cold water into it.
Finally, this water bottle infuser is slightly bigger than the others. This means that you can be more creative and even try out slightly larger fruits.

There are extra options you can choose that includes things like a slip proof rubber bottom, food grade silicon seal lid, a strainer for loose tea and is also 100% leak proof.
Negatives
Even though the infuser is bigger than the others, you'll still need to cut your chosen fruits into smaller pieces. To give you an idea of what this means, the bottle is unlikely to fit a whole orange for example. This will need to be sliced down.
There are no visible markers on the bottle. This means it is hard to know how much water / liquid you have in the bottle. It's sad this was omitted as it is a small and easy fix that would really help people watching their weight etc.
All of these reasons are why I can't award Alpha Armur Double Wall Vacuum Insulated Stainless Steel water bottle the best fruit infuser water bottle award.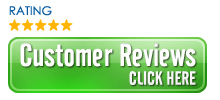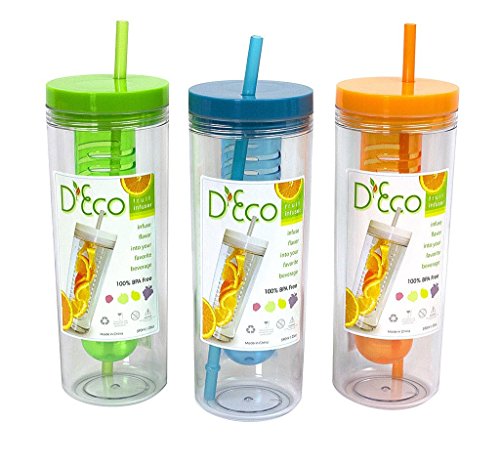 Positives
Available in different colours of green, blue and orange as well as including a straw. Ideal if you want to give multiple away as a gifts or have children.

This comes as a pack of 3, which makes it very budget-friendly when compared to the price of just buying 1 single fruit infuser bottle.
The bottle is 100% BPA free meaning you wont have to worry about harmful chemicals leaking into your drink. It also means that it is safe to use over and over again.
It is available through Amazon Prime. This means you can get free delivery and have it in your hand within 48 hours.
Simply remove the screw top lid, add water then infuse any fruit you like such as mint, cucumbers, strawberries etc.
Negatives
Without a doubt, this bottle has many good points to potentially make it the best fruit infuser water bottle. However, there are also a few bad points that you should be aware off before you buy.
There are only 3 color choices. It certainly would be nice to see a couple more color options.
The bottle can not cope with hot liquids because it's made from plastic. This also means that it might not dishwasher safe as most dishwashers use hot water. The result of this? You need to wash this bottle by hand every time whether you like it or not.


Read: How To Clean Water Bottles To Keep Them Mould Free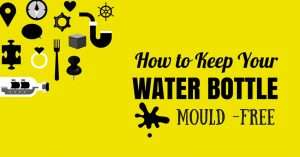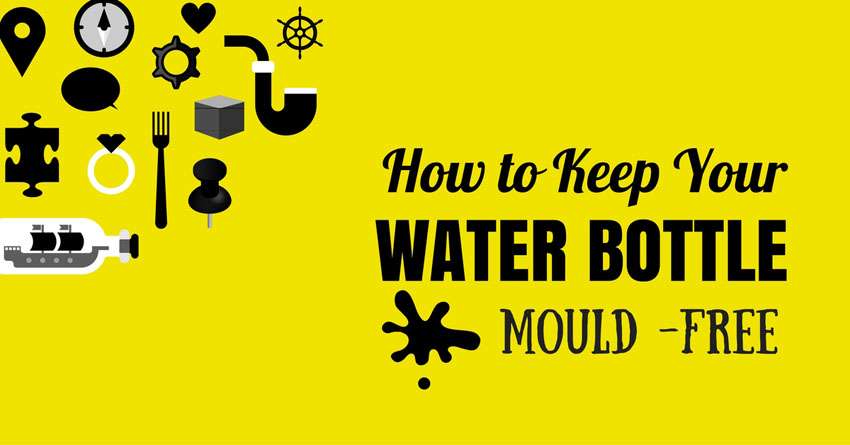 One BIG Problem With ALL Fruit Water Infuser Bottles…
The problem with fruit infuser water bottles is that you MUST hand wash them.
Whether they are "dishwasher safe" or not, you must wash them by hand at least in conjunction with using the dishwasher.
Why MUST I hand wash my fruit infuser water bottle?
Because you are putting in fruit, herbs and sliced vegetables all of which build up bacteria over time. The dishwasher does not reach the depth and corners of your water bottle. Parts of the bottle that the dishwasher does not reach will lead to bacteria, mould and even a smelly bottle over time.
Read: Mistakes To Avoid When Making Fruit Infuser Water Bottle Recipes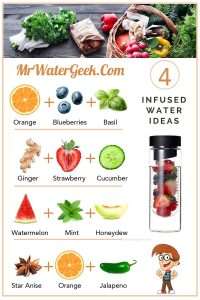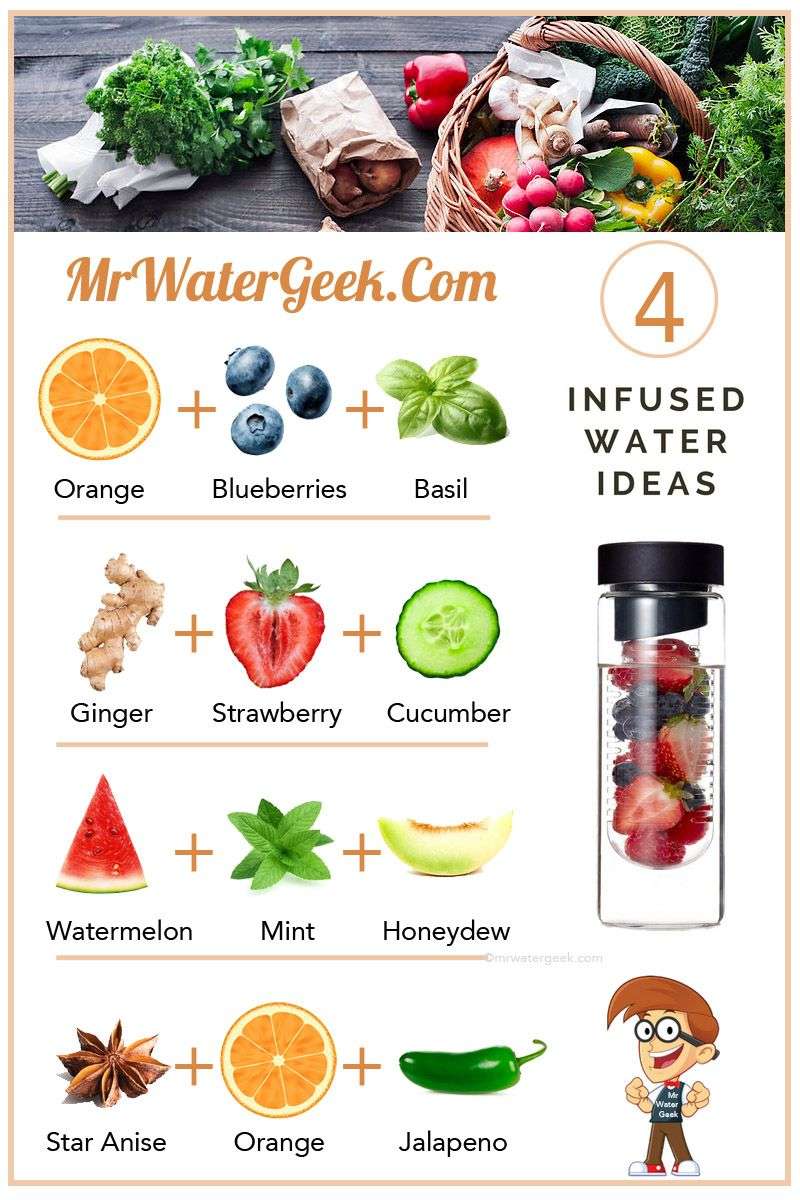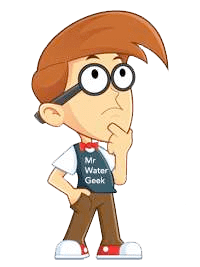 After looking at all of the best fruit infuser water bottles my top pick is the "VitaJuwel ViA Water Bottle With Gempod-Infuser".
This is by far the best fruit infuser water bottle. It gets everything right and the fact that I struggled to find any flaws just goes to show how good it is.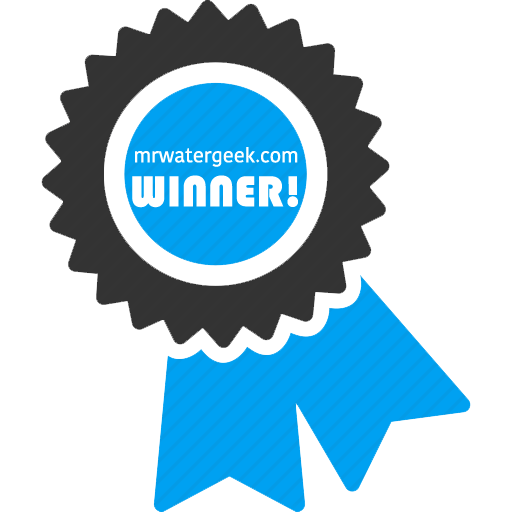 So lets see…
…sweat proof design, dishwasher safe, competitively priced, holds lots of fruits and looks great. I think this is by far the best fruit infuser water bottle available on the market today.


Comparison Table For The Best Fruit Infuser Water Bottle
Read: Mistakes To Avoid When Making Fruit Infuser Water Bottle Recipes