Article Last Updated: November 2021
The best alkaline water is water that is clean, fresh, delicious and smooth tasting.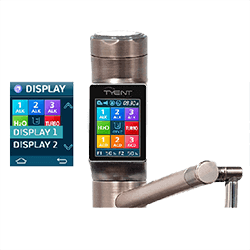 Many people find that it makes their tea, coffee and even cooked food taste better.
Others are moving towards alkaline water because of the potential health benefits that come with drinking this type of water.
Now here's the thing, more research is necessary to fully understand all the real positive health effects. This is especially the case as most of what people talk about are anecdotal health benefits.
However, there are many places like WebMD that discuss new academic research which shows alkaline water can do things like boost the immune system, improve digestion, metabolism and slows down the aging process.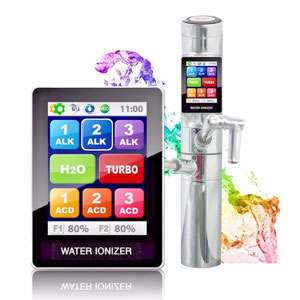 Ultimately, alkaline water is still good old water and at the very least it will hydrate you with a sweet delicious taste. Whatever the case there's no harm in giving it a try.
In this article I'll dive in to see what all the fuss is about and let you know where and how to get the best alkaline water.
This will include the best alkaline water brands, what to look out for and answers to all your burning questions.
What Is Alkaline Water?
Natural alkaline water is any water that has a pH above 7. A pH of 7 is neutral and anything below this is considered to be acidic.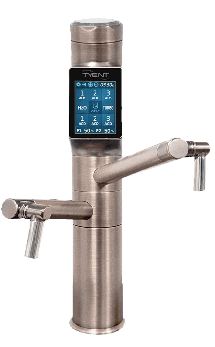 All of this is based on the standard pH scale that goes from 0 to 14. It is a concept that helps us measure the level of acidity or alkalinity in any solution.
PH actually stands for "potential of hydrogen".
In order to get a perspective on what this means a substance like hydrochloric acid is at a pH level of 0 on the pH scale.
But did you know that the human stomach acid is at a pH number of 1 on the scale?
Baking soda is alkaline and typically goes in at number 12 on the pH scale. Meanwhile one of the most alkaline substances like sodium hydroxide (which is a cleaning agent) is on the pH of 14.


Why does Google Have So Many Keywords for Alkaline Water Like "Akali Water" / "Alka Water" and "Alkaline Wa"?

All of these seem to be different ways to say "alkaline water". It seems as though Google compounds this by throwing all of these up as suggested keywords when you look up almost anything to do with alkaline water.
Can You Drink Alkaline Water Everyday?
The short answer is yes.
The main objective of alkaline water is to hydrate you and at its most fundamental – it's just water.
T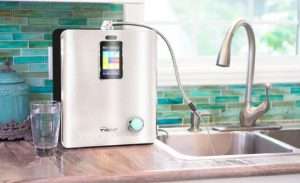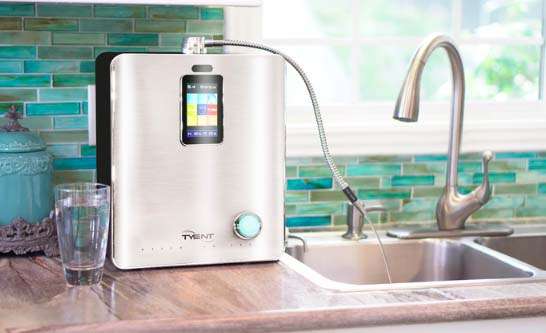 his means you can drink it as much as you would drink regular water.
Just make sure you drink a healthy amount for your body weight, level of physical activity and general hydrateion needs.
If you are unsure about how to calculate your correct daily water intake then check out this water calculator.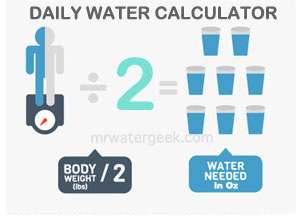 Some people may suffer slightly negative symptoms from drinking too much alkaline water.
However, these are not typically very serious (e.g. perhaps a slight stomach upset) and the cure is simple. Immediately stop drinking alkaline water until the symtoms disappear.
If you're really unsure speak to a medical professional. Another option is to start drinking a small amount of alkaline water and then gradually increase your daily intake.

However, serious complications from drinking alkaline water only happen in extremely rare circumstances. Most people can safely drink alkaline water everyday without any problems.
Are There Health Risks To Drinking Alkaline Water?
The short answer is no, not in the vast majority of cases.
Drinking alkaline water is generally considered to be safe. But like with anything there are always some exceptions. Especially if you drink more than your body can handle as I highlighted in the previous section.
The bottom line is that if you have any concern about drinking alkaline water, don't drink it. Seek advice from a health care professional first.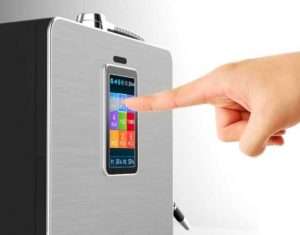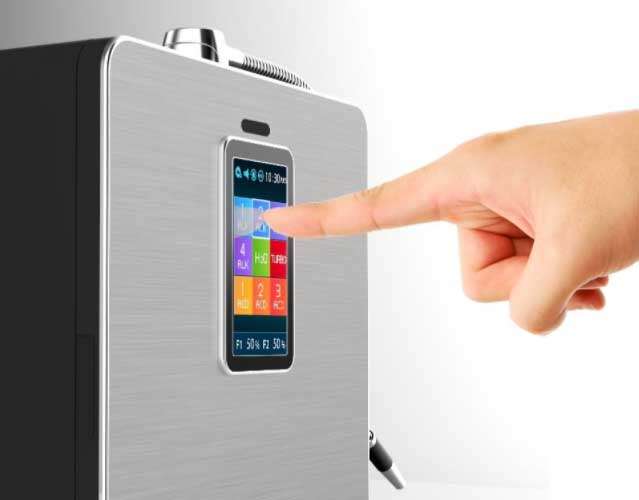 If you have started drinking alkaline water here are some things to watch out for:
Metabolic alkalosis. This is an issue that happens when your body lacks hydrogen. Symptoms like tremors, confusion, vomiting, tingling and nausea are possible signs and indicators of this. Stop drinking alkaline water immediately if you feel you are suffering from this.
Risk of alkaline water contamination. "Alkaline water" doesn't mean that it's clean or purified. You should always make sure your alkaline water comes from a treated source. If you are buying a home alkaline ionizer water machine, make sure it comes with good quality filters.
How To Choose The Best Alkaline Water Brands?
There is currently a lot of hype around alkaline water. This means there could be lots of newly formed alkaline water brands that sell substandard products. Here are some quick and easy ways to choose the best alkaline water brand:
Ask your peers and read customer reviews.

The best way to discover a new product is word of mouth. Failing that, take customer feedback and verified online reviews very seriously.
Especially if you are about to buy an alkaline water brand that you are not familiar with. See what other users and verified buyers have to say.
Of course bear in mind that not all reviews are real or honest. So it's best to assess the products' worth by looking at different platforms and take an overall view of what the majority of customers are saying.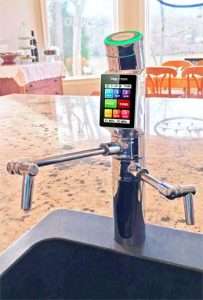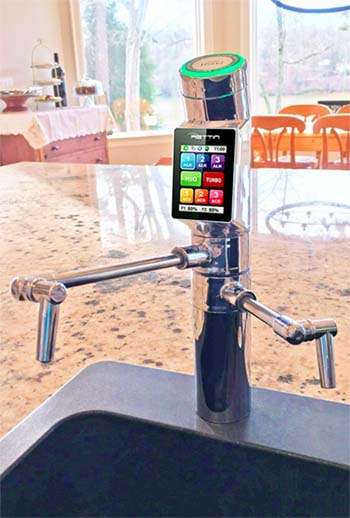 Read the warning labels.
If you are discovering a new alkaline brand for the first time, read the lable. See if there are any risks or contraindications and act accordingly.
Check the facts.
Some alkaline water brands make outrageous health benefit claims. Do they have proof? Are there links to the scientific data that support these claims? It is true that alkaline water can potentially have lots of wondrous properties. However, if something sounds ridiculous then look for proof to back it up.
What's the water source?
Alkaline water doesn't necessarily mean that it is clean or safe to drink. You should always check the source water and make sure that it's filtered at the very least. Be very suspicious if a brand says their water is pure but does not mention how they filter or purify the water.
The Best Alkaline Water Brands

The above is a short list of the best alkaline water brands.
If you want to try alkaline water for yourself these brands are where you should start. This list is based on things like reputation, customer feedback, quality of the alkaline water and taste.
1. Essentia Ionized Alkaline Water
Essentia is one of the best known alkaline water brands available today. One reason for its popularity is its taste which comes from a combination of microfiltration and reverse osmosis.
This filtration process makes it 99.99% purified. The brand also claims the water is full of electrolytes which they add for taste.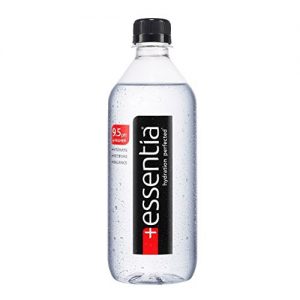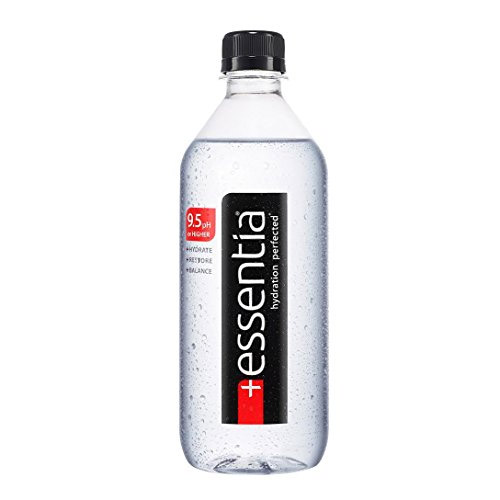 They claim the water is at a pH of 9.5. However, I have seen pH water tests where this number is not consistent and typically comes out closer to 8 pH.
The taste of this water is one of the things that most verified customers rave about. Many customers are happy with the feel and taste of this water. They say there is no funky aftertaste or odor.
People also love the packaging, it's got a premium feel and stylish design. This is good because nicely packaged water inspires you to drink more water.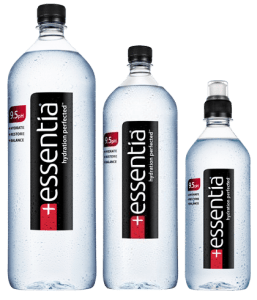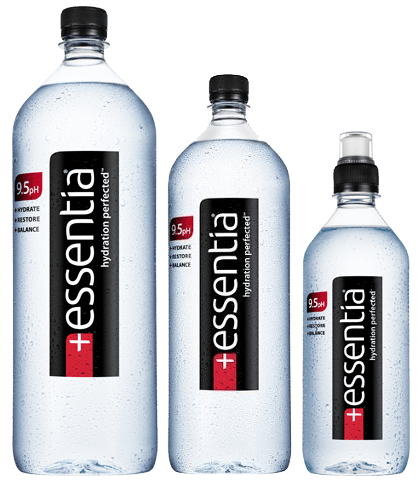 You can also get more value for money by buying a larger 12 or 18 pack. Doing this means that each 1-liter bottle works out cheaper overall.
Another selling point are its eco-credentials. Essentia say that the water comes from a proprietary system that has less impact on the environment. This also extends to the packaging which they claim is fully recyclable and BPA-free.
It is difficult to find valid criticisms of this water.
However, one issue that I can see is that the ionized water comes from various "unspecified sources".
PROS: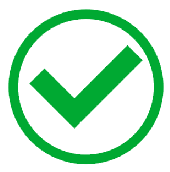 The water is thoroughly purified through reverse osmosis and microfiltration.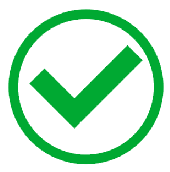 Many people like the way it tastes.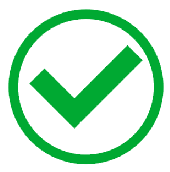 Value for money when you buy a larger 12 or 18 pack.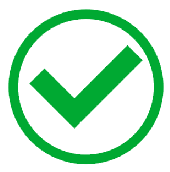 The bottles are eco-friendly, recyclable and made from BPA-free plastic.
CONS: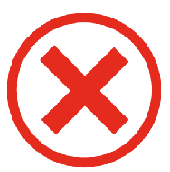 The water comes from "unspecified sources".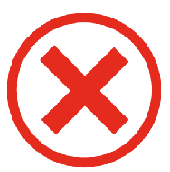 PH of 9.5 is not always consistent.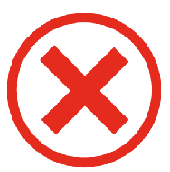 It is very inconvenient and expensive to constantly keep buying bottled water for those that want to maintain alkaline water in their diet.


2. Heart Water Artesian Natural Alkaline Rainwater

I've added Heart Water to this review because it is unique. Heart water comes from one the the cleanest and most sustainable water sources: rainwater.
This company collects rainwater that never touches the ground.


Unlike the vast majority of companies that produce bottled water from groundwater but then call it rainwater. However, when rainwater touches the ground it becomes "groundwater" which can contain toxic residue of things like toxins and heavy metals.
Of course the average "bottled groundwater company" will try to filter and extract all toxins from water. But unfortunately not all purification methods are capable of completely removing all harmful chemicals from water. This means that there might still be some toxins that end up in your water.
Heart Water, on the other hand, claim to harvest and bottle rainwater directly from the clouds.
Furthermore, they claim to be able to bottle 450,000 bottles of water from just one inch of sustained rainfall. This further adds to their claim of sustainability and eco-friendliness because they waste less water.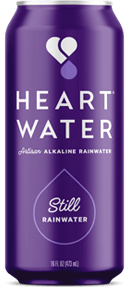 Even though rainwater is pretty safe to drink, Heart Water still put it through a 7 stage purification process.
This seven-stage purification process includes a 25 point micro-filtration, ultraviolet light technology and ozone oxidation.
UV or ultraviolet light technology is extremely effective at disinfecting water. It is a well known technology that is capable of destroying harmful things like bacteria, viruses and pathogens in water.
The company behind Heart Water claim that it not only meets but exceeds any and all governmental standards for bottled water.
Charity and giving back.
Heart Water gives back 23% of profits from every bottle. This is donated to charities that help children in need. Especially kids that suffer from the effects of addiction, disease and poverty. For instance, they support charitable organizations like Hope for Kids Mission, Aceing Autism and Whizzkids.
PROS: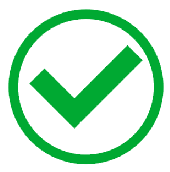 Naturally sourced from rainwater.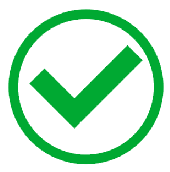 The rainwater never touches the ground.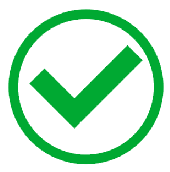 You can get this water in 100% reusable and recyclable aluminum cans.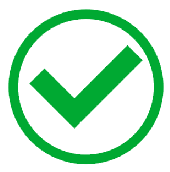 Meanwhile the bottled water versions are made with reusable BPA Free bottles.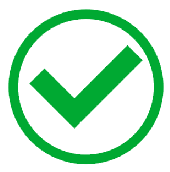 Heart water is a 3x international award winning water. It also places in the top five for international water testing contests for five consecutive years.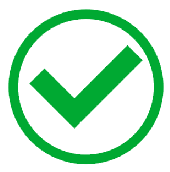 7 stage filtration process which starts with the initial 25-point microfiltration. They use UV filters and infuse the water with Ozone. However, the water is purified without using harmful chemical disinfectants.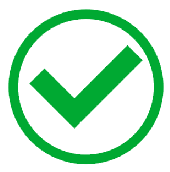 Heart Water gives back 23% of profits from each bottle sold to children's charities.
CONS: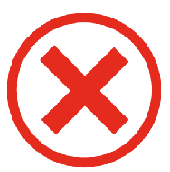 Not easy to find in your local store or through third party sites – you will need to buy direct from Heart Water.


3. Tyent

When people think about the best alkaline water, they tend to think about bottled water. However, the fastest and most convienient way to get alkaline water is at home through a water ionizer.
To put it simply, a water ionizer will filter and change the pH of your water.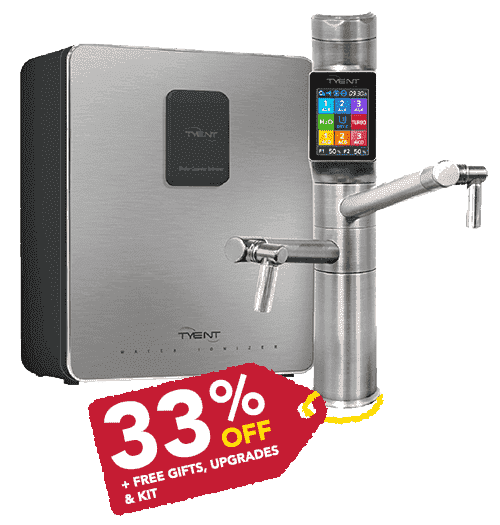 The UCE-13 PLUS is an under counter water ionizer that allows you to access all your alkaline water from the high tech faucet.
It has all the same features as a regular water ionizer but way more advanced. For instance the standard ionizers typiucally only have 7 plates while the UCE has 13 – that's almost double!
This is important because the number and quality of plates determines the quality of your alkaline water.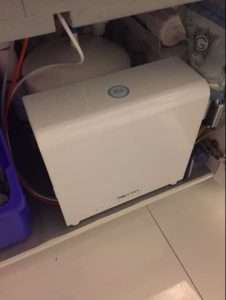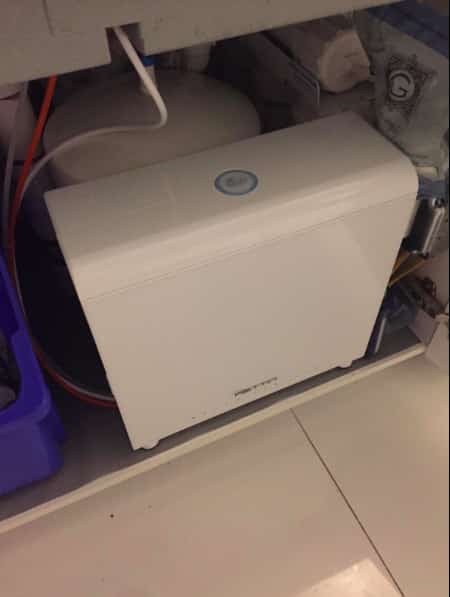 So the UCE-13 gives you much better alkaline water on a pound for pound basis.
According to the information on the Better Business Bureau (BBB), Tyent USA was established as a New Jersey LLC (Joseph J. Boccuti on February 22, 2004).
Tyent USA sells premium water ionizers that are at the top end of the market.
But since you're reading this to find out what the "best alkaline water" is. I'll highlight one of their products – the UCE-13 PLUS.
PROS: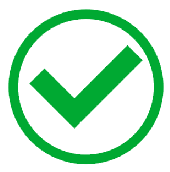 It comes with the most powerful duo filters that are capable of treating and removing things like lead from your water.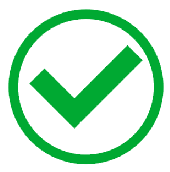 Has the highest pH range of 1.7-12.5, negative ORP of -1150, multiple preset pH levels for acidic, alkaline, turbo and neutral water.
CONS: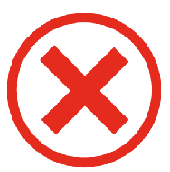 Expensive.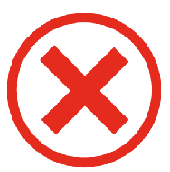 You may need some basic plumbing skills to install this device into your kitchen.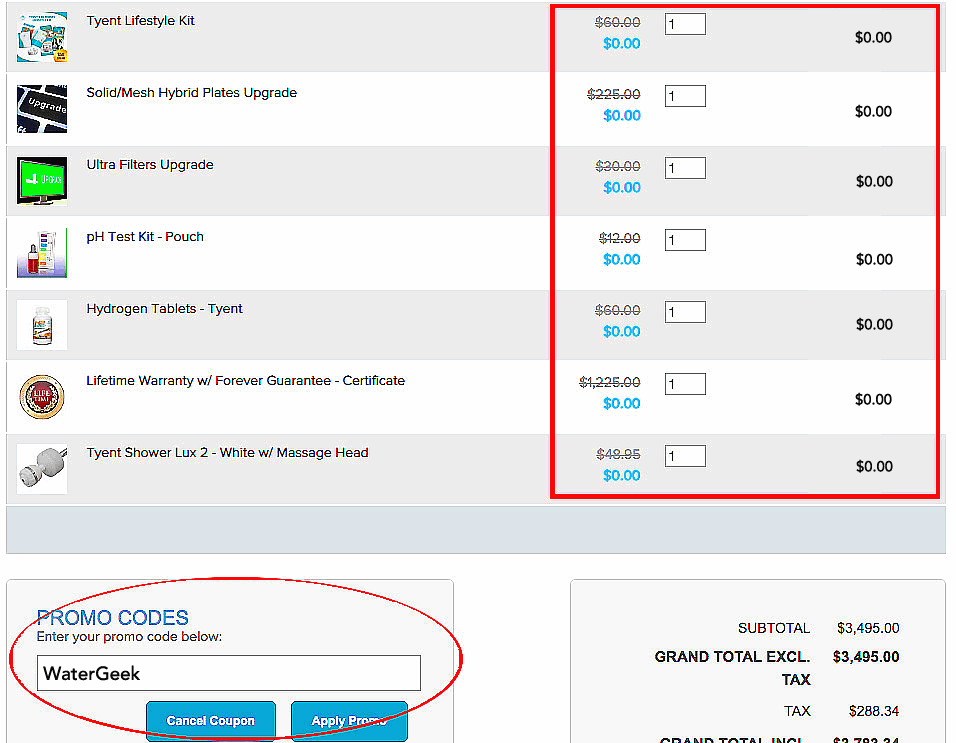 Alkaline Brands To AVOID?
Kangen.
This is a popular brand of ionizer machines from a company called Enagic.
I try to stop people from buying this brand of water ionizer because the outrageous cost does not reflect the value of the machine.
From a purely aesthetic perspective Kangen's machines look like they belong in the 1990's. They are extremely dated and offer a very basic level of performance, functionality etc.
These machines cost around $4,000-$5,000 bucks yet their functionality is similar to machines that cost a couple hundred bucks. For instance, they typically only come with 1 single very basic filter when other ionizers in that price bracket come with 2.
I have broken this down in great detail in my full Kangen review.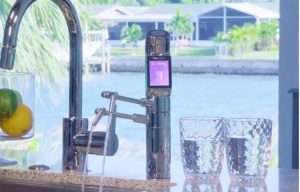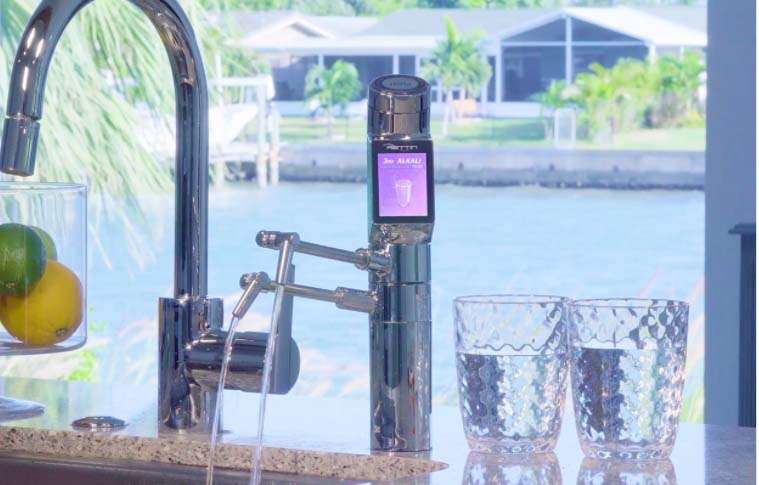 Apart from the poor quality of the product, the company has a poor reputation with customers.
Kangen only score 3.5 out of 5 with customers on the BBB (this is at the time of writing this).
Customer reviews of this product on other sites is also extremely critical. People have trouble getting refunds and some people even complain about Kangen distributors forging signatures.
However, the big elephant in the room is the MLM or multi level marketing side of the business. This is most likely what inflates the prices because everyone in the pyramid needs to get a slice of the pie. Who ends up paying for this? You the customer.
My other biggest gripe is that the warranty period is totally pathetic.
Seriously.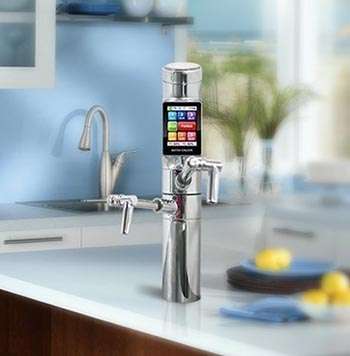 When you pay thousands of dollars for an ionizer you hope that it lasts far longer than 5 years right? Well that's how long the Kangen guarantee lasts for: 5 years.
Meanwhile similar products in a similar price category will come with a FOREVER lifetime warranty.
Finally, Kangen are behind other ionizer companies by not providing you with under-counter ionizer options.
This sucks as Kangen ionizers are extremely ugly.
It also means that it will eat up all the counter space of anyone that doesn't have a large kitchen.
13 Platinum-Coated Titanium Plates.
13 Platinum-Coated Titanium Plates.
1.7 pH -12.5 pH
1.7 pH -12.5 pH
Up to -1150 ORP
Up to -1150 ORP
2 Filter System: active-carbon with EM ceramics filter and UF membrane filter.
Dual Ultra .01 micron filters that remove over 200 contaminants including drugs and heavy metals like lead.
5.6kg
5kg
Ionizer: 14in (W) x 5-3/8in (D) x 14in (H)
Dispenser: 11.5in (H) x 2in (D)
18 x 14.1 x 7.6" (inches).
Package dimensions.
FOREVER No Hassle Lifetime Warranty.
FOREVER No Hassle Lifetime Warranty.
$$$
$$$$
(Free Gifts & Upgrades with Coupon Code: WaterGeek)
(Free Gifts & Upgrades with Coupon Code: WaterGeek)
The Best Alkaline Water?
If you are simply looking to taste and try alkaline water then you should try something like Heart Water.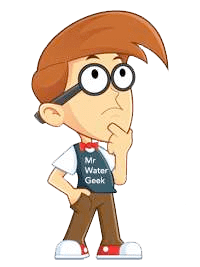 However if you want the best alkaline water ionizer then you will need to try the ACE-13.
This machine is like the UCE-13 PLUS but is the countertop version with many more plates. More plates means better quality ionized alkaline water.
I personally suggest the ACE-13 to anyone that doesn't feel comfortable installing the UCE-13 PLUS in their home. This is because you simply connect the ACE-13 to your faucet and plug it into a power ou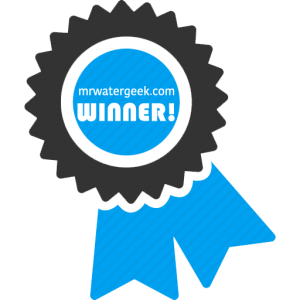 tlet – that's it.
Aside from the ease of installation, the ACE comes with the highest specs of any ionizer model that is available right now.
Apart from 13 plates (which is the highest amount of plates of any ionizer) it comes with cool things like flood prevention and motion detection.
It is extremely expensive but you can buy with peace of mind knowing that it comes with a very generous lifetime FOREVER warranty.
ACE-13 (Above the Counter) Alkaline & Hydrogen Water Machine
UCE-13 PLUS (Under the Counter) Alkaline Water & Hydrogen Machine with Faucet Above Counter
Counter top machine connected to tap faucet ONLY.
Under counter unit WITH counter top touchscreen faucet.
3 Acidic, 4 Alkaline, 1 Turbo (for both alkaline and acidic output) 1 Neutral. Fully adjustable with 99 presets per level.
3 Acidic, 3 Alkaline, 1 Turbo (for both alkaline and acidic output) 1 Neutral. Fully adjustable with 99 presets per level.
1.7 - 12.5 pH Range.
1.7 - 12.5 pH Range.
Up to negative -1150
Up to negative -1150
x2 with .01 micron
x2 with .01 micron
Tyent YT ACE 13 also works with a double membrane 0.01 micron active carbon / EM ceramics filter combined with a 10 Stage UltraFilter (UF) Membrane Filter.
Tyent Rettin UCE-13 Turbo works with a double Membrane 0.01 micron active carbon / EM ceramics filter combined with a 10 Stage UltraFilter (UF) Membrane Filter.
Filters last 9 months or 3600 litres (approximately).
Filters last 9 months or 3600 litres (approximately).
Hydrogen Boost Technology? YES
Hydrogen Boost Technology? YES
x13 mesh/solid hybrid plates baked and dipped.
x13 mesh/solid hybrid plates baked and dipped.
100-240V a.c 50/60 Hz
100-240V a.c 50/60 Hz
Voice operation system with MP3 sound quality.
Voice operation system with MP3 sound quality.
Counter top ionizer: 14in (W) x 5-3/8in (D) x 14in (H)
Under counter ionizer: 14in (W) x 5-3/8in (D) x 14in (H)
Counter top faucet dispenser: 11.5in (H) x 2in (D)
Weight: 5.5 kg
Undersink body: 6.9 kg
Tap faucet: 0.5 kg
1 - 5 bar (water pressure).
1 - 5 bar (water pressure).
Flood prevention safety sensor.
Flood prevention safety sensor.
Self-Cleaning
Self-Cleaning
LIFETIME warranty when you buy direct and use code: WaterGeek
LIFETIME warranty when you buy direct and use code: WaterGeek
Special offer:
Free Gifts & Upgrades with Coupon Code
Special offer:
Free Gifts & Upgrades with Coupon Code
Coupon Code:
WaterGeek
Coupon Code:
WaterGeek
Where To Buy The Tyent Ionizer Machine?
Buying direct from Tyent's website is the best way to ensure you get all the right gurantees, warranties and free upgrades.
PROS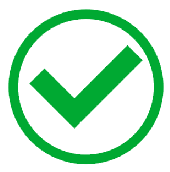 Aside from alkaline water, the machine also comes with a hydrogen boost functionality. This means you can effectively get hydrogen water which has its own health benefits that are separate from alkaline water.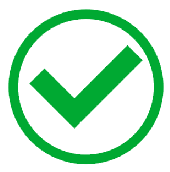 This device also comes with the lowest ORP of -1150. This essentially means your alkaline water is full of potential antioxidants.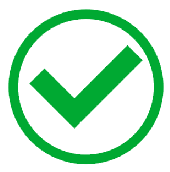 It only takes a few minutes to install by connecting it to your kitchen faucet and connecting the device to the power outlet. All the materials you need will be included in the pack.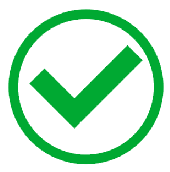 Using the high tech touchscreen interface is as easy as using a smart phone and it also comes in different languages.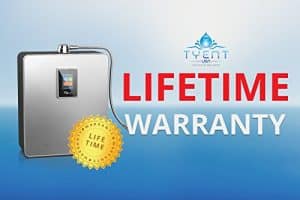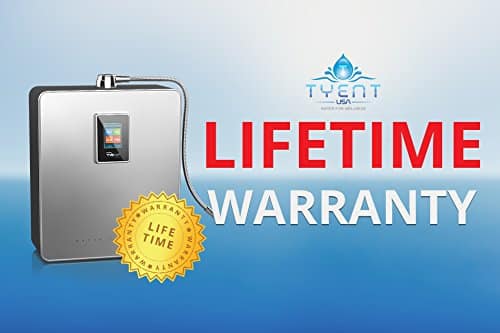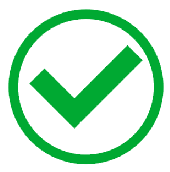 This machine is packed with useful features like flood prevention sensors, auto self cleaning and 99 adjustable presets of neutral, alkaline and acidic water.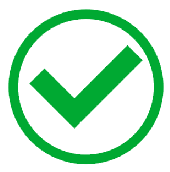 Purifies your water by removing 99% of common contaminants through its ultra duo .01 micron filters. This is the same level of microns present in kidney dialysis machines!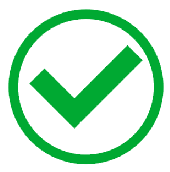 Go direct to their website in order to get your FOREVER LIFETIME Warranty certificate. Use the coupon code WaterGeek and unlock a ton of other free stuff as shown below.


CONS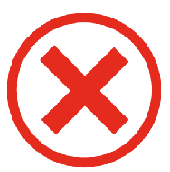 Very expensive.
Detailed Tyent UCE-13 Specifications
Level of negative ORP: Up to -1150
The pH range: 1.7 – 12.5
pH settings: Alkaline, acidic, neutral and turbo (with multiple presets for each setting).
Display interface: 4″ TFT Touch Screen LCD.
Extra features: Automatic self-cleaning, flood prevention sensor, motion detection.
Filters: 2x ultra .01 micron filters.
Number of plates: 13
Plate materials: Titanium plates that are strengthened in platinum.
Plate Size: 7″ × 4 ¾"
Dimensions: 300mm (W) x 135mm (D) x 350mm (H)



Weight: 5kg
Warranty: Lifetime warranty.