Article Last Updated: November 2023
Why is Buying a Kangen Water Ionizer a Terrible Choice?
Three letters: M L M.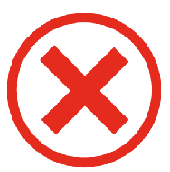 The whole multi level marketing (or pyramid scheme as some people prefer to call it) is a very old business model. It might have been great in the days before the Internet when you couldn't compare prices or check a company's reputation.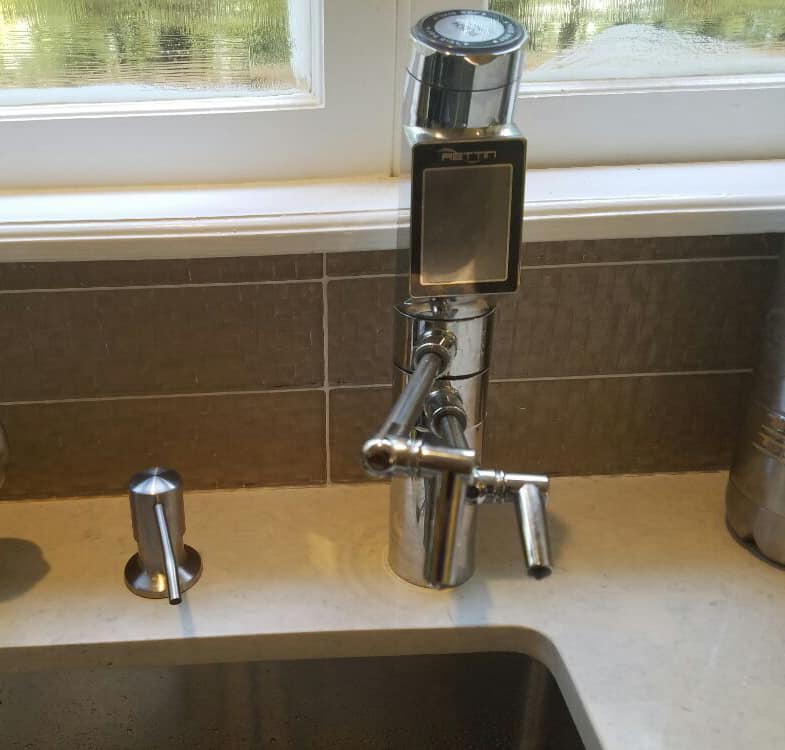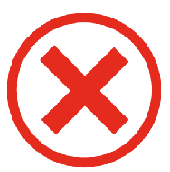 In the past, people may have been willing to spend more money knowing they were supporting their friends and neighbours. But today, more people prefer to buy things that actually represent value for money.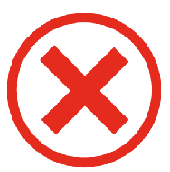 Pyramid schemes are illegal in the United States and multi level marketing walk a very thin line when it comes to the law.
However, the company (Enagic) is headquartered in Japan. This makes it difficult to prosecute in the US. It also means they may be able to avoid certain taxes too.
"The money paid out to network marketers for each sale of the SD501 is around $2,280.00 in commissions out of the $4000.00 you pay. Don't forget that Enagic needs to get a profit from that amount too. This is the real reason why Kangen is so expensive."
Question to Ask Your Kangen Distributor To AVOID Getting Scammed
If you ever have the misfortune of having a Kangen home demo here are some questions to ask.
Getting a straight answer to these questions will force the distributor to talk about things they don't want to highlight:
What happens if I buy it and change my mind?
Why is the return window only 7 days when the standard is between 14-30 days?
Does your machine need a chemical electrolysis enhancer? If so, why is this when other brands don't?
Will I need to manually clean the machine every 3 to 6 months with a cleaning cartridge? If yes, why doesn't this have automatic self cleaning like other machines?
Is there a $500 restocking fee? And does this apply even if I don't open and use the device and return it within 7 days?
Why do Kangen only have 1 filter when the industry standard is 2?
Do Kangen machines burn out after 5 years and if no, why is the warranty only 5 years when others provide a lifetime warranty?
Kangen K8 vs SD501 Comparison
The top 2 Kangen water reviews presented in this article will look at the top 2 most expensive and best selling flagship Kangen machines, the Kangen K8 and SD501.
Kangen is from a Japanese company called Enagic. They produce water ionizer machines that both filter and change the pH level of whatever water you put into it.
Kangen is by far the most popular and most recognisable ionizer brand on the market.
However, there is a lot of controversy around how its parent company (Enagic) operates. Many people take issue with its MLM (multi level marketing) business practices. They consider that their extremely high prices are reflective of their need for commission payouts and not a reflection of the product quality.
So this article will delve deep into 2 Kangen water reviews by comparing the top models.
After the top 2 Kangen water reviews, I'll review all their business practices and let you know if either machine is WORTH the cost.
Kangen K8 Review
Current Price: 4,980.00 (correct at the time of writing).
The "8" in the K8 refers to the 8 plates that come with this machine. It has a full color LCD interface that gives you access to the controls and machine settings.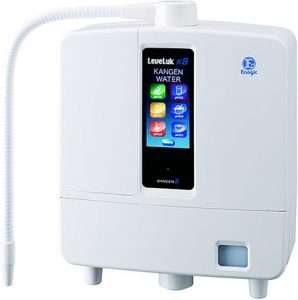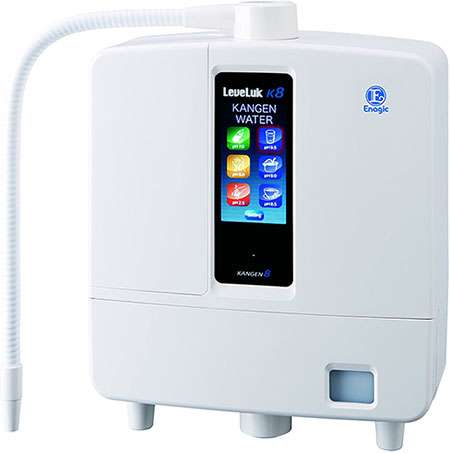 You have 5 ph presets to choose from. Don't worry if English is not your first language.
The K8 has different languages available. This includes Chinese, Portuguese, French, Spanish, Japanese, German and Italian.
This machine promises to not just provide you with alkaline water but water that also has a higher antioxidant power. This is measured through something called ORP which stands for antioxidant production potential.
The lower the number (especially negative levels), the better. Hence the ORP of this model being -850 is pretty good.
Key Kangen K8 Features:
Large touchscreen full color LCD panel.
Worldwide multi-voltage power supply and it comes with an interchangeable plug.
Single integrated filter.
10 second automatic cleaning.
Automatic on/off switch.
Displays and voice prompts in 8 languages.
5 Kangen Water Settings:
Strong Acidic water (2.5 ph).
Acidic (Beauty) water (6.0 pH).
Clean Water (7.0 pH).
Kangen Water (8.5, 9.0, 9.5 pH).
Strong Kangen Water (11.0 pH).
Product Specifications
Electrode plates: 8
pH Range: 2.5 – 11.5
Negative ORP: (mV): -850
Ease of Use: Similar to using a smartphone device.
Wattage: (W) 230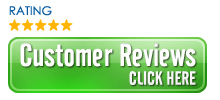 Languages: 8
Plate size: (mm): 135 x 75
Dimensions WHD: (mm): 279 x 345 x 147
Total weight: (kg): 5
Warranty: (years): 5
Kangen Water Machine SD501
Price: $3,980.00 (correct at the time of writing)
The SD501 only has 7 plates but has many of the same features as the K8. This includes the same smart technology that powers the touch screen interface.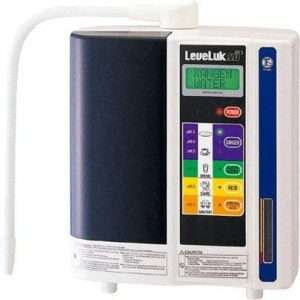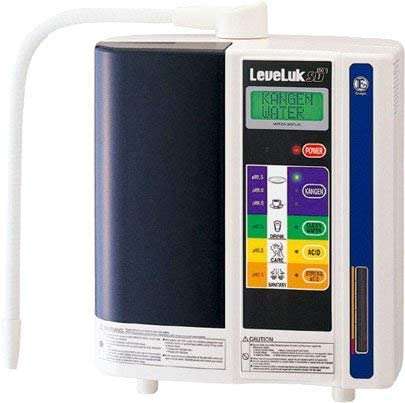 Aside from alkaline ionized water, it also provides you with an ORP capability (oxidation-reduction potential). ORP measures the level of antioxidant capacity. The lower the number, the better including negative numbers.
The SD501 provides an ORP up to -800, which is very good but other machines at the same price point go up to -1050.
This device only has 1 HG-N filter instead of the dual filters that usually come with machines from other brands at a similar price point. However, the good news is that it lasts for 1500 gallons before you need to replace them.
Although I don't consider that too amazing because Tyent machines typically last for 3600 gallons before they need replacing.
Product Specifications
pH Range 2.5 – 11.0
Filtration System Single Filter (5" height x 1.5" radius)
Alerts/ Announcements Voice, LCD Screen and active level light indicator on control panel
Electrode plates: 7
Plate size: (mm) 135 x 75
Negative ORP: (mV) -800
pH Range: 2.5 – 11.5
Wattage: (W) 230
Total weight: (kg) 6.3
Dimensions WHD: (mm) 264 x 338 x 171
Ease of Use: Fully automatic, very simple to operate.
Languages: 5
Warranty: 5 (years).
Kangen K8 vs SD501
The biggest difference that I can see is the number of plates. The K8's 8 plates vs the SD501's 7 plates. K8 also give a slightly higher ORP of -850 (instead of the -800 that comes from the SD501).
It seems like these slight differences are what justify the $1000 price difference.
Meanwhile you can get a Tyent ACE-13 with 13 plates and an ORP of -1050 for much cheaper than BOTH these models.
The table below of the details behind my Kangen water reviews will give you a more direct comparison so you can see for yourself.
Tyent-ACE-13
Kangen K8
Kangen SD501


13 Electrode Plates.
8 Electrode Plates.
7 Electrode Plates.
-1150 Negative ORP
-850 Negative ORP
-800 Negative ORP
1.7 - 12.5 (pH)
2.5 – 11.5 (pH)
2.5 – 11.5 (pH)
Over 99 presets that are fully adjustable.
5 water types
5 water types
10 Ampere
230 Wattage
230 Wattage
5 (kg)
5 (kg)
5 (kg)
300 x 135 x 350 (mm)
345 x 279 x 147 (mm)
264 x 338 x 171 (mm)
Tyent filters last for 950 gallons (approx).
Replacements here.
N/A
N/A
LIFETIME warranty.
5 year warranty.
5 year warranty.
WaterGeek

No coupon.
No coupon.

$$$$
$$$$
$$$
Kangen K8 vs SD501 Which One Is BETTER?
Neither.
Don't get me wrong there are plenty of people out there that are happy with their Kangen machine. And so long as these machines function the way they are advertised then I don't technically see any problem with them as a single device.
"My problem with Kangen machines is not their products it's their price."
Water ionizer machines are not cheap but you usually get a lot of value in exchange for the high cost.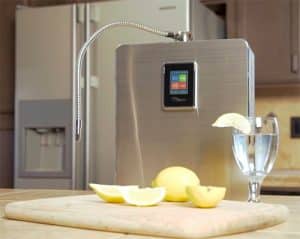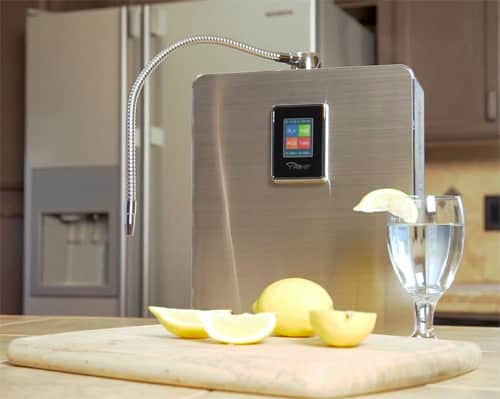 For instance, Tyent machines cost less than the top Kangen machines.
However, they come with 11-13 titanium plates dipped in platinum, negative ORP's of -1050, a ridiculously wide pH range of 1.7-12.0 and LIFETIME warranty. Its filters are powerful enough to treat lead.
None of the most expensive Kangen machines come close to any of this.
So the bottom line is that, for me, the Kangen K8 and SD501 machines do not represent value for money and in the following sections, I'll explain why.
Kangen Water Controversy
Kangen Water Machine Price: Why So Expensive?
The short answer is because of all the MLM commission checks for multiple distributors.
Let me explain.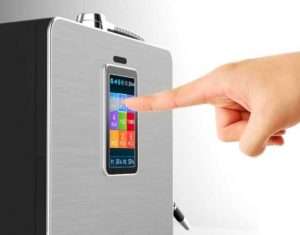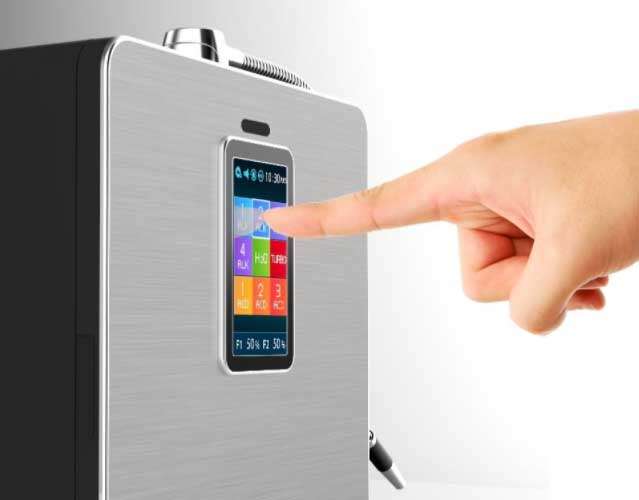 When you first try to get a Kangen machine, you will have a sales person come into your home to demonstrate the machine.
During this Kangen demo, they Sometimes offer to give you free water for 1 month as well as a personalized installation.
All of these are background costs that add up.
This is because distributors need compensation for their time and this is in the form of a commission for the sale.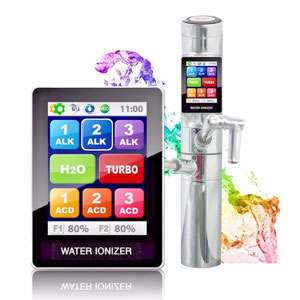 However, it doesn't just end with the commission for that single distributor that comes to your home. The person who recruited them needs a cut and the person above them and so on.
My 2 Kangen water reviews would not be complete without explaining that a total of 7 to 9 people will all get paid commissions from the sale of the $4000.00 flagship SD501 machine.
And of course, Enagic need a cut too.
This is the real reason why Kangen ionizers are the most expensive ionizer machines on the market today.
Enagic Compensation Plan



Kangen Warranty and Support?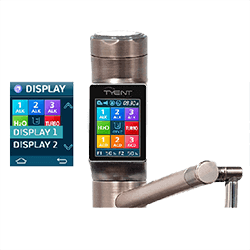 The warranty and support that comes with Kangen is pretty poor given the potential $5000 price tag.
For instance, the SD501 warranty is 5 years. But this is only on parts & labor and for an extra fee of $250 you can extend this to 3 years.
However, when you compare this to the lifetime warranty similar models in the same price bracket give you, 5 years is pathetic.
Also, judging by the customer feedback and review on Kangen's BBB profile, I don't have too much faith in their customer support either.
Enagic's Issues With The BBB (Better Business Bureau)
Enagic is a huge company and most likely the biggest brand name on the ionizer market today.
Yet its BBB profile is seriously lacking.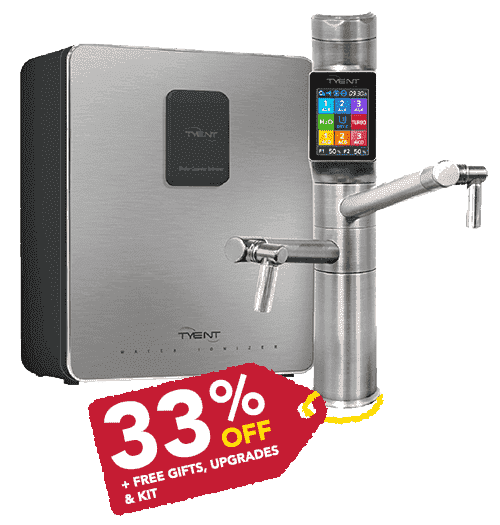 Reading through its profile especially the (Kangen water reviews from customers) makes for very interesting reading.
Many of the SD501 Kagen water reviews from customers complain of the ridiculously high restocking fees.
These restocking fees apply even when you return a your unit UNUSED and UNOPENED!
Aside from issues and difficulties with refunds, the other biggest complaints are about distributor tactics.
Some distributors "disappear" after collecting the money while others straight up lie about their products and make false claims.
BBB Customer Kangen Water Reviews
Here are some shocking things that emerge from reading through the Kangen water reviews on the BBB:
A distributor promised a $600 rebate but never sent the payment.
People complain about not getting the correct documents with their machine.
A distributor disappeared after making the sale, so this customer never even got the unit they paid for.
Some customers are still waiting for a refund despite returning the unit unopened and unused.
Customers who are not able to get refunds sometimes resort to selling the unit on places like Ebay at a loss.
One customer only got his sales documents AFTER filing a credit card chargeback. And even then the sales document came through Master Card, not the retailer. Once he got the sales document, he saw that his signature was forged.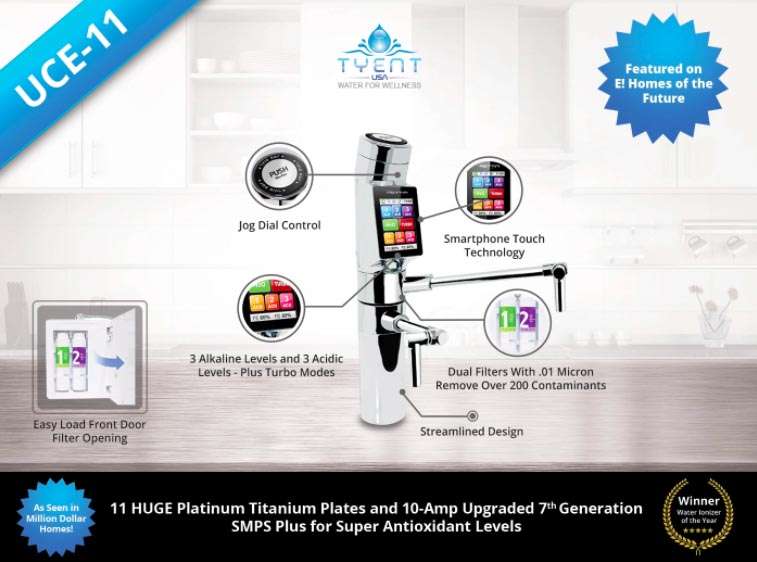 Kangen Water Myth
Almost no one can doubt that Enagic has done a good job of getting tons of certifications.
And indeed, they do have machines that look reasonably good on paper – even if a little overpriced.
"However, one of the biggest Kangen Myths is that ONLY their machines can deliver all the alkaline ionized water benefits. This is simply not true."
Alkaline water can benefit your health and diet no matter the source.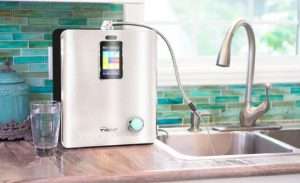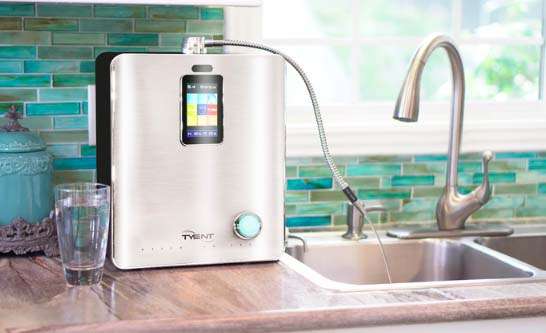 And in fact, there are other more advanced models (that I will discuss in a minute) which produce even better quality ionized water.
Machines with a higher number of plates, more ORP levels and the longest warranty ever – while still being cheaper than Kangen machines!
If Enagic one day decides to change its business practice so that it no longer has distributors in a MLM pyramid scheme and reduces their prices, I'll change my mind.
If they make their prices more competitive, start offering a lifetime warranty and improve their post-sales customer support, I might even start promoting their machines on my site.
However, until that happens I will continue to recommend that people stay away.
Tyent-ACE-13
Kangen K8
Kangen SD501


13 Electrode Plates.
8 Electrode Plates.
7 Electrode Plates.
-1150 Negative ORP
-850 Negative ORP
-800 Negative ORP
1.7 - 12.5 (pH)
2.5 – 11.5 (pH)
2.5 – 11.5 (pH)
Over 99 presets that are fully adjustable.
5 water types
5 water types
10 Ampere
230 Wattage
230 Wattage
5 (kg)
5 (kg)
5 (kg)
300 x 135 x 350 (mm)
345 x 279 x 147 (mm)
264 x 338 x 171 (mm)
Tyent filters last for 950 gallons (approx).
Replacements here.
N/A
N/A
LIFETIME warranty.
5 year warranty.
5 year warranty.
WaterGeek

No coupon.
No coupon.

$$$$
$$$$
$$$
The Best Water Ionizer? Tyent ACE-13 (A Better Kangen Alternative)
This is the newest Tyent ionizer model. The ACE-13 is a countertop device that connects directly to your kitchen sink water supply. However, you can get an under counter version if you prefer.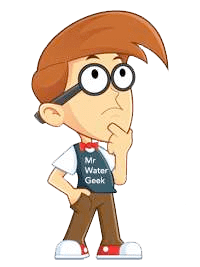 It has 13 titanium plates cooked in platinum, which is the highest number + quality of plate combination available today.
The quality of the materials of these plates mean they are extremely durable and will not crack or break in the future. The plates are also the thickest and longest.
The reason why I talk so much about the plates is because this is the key component that determines the quality of your ionized water.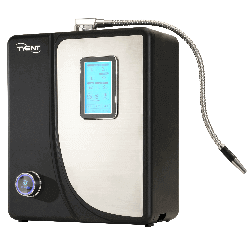 Basically, the more plates the better.
Best Features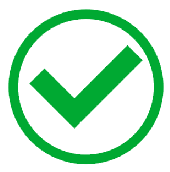 The pH range is between 1.7 – 12, again this is currently the widest range available. It also means you can be extremely choosy and precise about the exact level of pH that you want. This is unlike Kangen water machines that only give you 5 broad pH presets.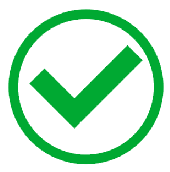 The final very important thing to discuss are its filters.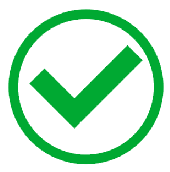 Tyent machines come with 2 powerful filters (instead of the single filter that Kangen offer). These filters will remove up to 99% of contaminants and this includes dangerous toxic heavy metals such as lead.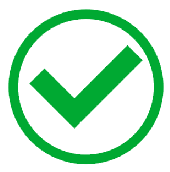 It is an above the counter version that is easy to install and access water direct from your kitchen faucet (an under counter version is also available too).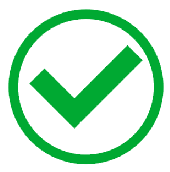 Touchscreen controller that works similar to a smartphone interface.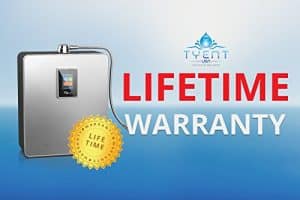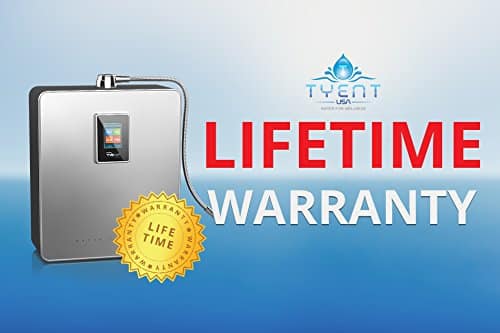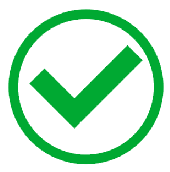 Has the highest rate of ORP (antioxidant potential) of -1050 (Kangen only give you -800. -850 max).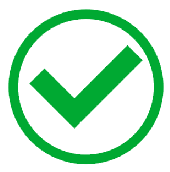 Comes with 2 powerful filters that treat 99% of the common contaminants that show up in your tap water.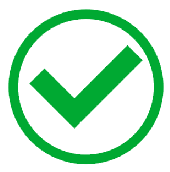 The best part in my opinion is the FOREVER lifetime guarantee when compared to Enagic's measly 5 years.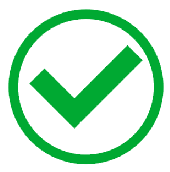 This just means you have total peace of mind when buying.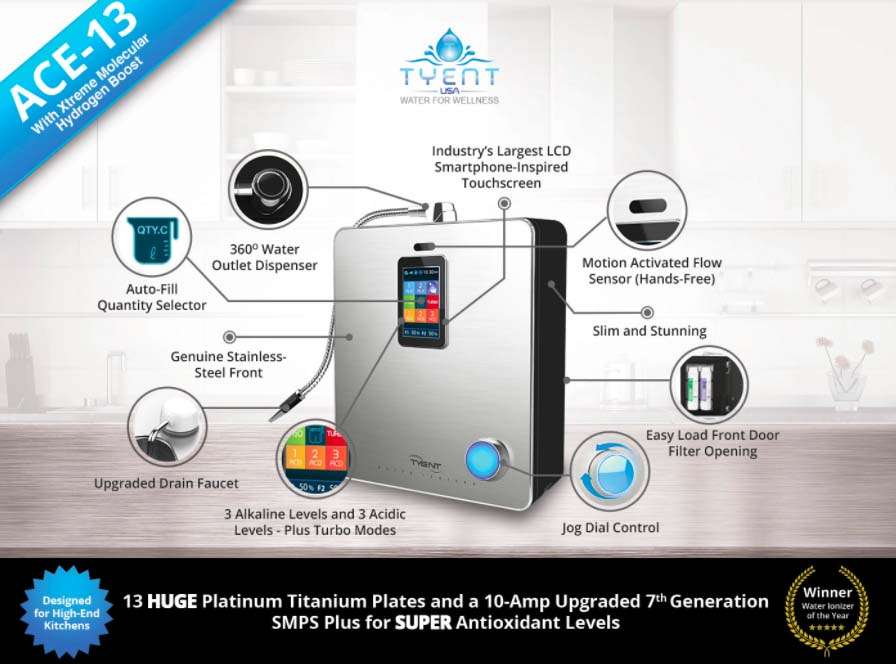 Tyent ACE-13 Product Specifications:
Power Settings: 1x Neutral, 3x Acidic, 4x Alkaline, 1x Turbo (for acidic and alkaline).
Control: Type: Display: 4 Inch TFT LCD.
Surface Area: 385 square inches.
Plates: 13 solid titanium hybrid plates dipped platinum.
Plate Material: Solid/Mesh Hybrid Medical grade, strengthened titanium plates that are dipped multiple times in platinum.
Plate Size: 7″ × 4 ¾".
Filtration: 2x Ultra filtration down to .01 Micron.
Operational Controls: Advanced interactive touch screen with voice prompts.
pH Range: 1.7-12.0.
Prevention Devices: Flood prevention sensor.
Negative ORP Level: Up to -1050.
Weight: 5kg.
Long term maintenance:
Automatic self-cleaning.
Dimensions (mm): 300W x 135D x 350H.
Warranty: Lifetime FOREVER warranty.
Promo Code: WaterGeek