Article Last Updated: January 2021
Fed up of having to buy bottled water everyday? One of the best alternatives to buying bottled water or portable filter jugs are refrigerator water filters.
Getting and installing a good quality filter in your fridge is much cheaper than other forms of water filtration but also has the added bonus of making sure your filtered water is chilled too.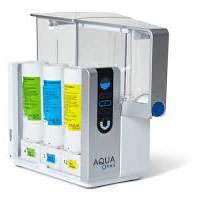 A good fridge water filter will remove impurities while also giving you fresh tasting water or ice directly dispensed from your refrigerator.
They are usually very easy to install and don't require any plumbing work.
Getting filtered water direct from the fridge also has the added benefit of having a longer filter lifespan when compared to pitcher or faucet water filters.
However, not all refrigerator water filters are made equal. So pay close attention to my reviews below to ensure you get the best refrigerator water filter for your needs.
Everything You MUST Know Before You Buy Refrigerator Water Filters
Is It Easy To Install?
Most fridge water filters are easy to install, is yours? It is always worth checking the model you are interested in buying against the type of fridge you have before buying.
The general rule of thumb is that filters with the same brand as the fridge are very likely to be compatible.
However, a quick online search should bring up videos that can help you know for certain.
Always Make Sure You Maintain and Replace Fridge Filters
Any type of home appliance benefits from good care and maintenance. Doing this will mean they have a longer lifespan and operate at a good quality for longer.
This is important to your refrigerator filters as well. Think about it, these products are prone to accumulate dust and other pollutants.
Lots of dust and dirt can affect the proper functioning of this item and make it less effective.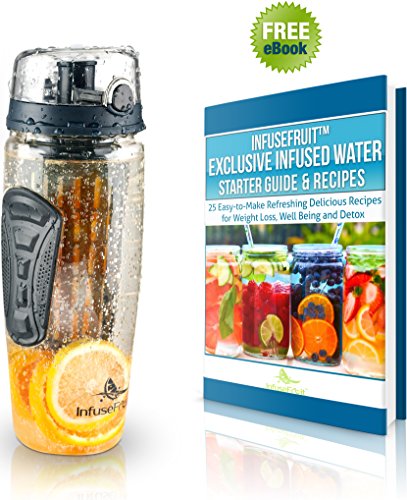 What happens if you don't properly maintain or replace the filter frequently?
In simple terms, you will be compromising the quality of your drinking water. Defected filters will not filter your water, which defeats the whole purpose of getting one in the first place.
Check the indicator light
The only way to know if the filter is working and actually filtering your water is to check the indicator light.
The good news is almost all the latest fridge models come with filter replacement indication lights.
That light will come on when your filters are due for replacement – so keep an eye on them.
Keep track of the time
If your fridge doesn't have a filter replacement light indicator, it's broken or unreliable for any other reason then keep track of time.
It is recommended that you replace refrigerator water filters once every 6 months.
Keep An Eye On Dispenser Speed

If you find that your fridge dispenser is not functioning properly, then take this as a sign that your filter needs replacing.
It is very common for refrigerator dispensers to get clogged up with things like mineral deposits, debris and other pollutants.
If this is the case then expect the filter to take a very long time to fill your glass of water.
So keep an eye on your refrigerator dispenser, make sure it's clean and replace the filter ASAP if you notice it working slowly.
Replace the filter even if the filter replacement indicator light is off but you notice these problems!
The Quality Of Ice
Another way to spot if your refrigerator filter is not working properly is to check the quality of the ice it produces.
If your ice cubes are not crystal clear, have a strange smell or colour then you know that your filters are either not working properly or need replacing.
In some instances, you may find the ice not forming properly. If this is the case you should stop drinking the water and replace the refrigerator filters as soon as possible.
The Quality Of Water
The final thing you must consider is also the most obvious; is your water still looking and tasting fresh?
Do not ignore any faint odours, weird taste, or tiny deposits in your filtered drinking water.
This is because any sign of impurity is an indication that the filters have not done an effective job and therefore need to be replaced.


Refrigerator Water Filter Reviews
General Electric MWF Review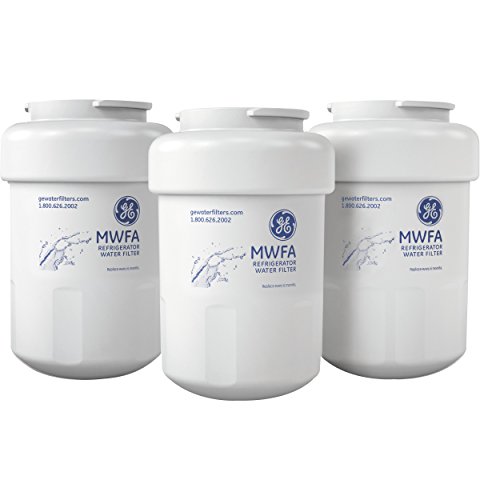 The MWF comes in a very slim and compact design that makes it both easy to install and quick to remove from the refrigerator.
Using the GE MWF filter helps you safely add more drinking water into your lifestyle and here are some of its key features:
It comes in a very small size so takes up less space in your refrigerator.
The MWF is ensured with NSF certification. This means that it complies with strict quality and safety standards.
This refrigerator water filter effectively produces better tasting drinking water because it removes contaminants like lead, giardia, mercury, benzene and others.
It is also able to filter out five trace pharmaceuticals.
As with most fridge filters, the MWF filter needs replacing about once every 6 months – depending on your usage.
This unit can filter up to 300 gallons of water.
GE"s MWF is one of the best selling product in its category. This is mostly down to its positive reviews, good price and quality.


Samsung DA29-00020B

Review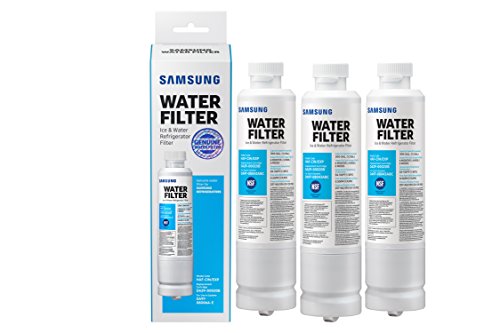 The Samsung DA29 provides you with clean, fresh healthy water that is free of strange odors and tastes.
It is compatible with certain Samsung "side-by-side" and French door fridges.
Need to know if it will fit your fridge? Go to its Amazon page to check if it will fit your specific fridge model as all the sizing information is there.
It filters your drinking water using a high-grade carbon block filter that removes over 99% of the contaminants that you can find in water.
There are further benefits with its filtration process as it protects your appliance by filtering things like dirt, sediment and rust.
However, also note that it does NOT filter minerals like fluoride because this mineral is beneficial to health.
The average filter replacement period is once every 6 months. However, this all depends on your level of water consumption as well as the quality of the water in your home.


PUR W10186667

Review
One of the best features of the PUR W10186667 is its a push-button refrigerator filter that is designed to easily fit in the grill of the refrigerator.
It is a versatile refrigerator water filter that is compatible with brands. These brands include KitchenAid, Jenn Air, Maytag, Amana and Whirlpool.
Using this fridge water filter will reduce the instances of mercury, lead, microbial cysts, asbestos. As well other contaminants from your drinking water – but with reduced chlorine taste and odor.
However, the PUR W10186667 maintains healthy minerals like beneficial fluoride in your water.
The filter will need to be replaced once every six months depending on your use and the quality of water in your household.


Frigidaire WF2CB PureSource2

Review
Do you have a Frigidaire refrigerator? If yes, your best bet is to get the WF2CB model. You can also get this filter if your refrigerator model has a front-cassette.
The WF2CB filters water contaminants and reduces the taste and odor of chlorine.
Like all the other refrigerator water filters, it does NOT remove healthy minerals like fluoride.
The recommended filter replacement period is about once every 9 months. However, this can be longer or shorter depending on your water quality and how much water you use.
The WF2CB filter is a unique slide-in-and-out feature which makes replacement very easy.
It has NSF certification to certify it's quality and safety.


Refrigerator Water Filter Comparison Chart
PUR
W10186667

General Electric MWF

Samsung
Da29
-00020b

Fits: Whirlpool, Kitchen Aid, Maytag, Amana, Jenn-Air
Fits: GE
Fits: Samsung
Filter life: 6 months
Filter life: 6 months
Filter life: 6 months
13.3 x 2.5 x 2
11 x 2 x 2.4
2 x 2 x 10

Refrigerator Water Filters Reviews – My Top Pick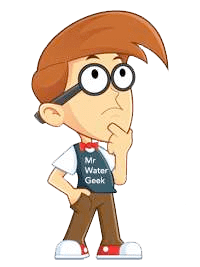 The most important thing to note about refrigerator water filters is that they are not compatible with every fridge model.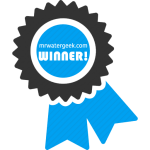 So the first thing you should do is check if it is going to fit your model.
Once you know it fits, the next thing to check is what it filters.
E.g. if you have a chlorine issue, then you should lean towards filters that specialise in removing this.
Each of the best refrigerator water filter models mentioned in this article are only compatible with certain brands of refrigerators.
However, with all the above in consideration my top pick is PUR W10186667.
THis is because it is compatible with almost every fridge model and does a great job of filtering your drinking water.
It takes care of everything from lead, mercury to chlorine.