Article Last Updated: September 2022
Ionized Water vs Alkaline Water, which is best?
The "alkaline" in alkaline water is referring to the pH level. This is a number that measures the level of alkaline or acidity on a scale of 0 to 14. In this range, for example, 0 – 6 is acid 7 is neutral and anything above that is alkaline.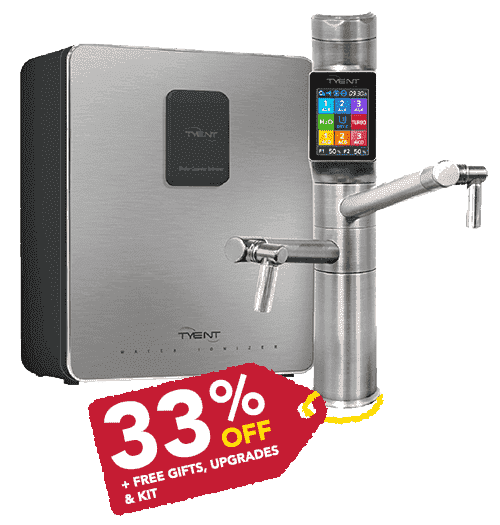 Alkaline water is water that has a pH level above 7. This is what makes some people to believe that alkaline water helps to neutralize the level and amount of acid in the body.
Ionized water is essentially alkaline water that is not natural bug comes directly from a water ionizer machine.
This is a home appliance device that raises the level of regular water by using electrolysis. The electrolysis separates whatever water you put into it into either acid and alkaline components.
This post will do an ionized water vs alkaline water comparison and tell you the best way to get both.
Alkaline Ionized Water vs Alkaline Water
What is Alkaline Water?
Alkaline water is any water that has a pH above 7-8 and the highest number being 14.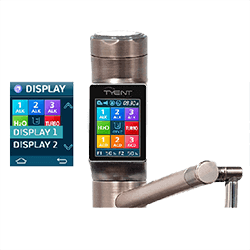 But you can bring this about naturally without using a machine.
For instance, you can change the pH of water by adding lemon, magnesium drops, salt or baking soda.
What is Ionized Water?
Ionized water is alkaline water that is generated through a machine. An ionizer uses electrolysis to alter the pH composition of water. It does this without any chemicals or additives.
| | |
| --- | --- |
| Ionized Water | Alkaline Water |
| Ionized water is alkaline water that is generated through a machine. | Water that is naturally of a high pH that is over 7. |
Why are Ionizer Water Machines so Popular?
Water ionizer technologies are extremely popular in Asia. This is because certain cultures in Asia consider alkaline water to be a more traditional method for healing and therapy.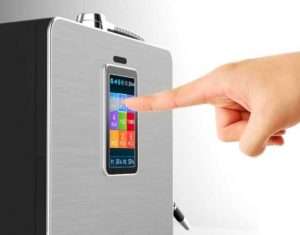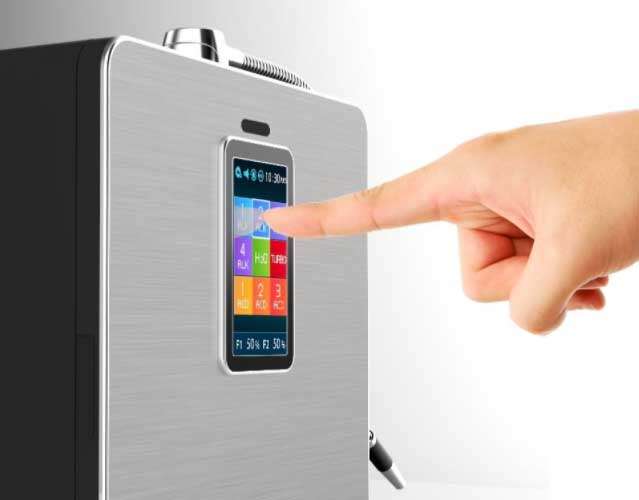 This is also partly down to people seeing it as a preventative natural treatment. Alkaline water is seen as something that is on the same level as a healthy diet, herbs, vitamins and minerals.
This is very different to Western medicine that has a preference for drugs and pills.
Another reason that ionizer machines are popular is the concentration of therapeutic hydrogen gas that it provides. This technically produces a version of hydrogen water.
Hydrogenated Water vs Alkaline Water
The best quality water ionizers will also provide you with a certain level of hydrogen concentration. This will be part of the ionized alkaline water that the machine produces for you.
Hydrogen water simply means the water contains free hydrogen that have antioxidant properties. Antioxidants are highly sought after because they suppress free radicals.
If you are using ionizer machines to get more hydrogen, be careful because it is very delicate. Hydrogenated water completely evaporates within 24 hours.
This means that you should drink your alkalized ionized water as quickly as you can before 24 hours is up. Do this because it is the best way to get the most benefits from the negative ions in your water.
| | |
| --- | --- |
| Hydrogenated Water | Alkaline Water |
| This is water infused with extra hydrogen molecules. | Water that is naturally of a high pH that is over 7. |
What Does A Water Ionizer Do?
In the most simple terms, a water ionizer takes regular water and changes its pH through electrolysis. It doesn't use chemicals to achieve this outcome.
It allows you to select the exact pH level that you want and even includes a neutral setting. The range and quality of the alkaline water that it produces depends on the quality of the machine that you purchase. Specifically the number and quality of plates that it has.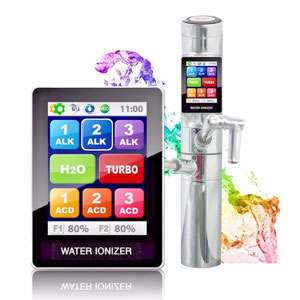 To date, the highest number of plates that I have ever seen on an ionizer is 13. This is the ACE-13 from Tyent.
What is ORP?
Alkaline water that is generated from an ionizer machines typically contains alkaline minerals and negative ORP (oxidation reduction potential).
The ORP refers to the waters ability to act as a pro- or antioxidant.
The bottom line is the more negative the ORP value, the better. This is because a higher level of negative ORP means the more antioxidizing it is.
The Best Water Ionizer Review
A good quality water ionizer has a big impact on the quality of alkaline water that you receive.
Especially when it's a good quality water ionizer that uses ultrafiltration processes to ensure that your water is contaminant free. There are also certain models that will introduce hydrogen into your water. Thereby making it antioxidant rich.
The water ionizer review below will go through what I find to be one of the most advanced ionizer available to buy today: Tyent ACE-13.
The Best Above-Counter Ionizer: Tyent 13 Plate Water Ionizer
Let's start off by breaking down the name and what it all means. ACE stands for "above the counter" and 13 refers to the number of plates that it includes. Hence the "Tyent ACE-13".
The Plates
The "13" in ACE-13 refers to the number of plates and 13 is one of the highest numbers you get today. Most ionizers only provide you with 8-9 plates maximum.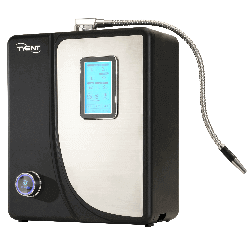 However, more plates = better quality ionized water.
The 13 solid/mesh hybrid titanium plates are baked and strengthened in platinum and dipped multiple times. This means there is no chance of cracking or chipping and it will process the highest quality water.
Advanced Features
The voice activated touchscreen faucet interface is easy to use and has every option that you need. This includes things like volume control, selecting the pH level you want, self cleaning mode and even an eco mode that will help you save power.
There is also an alarm that will alert you when the filters need replacing.
Its PAST (Polarity Anti Scale Technology) cleaning system means that you don't have to worry about cleaning it too often and reduces the amount of maintenance that you need.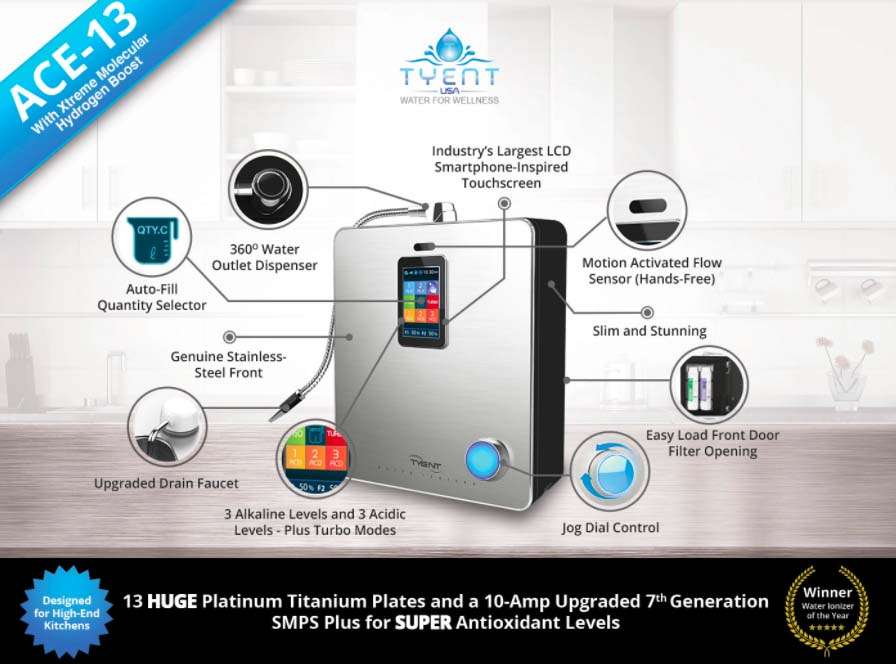 Filters
The filters of ionizer machines are usually over looked but they are very important especially if you don't trust your tap water.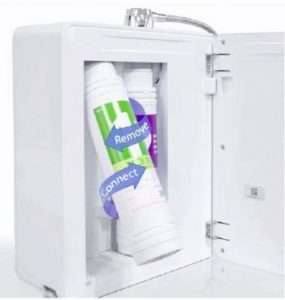 The Tyent ACE-13 comes with powerful dual ultra-filters that enable it to remove up to 99.9% of contaminants.
This includes removing chemicals, chlorine and even lead. Although the filters can be a little pricey you will not need to change them too often.
The ACE-13 filter can process up to 3600 gallons of water before it needs replacing.
Easy To Use
The touchscreen comes with voice prompts and visual guides as well. All of this makes the machine incredibly easy to use. The visuals also let you know how much filter capacity has been spent.
Its LCD color display lets you set the settings to whatever level of pH that you desire. This includes acidic and alkaline presets so you can customize the ionized water to your preference. It also displays the levels of pH concentration.
This unit consumes 750W to operate.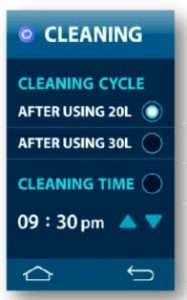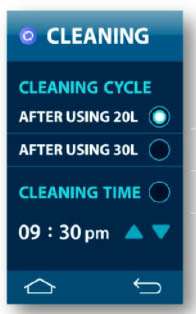 It has an impressive flow rate of 2 liters per minute. The voice alert that it features lets you know what level of water the ionizer is producing, providing you with visual guides as well. This makes the machine incredibly user-friendly.
Auto Self-Cleaning
This is by far my favorite feature. Automatic self-cleaning means you are not buying yet another gadget that needs constant maintenance and up keep. It pretty much takes care of itself. In addition to this, the Tyent ACE-13 comes with an automatic shut-off feature. This means that it won't keep consuming energy when you are not using it.
Easy Installation
It might not look like it, but this Tyent is pretty easy to install. So long has you have or can make a hole in the sink – you're good to go.


If you're worried about getting an extra hole you might just replace your existing faucet with this.
This ionizer weighs only 18.4 pounds and the under counter part makes for a discrete addition to your kitchen that no one will see.
The video below gives you the simple steps for installation.
How To Install A Countertop Water Ionizer
Warranty and Support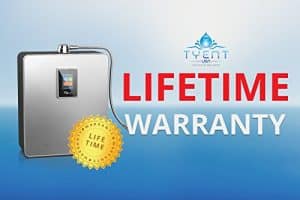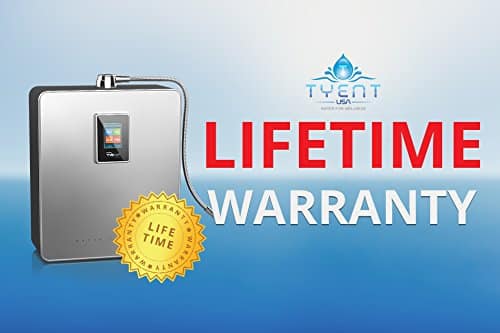 Tyent is the only water ionizer machine that comes with a lifetime FOREVER warranty.
This takes away any concerns you might have about making this type of investment because you never have to worry about repair costs.
IMPORTANT:
In order to qualify for this item you should buy direct from the manufacturer, Tyent USA.
UCE-13 Specifications
Water Dispenser Dimensions (inch)
12.5 x 13.7" x 5.3"
Water Pressure
1 – 5 bar
Water Temperature Range
39°F – 86°F
Number Of Filter Systems
2
Number Of pH Settings
9
Flow Rate
2 liter/ min
Cleaning System
Automatic
Number Of Electrodes
13
Filter Life
3600 liters/ 6 months
Warranty
Lifetime
Undersink Body Dimensions (inches)
14.7 x 13.7" x 5.3"
Ionized Water vs Alkaline Water: Are They Both Safe?
Yes, they are.
Many health professionals do have an issue with alkaline water but this has nothing to do with safety.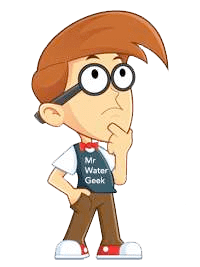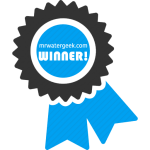 Health professionals are more concerned with the most excessive and extreme claims people make about alkaline water.
The truth is that there is not enough scientific evidence to support a lot of the medical claims around alkaline water.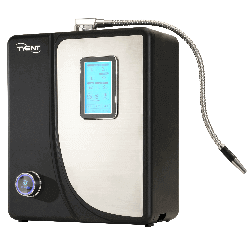 For instance, there is no credible evidence to support the idea that alkaline water can effectively treat any health condition.
So the real danger with ionized or alkaline water is believing any of the marketing claims.


However, drinking alkaline water is generally safe and often contains natural healthy minerals. It can be a good addition to a healthy diet and lifestyle.