Article Last Updated: November 2023
Problems With Nuvo H2O

The first issue is that it does not soften water because it does not use salt. Instead it descales your pipes and "conditions" your water to give you water that is "less hard". If you have severe hard water issues consider getting a standard softener which is one of the best and most affordable ways to effectively treat hard water.

The Nuvo H2O uses a filter that needs to be replaced. You will need to replace the cartridge about every six months (depending on your usage). A single cartridge costs around $50 – $100.
Benefits of Nuvo H2O

Great tasting water. You can't drink soft water but you can drink water that is conditioned and filtered! This is because traditional water softeners add potassium salt to the system making it undrinkable as I discuss in my article here. The Nuvo on the other hand doesn't use this process therefore produces water that you can drink.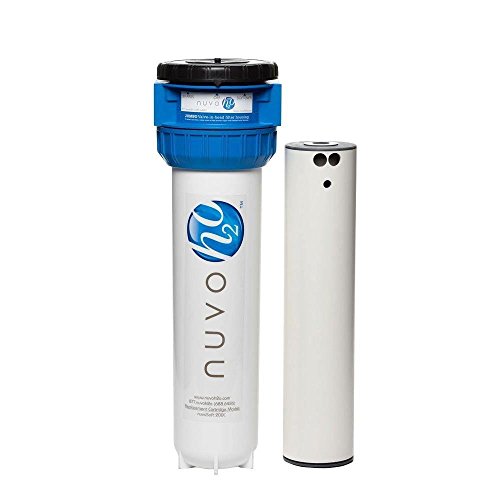 Removes existing scale buildup in your pipes while also preventing new buildup: A salt-free unit like the Nuvo uses advanced technology to change the structure of hard water. The outcome of this is that hard water scales stop building up in your pipes and new ones find it more difficult to form.

A generous lifetime warranty along with a 3 month money back guarantee. This makes it possible to return this item if you are not completely satisfied. The fact that you are given this option in the first place shows how much confidence its manufacturers have in this product and another reason why I love the Nuvo H2O

Very easy to use. It does not heed electricity, salts or magnets. This means there is almost no waste to run, no mess and it is super easy to use the filter / shut-off valve.
Nuvo H2O – Do Salt Free Water Softeners Work?
The Nuvo H2O works on the premise that it is possible to soften water without using softener salt.
However, this is not 100% accurate because (to date), the only way to produce truly softened water is by using sodium (salt). But the Nuvo machine uses other techniques to reduce the hardness of your water.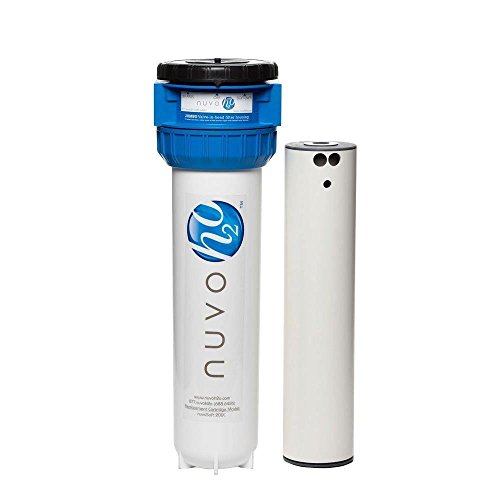 The water produced by the Nuvo H20 system is "conditioned" not softened.
Conditioning means that the alkalinity level is reduced and scale buildup is prevented. It does this with nanotechnology that changes the structure of water.
Because it doesn't use salt, the makers can afford to make the design smaller and compact. This makes it ideal for people with smaller spaces or live in a small apartment.
Nuvo H2O also uses a process called chelation. This helps reduce limescale buildup caused by hard minerals such as magnesium and calcium over an extended period of time.
Your home appliances could be affected if the buildup caused by hard water is never addressed.
Nuvo H2O Features and Specifications
It is a salt-free water conditioning unit that makes use of nanotechnology.
Very compact in size (8" wide by 29" long).
This unit is suitable for homes of at least 2100 feet square.
Built-in by-pass valves and pressure release.
Filters will work for approximately 60,000 gallons before they need to be replaced.
The Nuvo comes with a lifetime warranty on the product as well as an initial 90 day money back guarantee.
What I LOVE About Nuvo H2O
Easy to use (easier than a water softener) – The Nuvo is far easier to use than the everyday water softener. It is very easy to set up, maintain and use.
Why?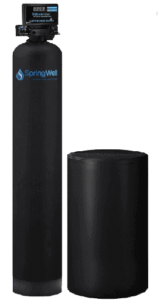 Because it makes use of no magnets, no softener salt, no waste and no electricity. The machine also has an idiot-proof shut-off valve and easy to replace filter.
Removes existing scale and prevents new ones from forming – Instead of using sodium to soften water, this unit "conditions" your water while also descaling.
The Nuvo H20 helps to keep your pipes scale-free thereby protecting your home appliances.
Great drinking water (with no added sodium) – This unit produces drinkable water since there is no softener salt added and it also filters your water. This means you get conditioned water that also tastes great.
Lifetime warranty and money back guarantee – Any product that is confident enough in its quality to offer you with a 90 day money back guarantee as well as a lifetime warranty is always good in my book.
What To Consider Before Buying The Nuvo H2O
This system is right for you if you have a liking for salt-free water softening units. I have reviewed other salt free systems and this is by far my favourite. However, there are some things you should consider before making the commitment to buy:
Nuvo H2O is WRONG If…
Your household has a water hardness of over 10 GPG – Get a water hardness test and check the level of your water hardness. Although this salt free system can still work if over 10 GPG, it won't be very effective. You are better off getting a salt based water softener.
Your home uses well water – This is because the sediments that you commonly find in well water will clog up this H20 system.
Nuvo H2O is GREAT if…
You want a simple solution – The Nuvo system is super easy to install, run and maintain. It is very much a 'set and forget' solution.
You want softer filtered water that tastes great – this system does not use sodium and also lightly filters your water. The result of this is great tasting water.
You don't have a lot of space – this unit is much smaller and compact than a traditional water softener system.
Want to go green – the Nuvo is a far more environmentally friendly way to condition and filter hard water when compared to the other available methods.
Why Nuvo H20 Might Be Worth It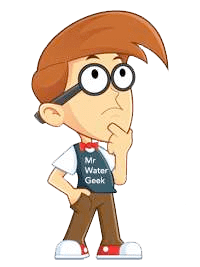 This is by far my favourite salt-free water softener available on the market today.
The Nuvo H20 gets everything right and the issues it has are issues you would get with any saltless unit.
i.e. they only "condition" and descale rather than actually soften.
If this is something that you're both aware of, and happy with then you should consider getting the Nuvo.

Removes and prevents scale buildup in your pipes.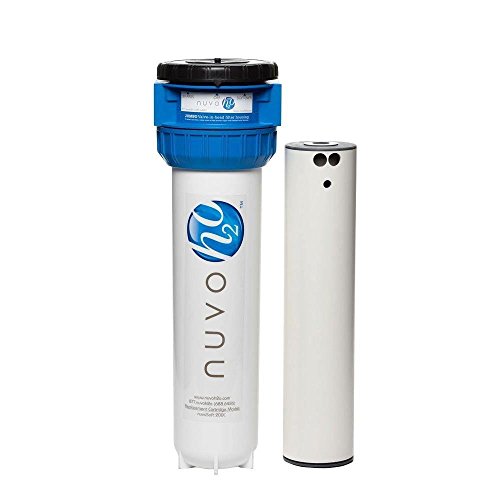 Has a generous 3 month guarantee and lifetime warranty.

Does not use salt so ideal if you're on a sodium restricted diet.

Want an environmentally friendlier alternative to salt based softeners.

Need something that is compact and doesn't take up too much space.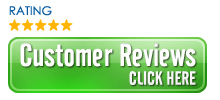 Easy to use and maintain so you can 'set and forget' it.
Treats hard water UP TO 25 ppm (low to medium low hard water).
Treats hard water OVER 25 ppm (medium to extremely hard water).
Does NOT require electricity.
Requires electricity if using the electronic head monitor.
Control Your System With An App:? NO
Control Your System With An App:? YES
- Powerful salt-FREE water softener.
- 1,000,000 one million gallon capacity.
- Aquasana Rhino exceeds NSF standards.
- Treats hard water WITHOUT salt.
- Removes chlorine, bacteria, iron, sulfide, manganese, mercury, lead etc.
- Includes pre-filter, copper-zinc and carbon filtration stages with standard fittings.
- 90-Day Pure Satisfaction Guarantee.
- Limited 10 year warranty.


- Powerful salt-BASED water softener.
- 1,000,000 one million gallon capacity.
- Also includes a multi-stage filter.
- Easy installation (inside or outside)
- Sufficient for 1-3 bathrooms (options for 4-6 and 7+ bathrooms also available).
- 6 month money back guarantee.
- Limited lifetime warranty.
$$$
Ships to US and CA.
$$$
Ships to US, CA and Puerto Rico.
Sale prices automatically applied by clicking this link.
If there is *no* sale try coupon code:
AQGEEK50
Coupon Code:
GEEK5