Article Last Updated: January 2021
Best faucet water filter reviews. Are you worried about the quality of your tap water? Do you suffer from hard water?
Are you put off getting a big expensive, complex water softening machine in your home? If this is the case for you, then a tap or faucet water filter might just be the perfect solution.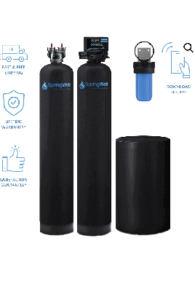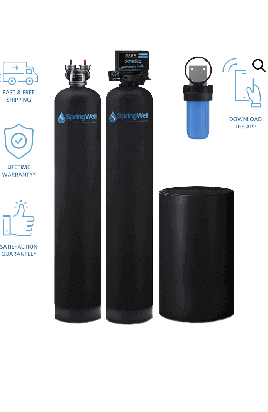 These faucet filters are easy to install. Just screw it on top of your existing tap faucet.
Faucet water filters are EXCELLENT solution's because they are:
Very cheap and inexpensive when compared to larger whole house water softener machines.
Require low / no maintenance.
Give you instant results. Instant filtration.
They are also able to filter almost all known water contaminants.
Are you ready to pick one up? Take a look at my review of the top 4 faucet water filters on the market to help you decide which one to buy.
Why Is Filtering Tap Water So Important?
You should not underestimate how much you use water from the tap and how much it actually affects your life, health and well-being.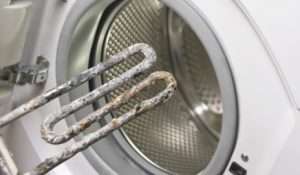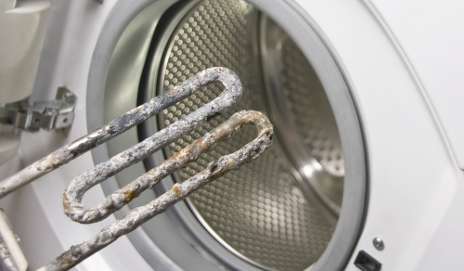 Think about all the things you rely on tap water for.
Cleaning, cooking, washing your hands, washing dishes, drinking, filling up the kettle or coffee maker, washing expensive home appliances, mixing tap water with food and drink etc.
Water Hardness Map USA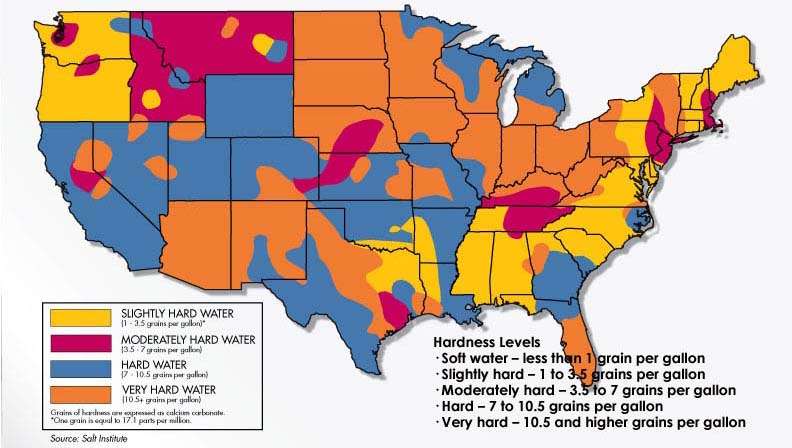 How do you feel about using hard or contaminated water to do these things?
If you're reading this article then chances are that you're the type of person that cares deeply about what you put in your body and the quality of your surroundings.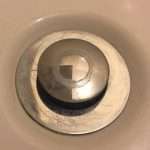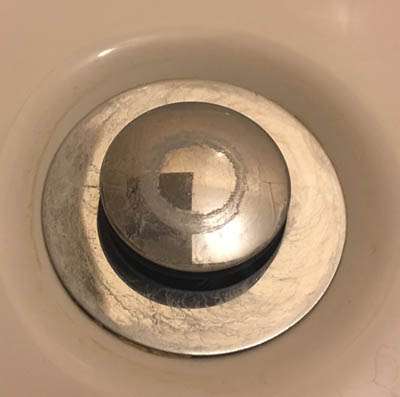 Still not convinced? Here are some concrete reasons why filtering your tap water is very important:
Hard water leaves white residue on your kettle, pots, around your sink and in your expensive kitchen appliances. This not only ruins the appearance of these items but sometimes stops them from working properly.
Overtime, your pipes can become clogged and shower heads suffer from residue build up if you don't filter out water hardness.
Water companies and government agencies can sometimes add things to the drinking water supply of a population. Things like fluoride or chlorine. You may want to give yourself the option of not consuming this.
No more ugly limescale and residue buildup ruining the look of your kitchen.
Continue Reading: Is Tap Water Safe To Drink?

The Best Tap Water Filter – Top 4 Models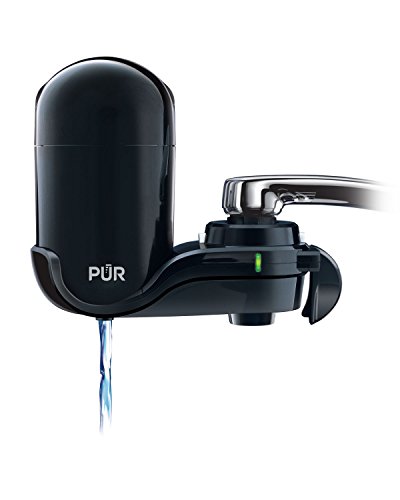 The biggest selling point of the advanced PUR faucet filter is that it "installs with just 1 click."
You can do this without any tools. All you have to do is screw the adapter on your tap. That's it. The PUR tap filter just snaps on.
It comes with 3 adapters that allow it to fit a range of different tap sizes. This means that it is likely to work with whatever type of tap you already have.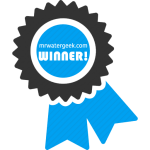 However, note that some faucets (e.g. the large pull-out taps faucets) do not work with the PUR.
It can filter around 100 gallons, which will last you around 2-3 months before you need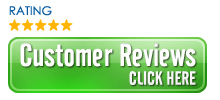 to replace the filter.
One of the best things about this tap system is it uses a 3-stage filtration process. This system removes up to 61 contaminants.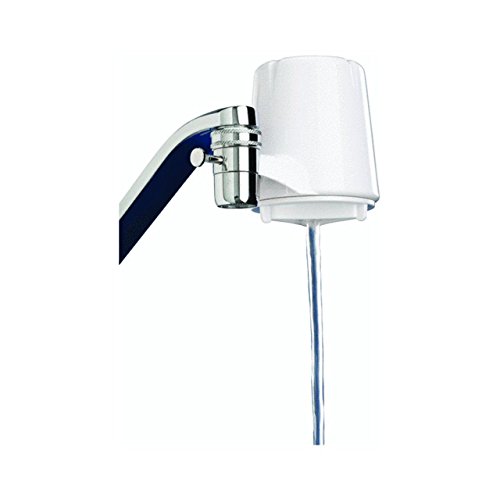 Culligan FM-15A is by far one of the best selling water filter faucets on the market. And it's not hard to see why.
This faucet can filter 200 gallons of water before the filter needs replacing.
Installation is so easy a child could do it. You don't need screws, tools – just screw it over your existing tap.
All this along with a 2-year warranty and NSF certification explains why it is a best seller.
Want to know the best part?
It will fit all standard commercially available taps and you have the option to use filtered or unfiltered water.
This is possible because it has a diverter valve stem that let's it pump out filtered or unfiltered water.
In terms of filtration, the Culligan FM-15A removes all odors, bad tastes and contaminants like:
Chlorine.
Lead.
Cysts.
Cryptosporidium.
Sediment.
Giardia.
What Is Its Biggest Flaw?
My only reservation with this faucet water filter is that it does not come with a filter replacement indicator. This means there is no way of knowing when the filter needs to be replaced. However, the general guideline is to replace this faucet water filter about every 3 months. Replace it more frequently if you're a heavy user or have a large household.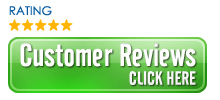 The replacements are easy to find on places like Amazon.
Available in 2 colors: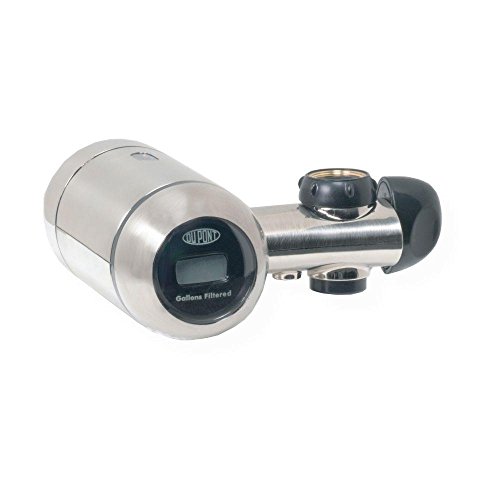 I have added the WFFM350XBN to my list because it comes highly rated.
DuPont's faucet filter is one of the most technologically advanced tap water filters on the market.
As you can see from the picture it even has a screen display telling you how many gallons it has filtered.
But, even though it looks very advanced and technical, it is super easy to setup. No extra tools, no screws, no plumbing knowledge required. All you have to do is screw it over your existing tap.
Q. I have an usual shaped tap faucet can I still use it?
A. Yes, the DuPont WFFM350XBN comes with adapters so that you can fit it onto different types of faucets.
As with some of the other tap filters in this list so far, it let's you decide whether to have filtered or unfiltered water. This is simply done with a flip of the switch.
DuPont WFFM350XBN comes with a 4 year warranty and it reduces sediments like:
Benzene.
Lindane.
Chlorine.
Cysts.
Mercury.
Asbestos
Lead.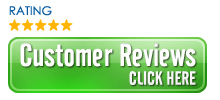 All of this comes together to give you drinking water that has improved taste with no odor and chlorine. The filter's capacity is 200 gallons.
The best part is that it's electronic display tells you exactly how many gallons it has filtered and when you need to change filters.
Available in different finishes that include:
White.
Chrome.
Brushed Nickel.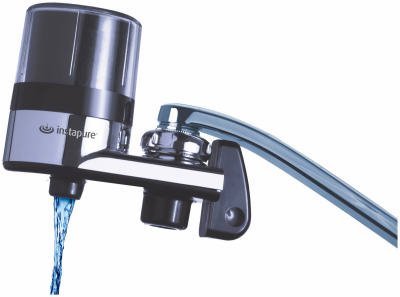 The Instapure water tap filter is another easy to install model. The manufacturers claim that installation will only take a maximum of 4 minutes.
Once installed, it will provide you with clean filtered drinking water. Water that has no bad odors, taste or chlorine.
As with all the other faucet filters, you can choose whether to have filtered or unfiltered water with one simple switch.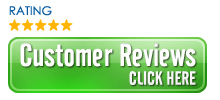 It has a nice little design feature that shows you inside the filter through a clear cover.
The F2BCTU-1ES comes with a 1 year warranty and has an external quality certification from the NSF.


Best Faucet Water Filters Comparison Chart

Advantages Of Getting A Faucet Water Filter
Faucet water filters are less complex and more convenient when compared to whole house water softener machines.
They are super easy to install without any tools or plumbing knowledge. You don't even need any nails, just screw it on top of your existing tap.
If you need to use unfiltered water for any reason (say you want to get water to wash your car and don't want to waste your filtered water) there is a simple fix. All the filter taps reviewed in this article have an easy switch option to move between filtered and unfiltered water.
It filters your water a lot quicker than a water filter pitcher. It essentially filters the water on demand.
If you get a high-quality faucet filter that uses multi-stage filtration then it will remove almost all known water contaminants.
It is a perfect, quick fix if you're worried about the quality of your tap water and don't have the time or budget to install other types of water filters into your home.
Tap filters are also great because they create almost no waste.
Disadvantages Of Getting A Faucet Water Filter
You need to replace tap filter cartridges quite frequently (approximately every 3 months) when compared to other methods of filtering water. However, these replacement filters are also a lot cheaper than the filters used in other filtration methods.
It might not be ideal for you if you have a low pressure system or a slow water flow rate.
It is not guaranteed to fit every type of faucet. So before you buy always double check all the measurements and make sure that it will fit.

How to Install a Faucet Water Filter?
Step 1: Turn Off Your Water Supply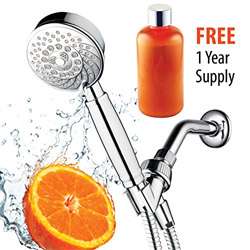 Step 1 is to turn off your water supply direct at source. It is unlikely that anything will go wrong but if something does, you don't want to cause a flood. To turn off the water supply, look for the valve (usually under the sink where all the pipework is) and manually turn the key on the pipe that supplies water to your sink.
Step 2: Remove The Existing Faucet Aerator / Measure The Water Outlet
This is a little screw on spay that is under the tap (where water comes out from). Once you have located this, unscrew it. Keep it in a safe place because you will need it later.
If your tap does not have an aerator then make measurements of the outlet in height and width. This is so you can easily determine which adapter is the right size for your tap.
Step 3: Find And Screw In The Right Adapter
Now that you have your old aerator or at least its measurements sorted, it's time to fine the right fix. Almost all faucet water filters will come with multiple adapters for you to choose from. So either use the measurements or existing aerator that you unscrewed to determine the right adapter.
Step 4: Screw In The Right Adapter
Once you have found the right adapter from the one's supplied with the tap filter, screw it on to your tap.
Step 5: Click Your Filter Into Place
Your faucet adapter is now snugly screwed in. Check to make sure that it is tight so that you avoid any leaks.

So, Which is The BEST Faucet Water Filter?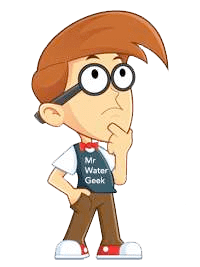 The DuPont WFFM350XBN is the best faucet water filter.
Let me tell you why.
It mounted faucet water filters is a convenient way to make sure you have access to clean filtered drinking water direct from the tap.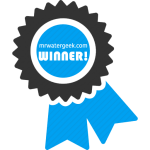 The device literally filters the water on-demand when you turn on the tap. This makes it some of the fastest filtration processes out there today.
It is one of the easiest to install and has low/no maintenance.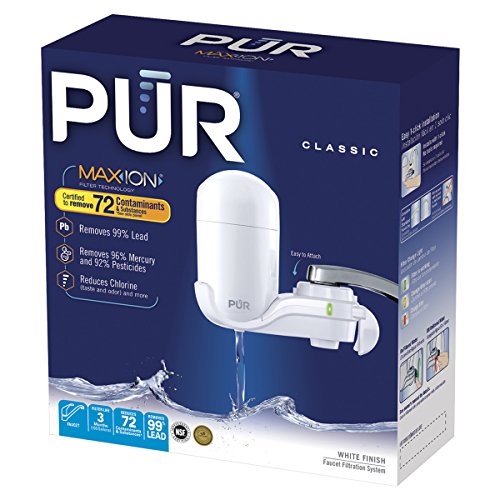 PUR would have been my favourite but it only does 100 gallons, while the DuPont does 200 gallons and costs a similar amount of money.
The on-screen countdown not only tells you that it is working i.e. how many gallons it has filtered. But it also let's you know how long to go before a replacement is needed.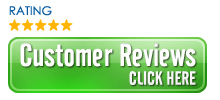 This means you can pre-order the replacement filter in good time and you can avoid last minute dashes to the store.

Scientific References
McDonagh MS, Whiting PF, Wilson PM, Sutton AJ, Chestnutt I, Cooper J, et al. Systematic review of water fluoridation. BMJ. 2000; 321: 855–859.
Clarkson JJ, McLoughlin J. Role of fluoride in oral health promotion. Int Dent J. 2000; 50: 119–128
The Editors of Encyclopædia Britannica. "Hard water". Encyclopædia Britannica. Retrieved 4 March 2015.
(PDF) "Common Water Quality Problems And Their Treatment". Retrieved 2017-01-23.
Whitford GM. Intake and metabolism of fluoride. Adv Dent Res. 1994; 8: 5–14.
Best Faucet Water Filter Comparison Table
Product
Best Features
Price Range
PUR Faucet Filter

- Certified to remove over 70 contaminants.
- Built-in electronic filter life indicator.
- Very attractive.
$$
Culligan FM-15A Faucet Filter

- Efficient faucet mount design.
- Removes bad taste and odor from water.
$$
Protect Plus WFFM350XCH DuPont

- Very advanced, shows you exactly how much has been filtered.
- Has antimicrobial product protection.
$$
InstaPure F-2C

- Built-in knob extends filter cartridge life.
- Very affordable.
$$