Article Last Updated: October 2023
WARNING

: 3 Mistakes To Avoid When Buying A Whole House Filtration System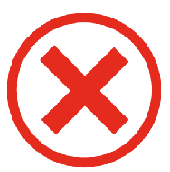 Unless you have excellent plumbing/DIY skills, a whole house filtration system requires a professional to install. Just know that trying to do it yourself can void the warranty and guarantee that comes with most whole house filter machines.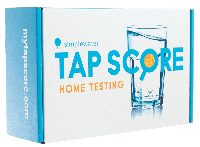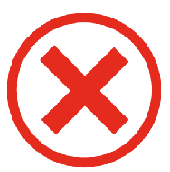 Avoid going for smaller and less well-known brands. Going with a no-name whole house water filtration system makes it hard to find online manuals, answers to questions on forums, reviews, spare parts and plumbers that are experienced in dealing with your specific models.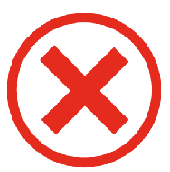 Be careful to check which contaminants your chosen water filtration system removes, especially if it's for drinking. Whole house water filters typically remove MORE contaminants than under sink filters and counter top filters.


BONUS: Consider doing a water filter test beforehand to know which specific contaminants you need to target.
Treats hard water UP TO 25 ppm (low to medium low hard water).
Treats hard water OVER 25 ppm (medium to extremely hard water).
Does NOT require electricity.
Requires electricity if using the electronic head monitor.
Control Your System With An App:? NO
Control Your System With An App:? YES
- Powerful salt-FREE water softener.
- 1,000,000 one million gallon capacity.
- Aquasana Rhino exceeds NSF standards.
- Treats hard water WITHOUT salt.
- Removes chlorine, bacteria, iron, sulfide, manganese, mercury, lead etc.
- Includes pre-filter, copper-zinc and carbon filtration stages with standard fittings.
- 90-Day Pure Satisfaction Guarantee.
- Limited 10 year warranty.


- Powerful salt-BASED water softener.
- 1,000,000 one million gallon capacity.
- Also includes a multi-stage filter.
- Easy installation (inside or outside)
- Sufficient for 1-3 bathrooms (options for 4-6 and 7+ bathrooms also available).
- 6 month money back guarantee.
- Limited lifetime warranty.
$$$
Ships to US and CA.
$$$
Ships to US, CA and Puerto Rico.
Sale prices automatically applied by clicking this link.
If there is *no* sale try coupon code:
AQGEEK50
Coupon Code:
GEEK5
2 Types of Whole House Water Filter and Softener Machines
There are 2 main types of whole house systems:
A whole house softener and filter combination device. This will require salt but will guarantee complete treatment of hard water in your entire home. The machine will also filter your water at source thereby making it clean, fresh and drinkable from any faucet in your home.

A whole house conditioner (

salt free

softener) and filter combination device. It will do the exact same thing as the regular softener and filter combo described above but without salt. However, this is only ideal for homes with low to moderately hard water. A salt based softener is more suitable for homes with high levels of hard water. You should perform a hard water test if you are unsure.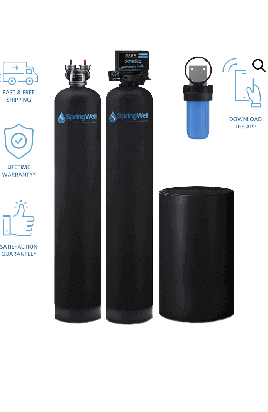 This is one of the best whole house water filtration systems. It treats extremely hard water, has powerful water filters and comes with a satisfaction guarantee.
They are also easy to maintain, for instance, the filters are very easy to replace.
This machine has a high capacity and will provide enough water for a large household but there are larger capacity versions available (up to 7+ bathrooms).


Do you have a well? So you suffer from not only hard water but contaminants like iron?
Check out the well water version of this model that specifically treats things like  iron, manganese, hydrogen sulfide as well as hard water – this will not only filter your well water but treat hardness too.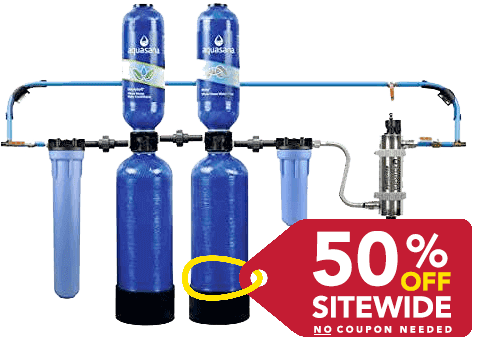 This is ideal for anyone with relatively low levels of hard water but want a very powerful water filtration system that can effectively treat things like heavy metals (mercury, lead etc.), chlorine (by 97%), bacteria, viruses and exceeds NSF standards.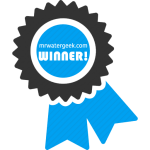 It will treat all your water at source without requiring salt (unlike the regular type of water softener) and will last for 1,000,000 (1 million) gallons or 10 years.
The costs work out to be less than 50 cents per day for an average family household.


This device will also come with a professional installation kit so you can install it your self if you have strong DIY skills or hand it over to your plumber knowing that they will have everything they need to get the job done.
This whole house system comes with a 90-day satisfaction guarantee as well as a 10-year limited warranty.
Advantages Of A Whole House Water Filter

Installing a filter at the point of entry means that clean water is available in the whole house for your every need. For example, cooking, drinking, laundry, showering etc.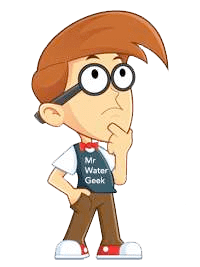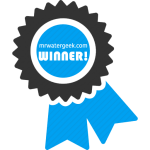 Whole house water filtering systems usually have a very long lifetime like 20-25 years before they need to be replaced.

Due to the long filter life, they also give you peace of mind over a long period of time as well as saving money on bottled water.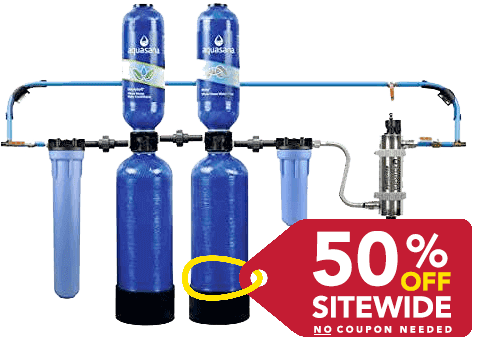 Getting a salt based whole house water system = eradicating limescale from your home. No more limescale in your kettle, toilet, bathtub, taps and around the sink area. But the machine requires salt to achieve this outcome.

A salt free water conditioning system and filter = no need for salt and is ideal for homes with no to low levels of hard water. And they come with the most powerful filters that can treat things like lead, chlorine, bacteria, viruses and other dangerous contaminants.
Treats hard water UP TO 25 ppm (low to medium low hard water).
Treats hard water OVER 25 ppm (medium to extremely hard water).
Does NOT require electricity.
Requires electricity if using the electronic head monitor.
Control Your System With An App:? NO
Control Your System With An App:? YES
- Powerful salt-FREE water softener.
- 1,000,000 one million gallon capacity.
- Aquasana Rhino exceeds NSF standards.
- Treats hard water WITHOUT salt.
- Removes chlorine, bacteria, iron, sulfide, manganese, mercury, lead etc.
- Includes pre-filter, copper-zinc and carbon filtration stages with standard fittings.
- 90-Day Pure Satisfaction Guarantee.
- Limited 10 year warranty.


- Powerful salt-BASED water softener.
- 1,000,000 one million gallon capacity.
- Also includes a multi-stage filter.
- Easy installation (inside or outside)
- Sufficient for 1-3 bathrooms (options for 4-6 and 7+ bathrooms also available).
- 6 month money back guarantee.
- Limited lifetime warranty.
$$$
Ships to US and CA.
$$$
Ships to US, CA and Puerto Rico.
Sale prices automatically applied by clicking this link.
If there is *no* sale try coupon code:
AQGEEK50
Coupon Code:
GEEK5