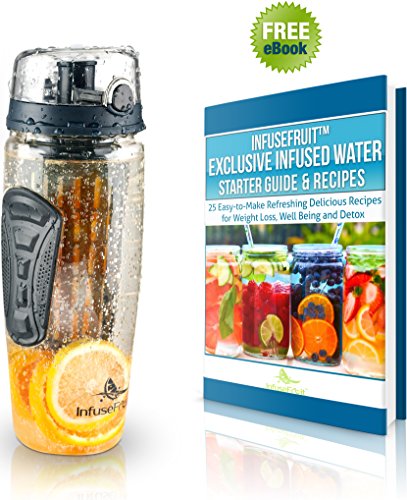 There are studies which show mineral water is the healthiest water to drink.
This is because it contains lots of essential minerals like magnesium, calcium and iron.
Drinking these minerals on a regular basis is good for your well-being and overall health.
The best part is that unlike tap water, mineral water is likely to be free from contaminants, impurities yet also completely natural.
Let's take a closer look at these benefits as well as some issues you should be aware of.
What is Mineral Water?
Mineral water is natural water that comes from a mineral spring. This means it contains lots of natural healthy minerals like sulfur compounds and salts. It is also likely to come in an effervescent form or "sparkling" because of the gasses it contains.

How To Make Mineral Water
Fill up an open container with approximately one liter of filtered water.
Add mineral sodium to the water by putting in1/8th teaspoon of baking soda into the water.
Increase the purity of the water by adding 1/8th teaspoon of epsom salt into the mix.
The final ingredient to be added is 1/8th teaspoon of potassium bicarbonate.
Then, stir the mixture until all the ingredients are fully dissolved.
Complete the final step by passing the water through a seltzer bottle.
Squeezing the handle of this bottle will give you fresh home made mineral water 🙂
Different mineral drinking water brands have different recipes and compositions. However, the step by step process laid out here is the most basic, fail proof way to make safe drinking DIY mineral water.

The Internet is full of wild rumors that carbonated water can pose a risk to your kidneys and potentially cause kidney stones. However, there is no scientific evidence or data to back this up.
Can You Drink Too Much Mineral Water?
Well the thing is you can drink to much water in general. I have written about this in my post: What Happens If You Drink Too Much Water?
Drinking too much water (mineral or otherwise) leads to something called hyponatremia or "water intoxication". In extreme cases, it can lead to death. The easiest way to avoid this is to drink small amounts of water throughout the day rather than 'water-binge' in one session.

Mineral Water Benefits
Mineral Water vs Water
| | |
| --- | --- |
| Mineral Water | General Drinking Water |
| Comes from natural springs and normally bottled at source in plastics or glass. | General drinking water (like distilled or purified water) comes from any source but has been filtered and treated to remove any impurities. |
| Completely natural | Has been treated or filtered in some way. |

Which Is The Best Mineral Water?
1. San Pellegrino Mineral Water
San Pellegrino is a well established brand that produces mineral sparkling water.
It is seen as a luxury brand and can often be found at expensive restaurants. It is also used by chefs and and a favourite of fine dining lovers.
Nestlé are the owners of the San Pellegrino brand since 1997. San Pellegrino water comes directly from San Pellegrino Terme, Italy.
2. Perrier Mineral Water

This is one of the most famous French brands of natural bottled mineral sparkling water. It is bottled at source in Vergèze, in the Gard Département, France.
This brand is best known for being full of naturally occurring carbonation as well as its distinctive green bottle.
It has a higher level of carbonation (natural gases) than other brands.
Perrier Mineral Water Benefits


References
Arik Azoulay, Philippe Garzon, Mark J Eisenberg, Comparison of the Mineral Content of Tap Water and Bottled Waters, J Gen Intern Med. 2001 March; 16(3): 168-175.
Green M, Green M. The Good Water Guide. London, England: Rosendale Press; 1994.
LaMoreaux, Philip E.; Tanner, Judy T, eds. (2001), Springs and bottled water of the world: Ancient history, source, occurrence, quality and use, Berlin, Heidelberg, New York: Springer-Verlag, ISBN 3-540-61841-4, retrieved 13 March 2017
Patuxent and Potomac water filtration plants Tap Water Analysis.
Von Wiesenberger A. The Pocket Guide to Bottled Water. 1st ed. Chicago: Contemporary Books; 1991.
Investigation of mineral waters and soft drinks in relation to dental erosion. Parry J, Shaw L, Arnaud MJ, Smith AJ. J Oral Rehabil. 2001 Aug;28(8):766-72. http://www.ncbi.nlm.nih.gov/pubmed/11556958