Last Updated on June 10, 2021
In most cases, dogs will drink enough and stay well hydrated without any encouragement, but sometimes our dogs are not thirsty. This article can help you understand why your dog will not drink water. And more importantly what you can do about it.
This article is especially helpful if you're thinking about getting a dog water fountain. I have reviewed and tested out a few of the best models. In this dog water fountain review article, I will tell you which one is the best.
My Dog ​​Will Not Drink Water!
Dogs, like humans, have to drink water every day because they run the risk of becoming dehydrated if they do not.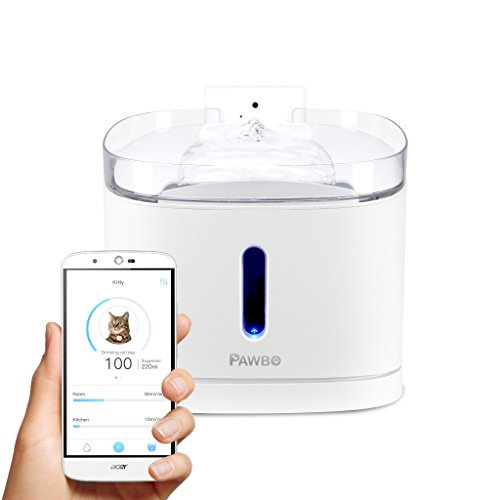 In fact, they are a greater risk than humans because they release heat from their bodies much more slowly.
Dogs can have sweat glands in their balls, but not enough to keep their bodies fresh. The body temperature of a dog is usually controlled with wheezing.
Water is, therefore, very important for a dog and we, as dog owners, have to provide our puppies with enough water every day.
Sometimes, however, our pets can not drink water and this can be down to a few reasons listed below.
Dog Not Drinking Enough Water?

Is your dog not drinking enough water? Here are some common reasons why this may be the case. Go through the list below to see if you can spot anything that explains your dogs' behavior. However, remember that if your dogs' behavior really concerns you then you should immediately take it to a vet.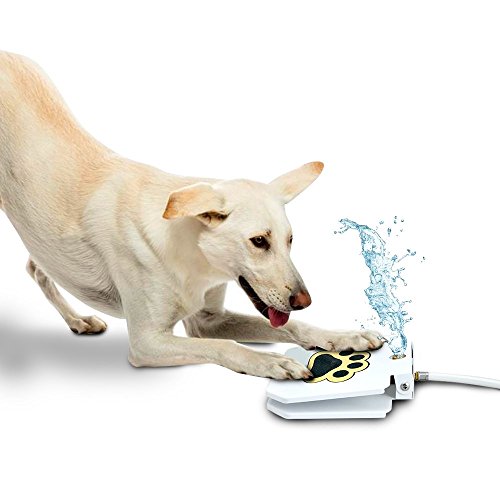 1. Little Amount of Physical Activity
If the weather is colder or if your dog is exercising less, your dog just is not that thirsty. If that's the reason, you do not have to worry! A slight decrease in water consumption is not a cause for alarm. However, consult a veterinarian if your dog persistently refuses to drink. Also, dogs should never go without water for more than a day.
2. Sickness, Illness and Disease
Certain health problems can cause a dog's thirst to vary. In some cases, diseases such as diabetes and kidney disease can make a dog's appetite for water go down completely. A bladder infection or a urinary tract infection can also cause a reduction in thirst. So, if you think your dog is not drinking water due to illness, you should contact your veterinarian immediately. It is a good idea to take note of your dog's drinking habits to help the vet solve the problem.
3. Staying in an Unknown Place
Unknown places and smells may be the reason why your dog does not drink. Thanks to their pronounced sense of smell, dogs can distinguish between familiar and unknown water sources. If the smell of the water is not known, your dog may simply refuse to drink it. Are you planning a trip somewhere? This is what you should do to avoid this:
Bring a bottle of water from home
Play close attention to the behavior of your dog when it comes to drinking water.
4. Ageing
An elderly dog ​​can also avoid drinking water. It may simply be that water requires too much effort, or that thirst and appetite diminish. Older dogs do less sport and may not be as thirsty as younger dogs. Older dogs should, however, maintain a sufficient fluid balance. If drinking seems to be a problem, switching to a wet diet may help. But always consult a veterinarian before changing dog food.
5. Persuade your dog to drink water
In any case, a dog should drink regularly. If this does not happen, you can convince your dog to drink water in different ways. Sometimes it can be easy to change the position of the water bowl. Another solution is to mix wet dog food with water. Even if your dog does not drink from the bowl, he probably likes to drink water when mixed with food.
It is also important to make sure that the water container is clean. It's simple, but it could work. If your dog still does not drink water or has an illness, you should contact a veterinarian as soon as possible. In case of illness, proper hydration is important for the recovery process and, therefore, it is very important that your pet receives professional help.
6. Fear and Bad Experiences
Dogs learn by association. When they get scared or feel pain, they usually associate these negative feelings with the circumstances in which they experienced them for the first time. If your dog had a bad experience while drinking from the bowl of water, for example, if someone accidentally kicked your tail or foot, you could associate these negative accidents with the act of drinking. To eliminate the fear of drinking, you can try using a new water container or try to put the water container in a different place.
Best Dog Water Fountain
PetSafe Drinkwell Seascape Dog Pet Fountain
The PetSafe brand has been an industry leader in pet accessories, containment products and lifestyle since 1991, supporting millions of people and pets each year.
The PetSafe Drinkwell Seascape pet fountain offers 70 ounces of fresh, filtered water. The relaxing water flow is extremely quiet and, therefore, easily accessible.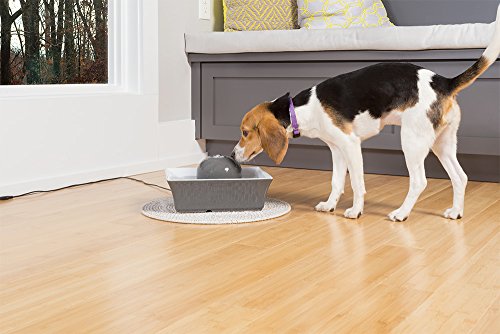 The Seascape pet fountain not only blends seamlessly with modern home décor, it also keeps pets healthy and hydrated.
Large Water capacity: 70 ounces Water capacity is ideal for small and medium animals.
Promotes Hydration: Moving water tempts your pet to drink more water.
Constant Water Purification: The low-voltage submersible pump constantly circulates the water, keeping it clean and attractive to pets.
Purified Water: contains a replaceable carbon water filter that eliminates bad taste and odors and keeps water cool.
Silent: the submersible pump and circulating water guarantee quiet operation and are ideal for anxious pets.
Hygienic Construction: ceramic design is more hygienic and looks good at home.
Easy and Simple to Clean: This dog water fountain is dishwasher safe.
Customer Service and Product Support: US-based PetSafe customer service experts. Call Monday through Saturday at 1-800-845-3274.

TrioGato's Outdoor Dog Pet Water Sprinkler Easy Activated Dog Water Fountain Toy
Activated dog water fountain lets your beloved dog have access to an unlimited supply of fresh and clean water, at all times of the day or night.
In a matter of minutes, you can install the dog water fountain at your favorite outdoor location.
It will save you a lot of time and effort. The animals are not only left with a plentiful and refreshing cold water, but the dog step water will provide unprecedented fun and entertainment.
In simple terms it's a dog water fountain and fun toy for them to play with too.
When your pet steps on the paw graphic against the white background of the pedal, it activates the dog water fountain. This manifests in a clean, narrow stream of water from which your pet can drink.
The copper valve prevents excessive leaks and disorderly spray. Durable materials and good construction result in an improved, strong and stable outdoor water source for dogs that will last for many years.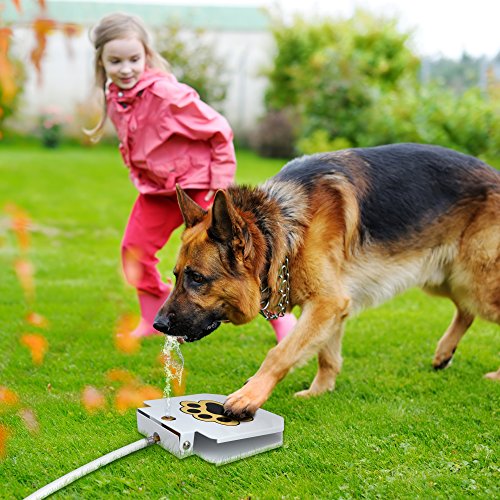 The 40.5-inch hose from the source is connected to the wrench or hose in your garden.
Also, use the links in this article to get the FREE BONUS adapters, connectors and the Y-shaped 2-way garden hose connection for optimum flexibility.
Features and Characteristics:
No batteries, no plugs, and no more bowls of water to clean.
Encourages your pet to drink more water.
Fresh and clean water on tap, day or night.
Simple and fast training.
Activated at the request of the pet.
Made with strong and durable materials.
Easy installation.
No leakage due to improved copper valve.
PURCHASE FREE OF RISKS. Comes with a 12 month warranty.
Extra Tips:
Install in a shaded area to minimize the impact of solar heat on the water.
Make sure the connection is placed away from freezing weather conditions to prevent freezing and resulting damage to the source and hose.
Keep away from electrical connections and cables.

PetSafe Drinkwell Indoor/Outdoor Dog Fountain, Pet Drinking Fountain for Dogs and Cats, 450 oz. Water Capacity

Drinkwell's Indoor Drink Fountain provides your pet with 450 grams of freshly filtered water. This is the largest capacity on the market, made of UV resistant plastic for placement inside or outside the home.
The double tanks last longer and facilitate refilling. It has two filtering methods, a large foam filter that absorbs large particles and dirt before they clog the pump. The 3-layer activated carbon filter removes tiny particles and promotes water by eliminating bad taste and odors.
A free-fall sequence attracts pets to drink more water and the potency of the bowl helps move dirt through the filters, which is the best solution for your pets!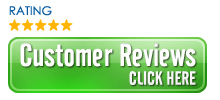 3.5 gallons of fresh and filtered water for your pet.
With its free-flowing water flow, pets are encouraged to drink more and get the cleanest and tastiest water.
This system is ideal for large dogs or multiple pets.
This robust, impact-resistant and UV-resistant plastic fountain can be installed indoors or outdoors at temperatures above 40 ° F.
The dual filter system eliminates the bad taste and odor of water and absorbs dirt, hair and other debris left by larger dogs.
Best Dog Water Dispenser?

iPettie Tritone Ceramic Pet Drinking Fountain, Water Fountains for Cats and Dogs 2.1 liters Replacement Filters and Foam for Pets
Are you worried about cheap plastic dog water dispensers that scratch easily and harbor bacteria? Or are you worried about the metal that gives your pet an unwanted metallic taste?
Ceramic wells do not have these problems.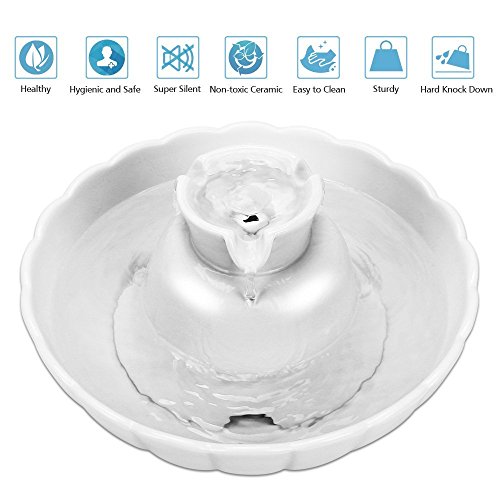 You should consider the following reasons:
Healthy from the inside out – the tritone is made of high quality natural ceramics, good for the environment and non-toxic.
The filter system prevents the entry of hair and other debris while eliminating unpleasant odors and tastes to ensure that the water is healthy and tastes good.
Energy-saving and silent operation.
Tritone works with 2W of low power and is silent so will not scare your pets or bother you.

Large capacity and comfortable – with a capacity of 2.1 l / 71 oz, it is enough for an adult cat to drink for 2 weeks or more.
You will be relieved of the frequent and discreet water replenishment and will not have to worry about dehydrated pets.
Easy to operate and maintain.
With few removable parts, they are easy to assemble and disassemble.
This dog water fountain pump is IP68 water resistant and CE certified.
Tips to remember:
The well should not be near the food container or the cat litter box. (Cats don't like that).
If the pump is cleaned every 2 weeks, the use of this fountain may be prolonged so it lasts longer.