Article Last Updated: November 2023
The Biggest Flaw With Ceramic Water Filters
A ceramic water filter is essentially a water purification tool employing porous ceramic material to sift out impurities from water. It works well for bacteria and larger particles.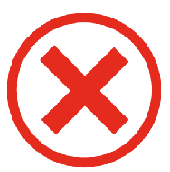 However, its main drawback lies in its limited effectiveness against smaller contaminants like viruses, which can slip through due to the larger pore sizes of the filter.
AquaTru vs. Berkey Countertop Water Filter Comparison Table
| | |
| --- | --- |
| AquaTru | Berkey |
| | |
| 4-Stage Filtration | 6-Stage Filtration |
| Filters 74 types of contaminants. | Filters 99.9999% of pathogenic bacteria |
| Holds 3.75 gallons at a time- It takes 15 minutes to process a gallon of water. | Can hold 2.25 gallons of water at a time- it takes about 9 minutes to process a gallon of water. |
| 18 x 18 x 15" | 8.5 x 8.5 x 19.2" |
| BPA free Tritan plastic | Stainless steel self-sterilizer |
| Electric | Non-Electric |
| Does not alter water pH level. | Does not alter water pH level. |
| Yes, it removes fluoride. | Yes, it removes fluoride. |
| 10% off when you sign up to the newsletter. | No special offer. |
| | |
| | |
Big Berkey Review
This is by far the most popular and best selling ceramic water filter that you can buy today. What's interesting is that it's also popular among people that use well water.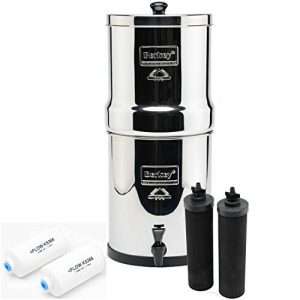 Especially as well water is usually heavily contaminated and the Big Berkey is effective at managing a long list of pollutants.
In addition to this, the Berkey is powered by gravity and doesn't need or use electricity.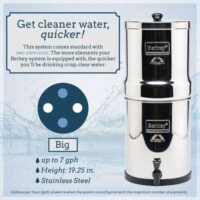 Once you pour water into it, the water flows down from the upper chamber of the system to the lower chamber then it's ready to come out through the tap.
It comes with the ability to filter 3,000 gallons (depending on which cartridge you choose) and this saves you money on a ton of bottled water.
Big Berkey Pros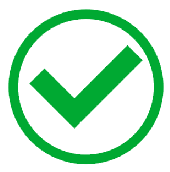 The convenience of having a huge amount of water at your finger tips. This is because it can contain up to 2.25 gallons of water at any one time.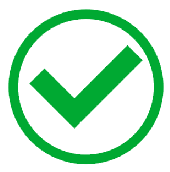 The Berkey provides you with a way to eliminate a long list of contaminants through a corrosion resistant cleaning system. This is different from most of the other counter-filters, as they are mostly made from materials like plastic.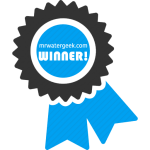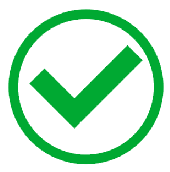 Options to add two extra water filter cartridges.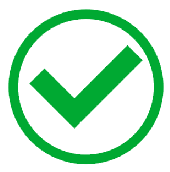 It can filter fluoride once you get the right filters.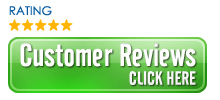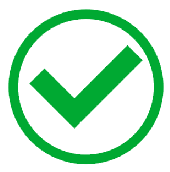 Possibility of processing up to 3.5 gallons every hour.
Big Berkey Cons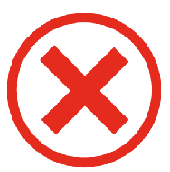 Although Big Berkey's performance is superior, they can also be more expensive than other filter systems. This is especially the case if you buy the additional filters and upgrades.
Aquasana Countertop Review
There are many water filters on the market that claim they can remove many contaminants from water. However, a lot of them don't have any sort of certification to support these big claims.
This is not the case with the Aquasana AQ-4000-W. The AQ-4000 comes with NSF certificates that proves it's able to remove 68 harmful contaminants.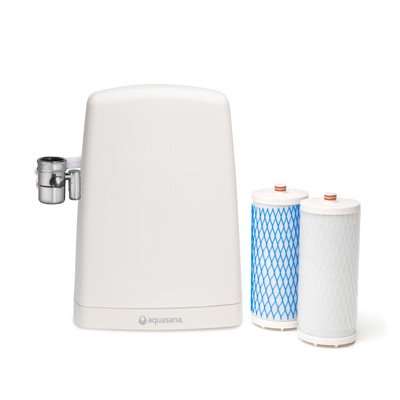 This is unlike the Big Berkey that does not have any sort of NSF certification.
Yes, that's right the Berkey water filter system claims to remove a long list of contaminants.
However, there are no third party independent tests that certify or validate these claims.
Aquasana AQ-400W is certified to reduce a number of chemicals that are serious and harmful to health. These are things like asbestos, chlorine, mercury, VOC's and even lead.
It's able to filter all of these harmful chemicals and bacteria through its 3-stage filter process. This includes a carbon filter, micron filter and ion exchange. However, unlike other filter methods like distillation, this filter device doesn't remove everything from water.
When everything is removed from water, it can leave you with a "flat taste" and no minerals.
However, the Claryum filter technology means it is still able to preserve healthy minerals in your water like calcium. This also makes the water that it produces taste healthy.
Aquasana AQ-400W Claryum Filter Features:
Officially confirmed by the NSF to remove 68 different pollutants.
Direct installation from the kitchen faucet without having to install fixed accessories.
Very easy to install and insert filters.
The ability to remove unhealthy contaminants while maintaining healthy minerals with the Claryum filter technology.


AquaTru Countertop Review
So, Aquatru is not the cheapest water filter on the market.
One reason for the high price tag is the "Ultra Reverse Osmosis" technology that it uses. This technology is what helps it to remove large amounts of contaminants.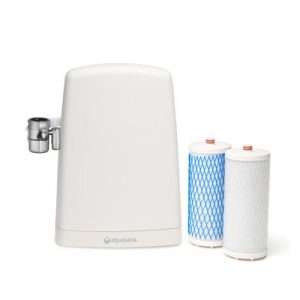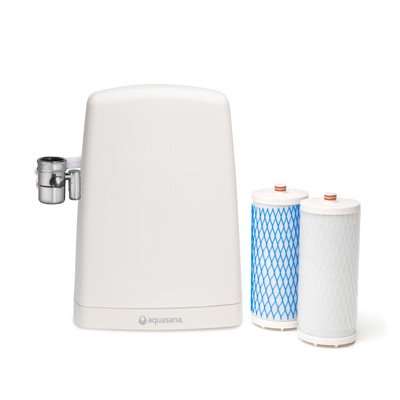 Reverse osmosis is by far one of the best types of water filter methods available today.
However, this ultra RO (reverse osmosis) because it is effective at removing very harmful chemicals from water. Harmful chemicals like lead, drug residues, chromium and herbicides.
Aside from the ultra reverse osmosis, AquaTru makes use of 4 levels of filtration.
The first stage is the pre-filter that removes debris, sand and general dirt.
Stage two is activated carbon.
The third stage is an ultra-reverse osmosis filter.
The final stage is the activated carbon filter made of coconut shells.
Key Features
It uses ultra-filtration technology through reverse osmosis, which is a powerful way to filter water.
This item comes with 4-stages of filtration that eliminates many impurities.
NSF certified.
Super easy to install and set up.
Compact and portable design.
Best Berkey Alternatives (

PROS and CONS)
| | |
| --- | --- |
| Aquatru | Berkey |
| | |
| The most powerful filter on this list. | Best selling with lots of happy customer reviews. |
| Can filter almost any liquid source. | High capacity. |
| High flow rate. | Cost effective overall.- |
| Elegant design. | Eliminates many contaminants. |
| Eliminates fluoride. | Non-electric. |
| Requires electricity. | Can be slow to filter. |
| Some customers say some of its components are not durable. | You need to buy special fluoride filters if fluoride is a concern. |
| | |
AquaTru Converts CocaCola Into Clean Drinking Water
Which is The Best Ceramic Water Filter?
The Berkey uses a patented filter cartridge that consists of six different media.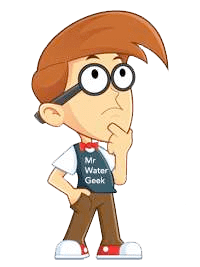 The Aquasana Countertop comes with NSF certification to support all of its filtration claims capacities.
Aquasana uses four types of filter methods.
These includes a submicron mechanical filter, ion exchange, carbon filter.
Ho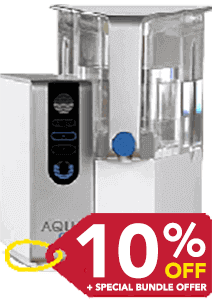 wever, the AquaTru comes with 4 filter levels. The claim that can filter anything is true as shown in numerous online videos.
This water drinking system is based on ultra reverse osmosis technology that removes over 99% of all impurities in the water.


However, no one can deny the power it has based on the physical evidence.
AquaTru Water Filter

Berkey Water Filter

- Arsenic: Approx 90% (unspecified).
- Fluoride by 91.8% (WITHOUT extra filters).
- Lead 97.5%
- Benzene 99.9%
- Chlorine 96.6%
- Cysts 99.99%
- Arsenic by 99.9% (special filters required).
- Fluoride by 99.9% (special filters required).
- Lead 97.5%
- Benzene 99.8%
Available in 1-size only.
Available in various sizes.
Plastic materials.
Metal & plastic materials.
Number of filters: 3
Number of filters: 2 - 4
Filter methods: Mechanical, Reverse Osmosis & Activated Carbon filters.
Filter methods: Black microporous-filters & white fluoride Filters
4-stage filter process.
2-stage filter process.
Holds a maximum water capacity of 3-quarts.
2.25 Gallons
45.7 x 45.7 x 38.1 cm
19" High x 8.5" Diameter
System: 1 year limited warranty.
Filters: 2 years; System: 1 year.
Full Performance Data Sheet (AquaTru).
Berkey Contaminants List
NSF/ANSI test results
SPECIAL OFFER?
Yes, use code MRWATERGEEK

SPECIAL OFFER?
Yes, Big Berkey bundle sale