Article Last Updated: December 2022
The Aquasana fluoride filter comes in the form of the OptimH2O Reverse Osmosis + Claryum as an under sink filter and faucet combo that is able to filter fluoride.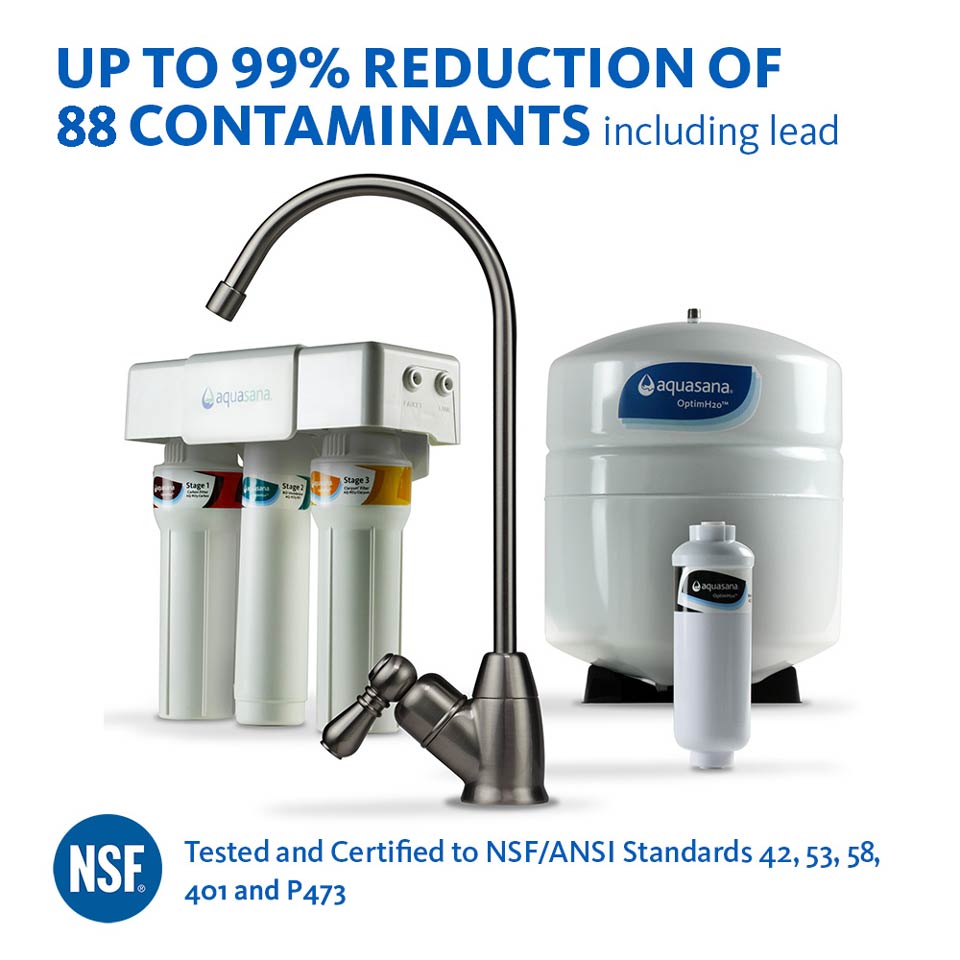 Reverse osmosis is the only water filtration method on the market to effectively remove fluoride from tap water.
And that's why the OptimH20 uses on reverse osmosis technology and is the only proven water filter technique that is effective at removing an extra 87 additional impurities besides fluoride.
This is because of the powerful combination of RO (reverse osmosis) and the Claryum® selective filtration. The Claryum is responsible for removing and reducing around 74 pollutants. Pollutants that include chloramines, chlorine, heavy metals, herbicides and pesticides.
OptimH2O Reverse Osmosis + Claryum Features
The OptimH2O Reverse Osmosis + Claryum takes out everything from water but the Claryum technology helps to replace and remineralizes.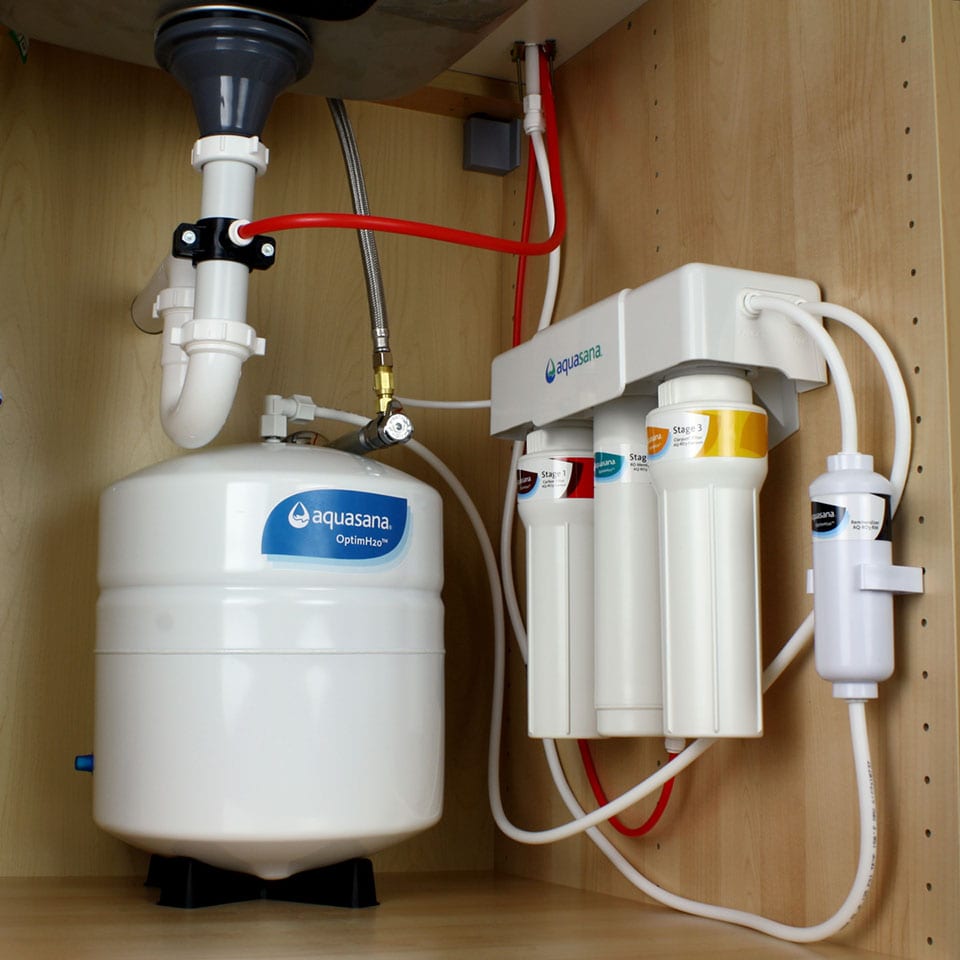 This means that the water is not left "empty" with a flat taste but healthy minerals introduced back into the water.
It remineralises the water with minerals like magnesium, potassium and calcium.
Helps to improve the pH of the water for optimal consumption of alkaline water.
The internal reverse osmosis (RO) system reduces many impurities from your water. This includes things like radium, nitrates, lead, arsenic and fluoride.
This Aquasana fluoride filter eliminates more than 95% fluoride without demineralizing water (i.e. leaving it empty of healthy natural minerals).
NSF-tested and certified to NSF / ANSI standards 401, 58, 53, 42
6 month lifespan of the claryum / carbon filter.
2 years warranty.
90 day guarantee.


> OptimH2O Replacement Filters: AQ-R03 <
Aquasana Fluoride Filter Is It WORTH it?
Yes, it is. Especially if you want to safely remove fluoride from your water.
Dentists advocate that fluoride prevents tooth decay.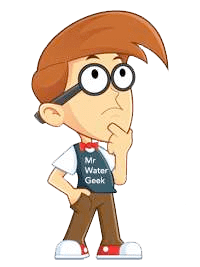 This is why communities include it in their water since the 1940s as a public health measure.
However, according to recent speculation, the public health service and others worry about the amount we consume, especially small children.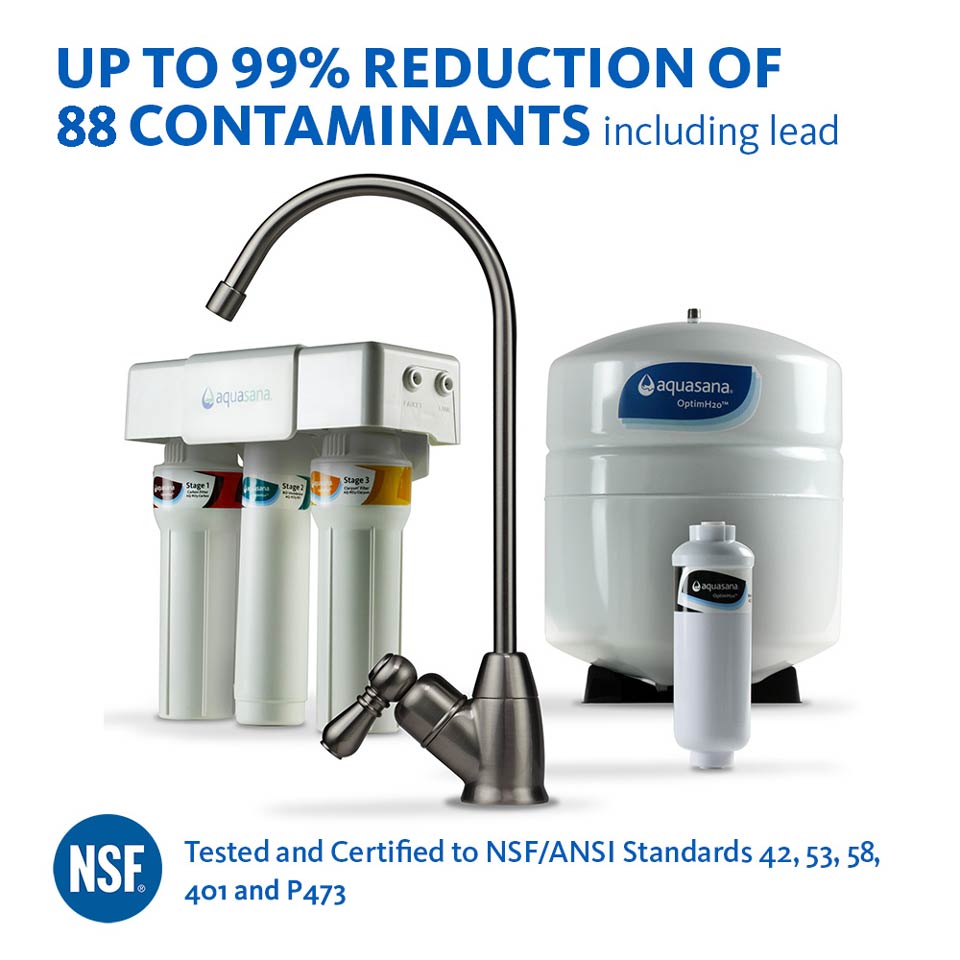 If children between birth and the age of 8 years drink a large amount of fluoride, permanent teeth may be at risk of tooth fluorosis.
These effects range from barely visible white marks to a whole white stained teeth.
The CDC suggests to consider this when using tap water to prepare infant formula.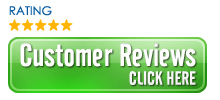 Especially as the frequent use of fluoride tap water in baby formula can lead to tooth fluorosis.
OptimH2O Reverse Osmosis + Claryum helps you safely remove fluoride from your water.
Up to 50% discount and FREE shipping on select items using the Aquasana coupon code: AQGEEK50.

If you are looking for a whole house fluoride filter system see the options below. They are a little more expensive than the under counter sink system. This is because fluoride is very difficult to treat and remove from water.

Other Whole House Fluoride Filter Options
Reverse Osmosis Drinking System Under-Sink Filter

Aquasana Undersink Reverse Osmosis System

Removes Arsenic by 88%
Removes Arsenic by 97%
Removes Fluoride by 93.6%
Removes Fluoride by 95%
- Reduces 80%+ of over 70 contaminants (reduces Chlorine by 99.5%, Arsenic 88%, Cysts by 99.99%, Fluoride 93.6%, Lead by 98.6%, Chromium by 96.4%)
- 6 to 24 month life cartridges.
- 3.2 gallon tank capacity.
- Leak protection seal.
- 1 year warranty and a 6 month money back guarantee.
- Effectively remove fluoride plus 87 additional contaminants.
- Multi-stage filter INCLUDES ReverseOsmosis + ActivatedCarbon + CatalyticCarbon + IonExchange + Remineralization.
- Filters 5x more contaminants than other RO systems.
- Removes 97% of chlorine and arsenic.
- 99% of lead and asbestos.
- 2 year warranty and 90 day guarantee.
$$
$