Last Updated on March 22, 2020
Which is the best drink water reminder app? If you're reading this then chances are that you are interested in staying fit and healthy. Drinking water is important to this process. Your body is up to 60% water and it makes up to 75% of a newly born baby. Water is important because it helps to regulate your body's temperature, remove toxins and carry important nutrients to your cells.
However, water does more than this because it is 100% essential to your existence. Did you know that you can live for weeks without food. But guess how long you can live without water? 3 days. That's it. 3 days without water will ultimately cause death. Apart from literally keeping you alive it also helps you look better and feel better too. Getting enough water in your diet is essential.
Why Get A "Drink Water Reminder APP"
Now that we have established how important water is – how do you get enough of it? How do you make sure you get enough daily water intake?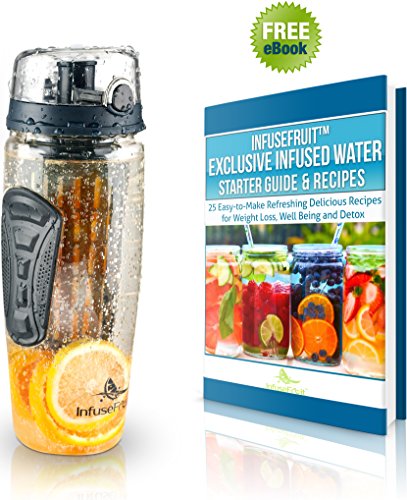 Well one way is to use a 'drink water reminder app on your phone. One that will both keep track of how much you drink as well as how much more you need to drink.
Whether you decide to drink bottled water, tap water or filtered water use any of these drink water reminder apps to keep yourself adequately hydrated. Also remember that any of the recommended apps below can also be used as a water challenge app.
Waterlogged App Review
Price: Free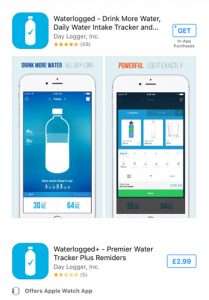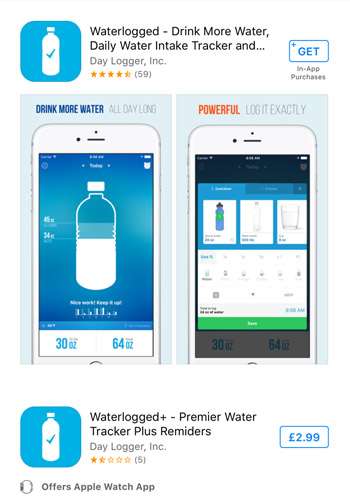 The 'Waterlogged' app tries to make it almost impossible to forget adding those extra glasses of water to your diet. It lets you set up reminders that go off at either random or scheduled intervals. These alerts remind you to drink some water. The app also keeps track of how well you are sticking to your daily goals. It has customisation options right down to the size and type of glass you use. You can even set the amount of water your glass or water bottle typically takes in oz (ounces). Doing this is as easy as taking a picture of your chosen water vessel and make a note of the amount of water it can hold. Tap it from the drop down list whenever you drink from your chosen vessel (i.e. cup or bottle).  Get it now! 


Eight Glasses A Day App Review
Price: $0.99 or £0.79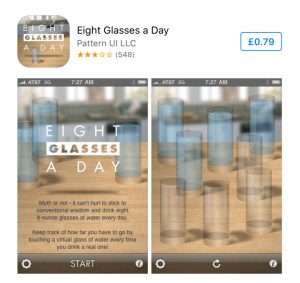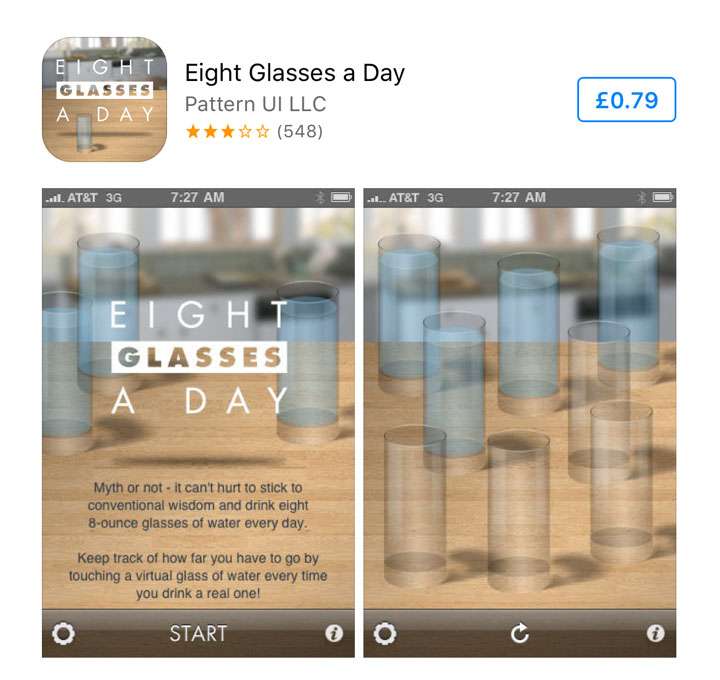 'Eight Glasses a Day' is a very simplified drink water reminder app. It helps you keep track of your daily water intake in the form of a challenge. All you have to do is to tap the virtual glass on the app, which will replace it with an empty one. When all your glasses are empty then you'll receive a reward. The reward is in the form of a 'Tip of the Day' that is related to water. The Eight Glasses a Day app is also fully customisable. For a start, you don't have to drink 8 glasses. Perhaps this is just as well, why? Because experts say you should drink the right amount of water for your body weight and circumstances. You can change the daily amount of glasses on the app from any number between 1 and 12. The app will automatically reset itself every night at midnight. > Get it now!


OasisPlaces App Review (US Only)

UPDATE: This is no longer available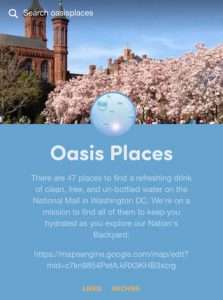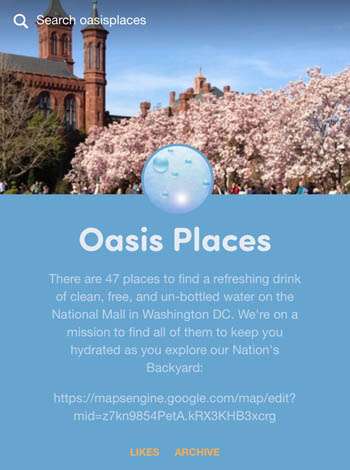 This drink water reminder app will help you find the nearest water fill up station or fountain. It has to be the most clever of them all. It's perfect if you are running, jogging or doing exercise in a public park and need to find the closest water fountain. It does more. Users can upload pictures, track locations and share their ratings of each water fountain. Users can rate the fountain based on things like flavour, how cold it is and how clean it is. If you register for the app then you can leave comments and even add new fountains. Meaning that when a fountain appears on the map, you will know if it's any good or not.

iDrated App Review
Price: Free **UPDATE: it now costs $0.99 or £0.79**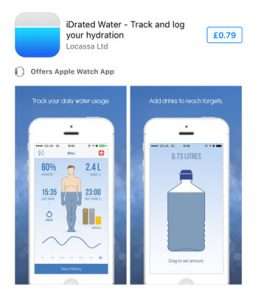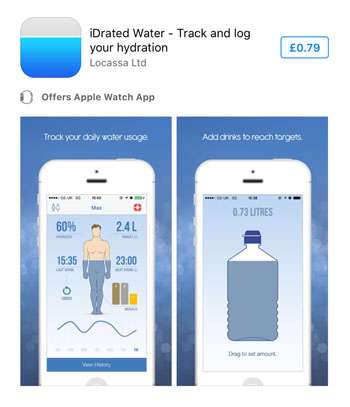 iDrated is perhaps one of the best rated of all water apps. This is possibly because it goes that bit further to cater for your specific needs. For instance, you can tell the app information so that it can help you determine your daily water intake target. Tell the app your age, gender, exercise schedule and weight for it to help you create a daily hydration target. The clever little app will even monitor your hydration level through out the day. It will do this by keeping track of your last water intake and when you are due another glass. Overall it will help you easily keep track of how well you're sticking to your goals.  Get it now!

Daily Water App Review
Price: Free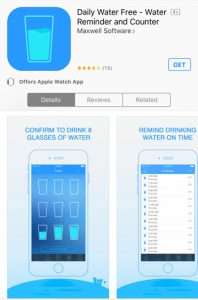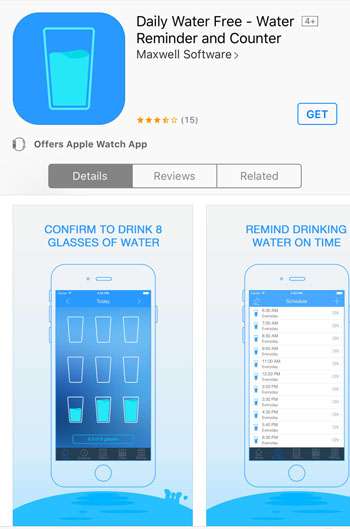 Yet another free drink water reminder app. It helps you set your daily hydration goals and track your progress. To do this it helps you schedule reminders and alerts. It even creates some basic statistics on your daily water intake. For instance, it will show you how much water you have consumed over the course of a week or month. -> Get it now!

Conclusion – Which Is The Best Drink Water Reminder App?
Indepth iDrated Review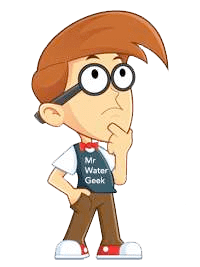 Having considered all of these apps, I think iDrated does the most for you. Most of the apps simply let you set your own targets and track your progress. iDrated on the other hand helps you personalise your daily target in a way that the other don't. Many people don't know that you should be drinking a certain amount of water that is good for your age, gender, body weight and even level of physical activity. iDrated really helps you consider all of these extra factors.
OasisPlaces app is not a 'drink water reminder app' as such but offers a unique service missed by the others. I think the OasisPlaces app essential if you are in a public park and are relying on the public water sources. *No longer available
Having said all this, most of the apps mentioned in this article are completely free or cost only $0.99 / £0.79. Meaning that you can try them for your self and see which one you prefer at almost no cost. If you don't like one, then it's simply a case of deleting the app 🙂